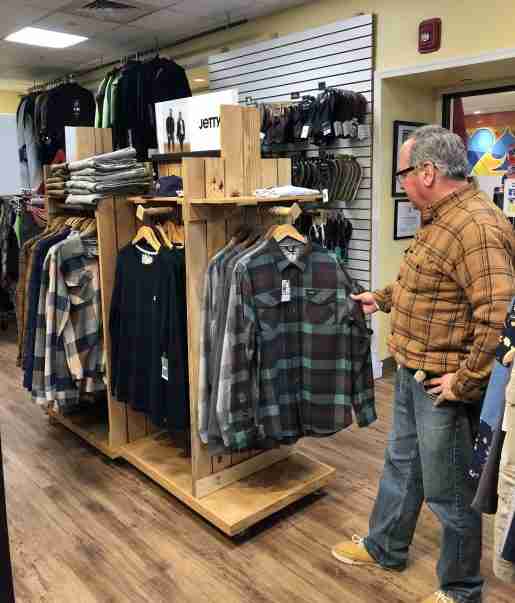 Kevin Bradley, general manager of Jersey Devil Surf Shop on the boardwalk in Atlantic City, N.J., photographed with apparel. The sale of sun-protective shirts has skyrocketed for the store.
The T-shirts at the Shreveport Aquarium gift shop are made entirely out of recycled bottles. Sourced from Recover, an eco-conscious brand, the blue shirts cost a little more to produce then standard jerseys, said Gift Shop Manager Destiny García. "But we're absorbing the extra cost ourselves, and guests appreciate our commitment to sustainability," she explained of the tees, which cost $14.99 for children's styles and $19.99 for adult sizes. "That's just our commitment to doing the right thing.
Of course, most people already have plenty of T-shirts. What motivates shoppers to buy more — whether by the boardwalk or at a zoo or aquarium gift shop — are details that add value. That could mean anything from a destination logo to a trendy brand or a novel, high-tech fabric (like one made out of recycled water bottles).
Shoppers at the Louisiana Aquarium store are treated to the same type of educational signage that guides them through the exhibitions. "Recover Brands has really helped with in-house marketing" highlighting the shirts' eco credentials, Garcia explained. The 250-square-foot boutique even feels like an extension of the galleries, with "blue everything," the manager added, "so it matches everything else they're experiencing while they're with us at the Aquarium."
With limited space, the Shreveport, La., store stocks two styles that are equally popular and tie into aquarium sights. One shirt says "Feeding Frenzy" and features a stingray, a memento of the favorite guest activity, feeding resident stingrays; the other shirt, popular with adults, has a minimalist fish logo. 
At the Texas State Aquarium gift shop in Corpus Christi, this year's hit is a new line of coordinating family shirts that reference the hit kids' song "Baby Shark." "One T-shirt has a mommy shark, another has a daddy shark, and the kid version has a baby shark," explained Store Manager Rebeca Harris. "A lot of families will come in and buy the whole set."
For several years now, the overall top-selling shirt style has been a blue-green knit style featuring the aquarium logo alongside a sea turtle. "We have sea turtle rehabilitation here, so that's probably part of why, plus the logo is nice and big," Harris offered. "People like to buy a T-shirt with a logo from a place they've been." She added that the store's corporate buyers will doubtless introduce new styles for 2020 — and it's likely that most will be short sleeved, for the hot Texas summer.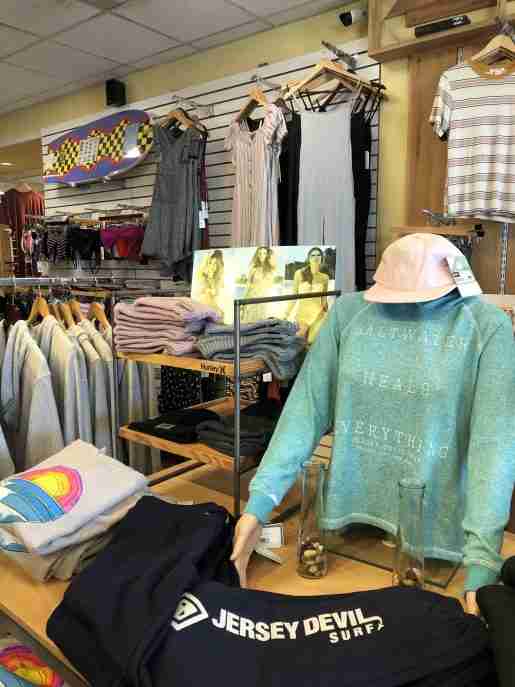 Apparel, including Jersey Devil logo apparel, on display at the Jersey Devil Surf Shop. Super-soft shirt fabrics are popular at the store.
At Boardwalk Skate & Surf in Venice, Calif., vacationers snap up souvenir T-shirts, while surfers hunt for tops from prestige sport brands like Reef and Quiksilver. "The tourists are looking for sunsets with waves, or shirts that say California Republic or Venice Beach," said Johnny Parco, who has co-owned the beachside shop for 27 years with his brother, Bob Parco. Surfers, in contrast, are willing to shell out premium prices for high quality brands. "We try to have something different from everything else you see around here," Parco said.
A few years ago, the brothers moved the shop to a new, 1,200-square-foot location. Parco said they plan to revamp the space — which also offers rentals of scooters, bikes and skateboards — to include more apparel. But Boardwalk Skate & Surf is unlikely to stock the higher-end, sun-protective fabrics that are the rage at many beachside locations. "It sells, but not as often, and meanwhile your money is just sitting there," explained Parco, who said he is more likely to seek out new and interesting graphics. "Over 27 years, we've tried everything, and we go for things that most people want to buy."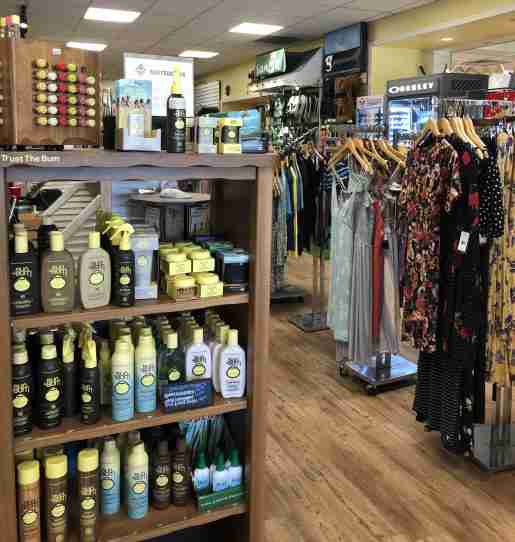 Dresses and sun care products for sale at Jersey Devil Surf Shop. The 3,700-square-foot shop gets year-round traffic as part of Resorts World Casino.
In the right locations, those sun-protective shirts are winning fans among beachgoers looking for a reliable, safe alternative to chemical lotions. 
"People are a little skeptical now about those sunscreens, what you're putting into your body," observed Kevin Bradley, who has seen sales of sun-protective shirts skyrocket at Jersey Devil Surf Shop on the boardwalk in Atlantic City, N.J., where he is general manager. Beachgoers are turning to the high-tech fabrics after recent headlines about potential carcinogens in sun lotions and sprays, as well as the chemicals' damaging effects on marine ecosystems.
"Let's say you're fishing, or you're a lifeguard, or you're a lawn guy," explained Bradley. "If you're going to be out in the sun all day, these shirts are worth the money." Sun-protective shirts are designated with numbers that correspond to their UPF, or ultraviolet protection factor, similar to the SPF ratings for sunscreen.
"We're always looking at new fabrics," said Bradley, when asked about next summer's stock. "The latest are these ultra soft blends that are very sturdy. The softer you can get a shirt, the better."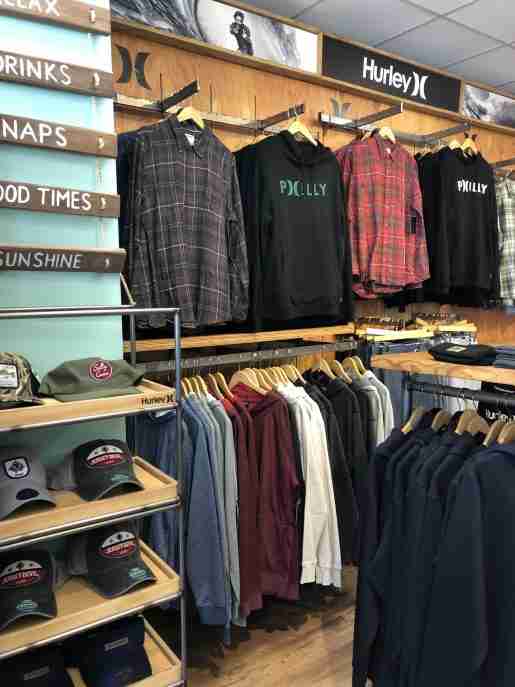 Long-sleeve shirts, signs and ball caps for sale at Jersey Devil Surf Shop. Sun-protective shirts for sale at the store have UPF (ultraviolet protection factor) numbers, similar to the SPF ratings for sunscreen.
While the fabled boardwalk is liveliest in summer, Bradley said that the 3,700-square-foot shop gets year-round traffic as part of Resorts World Casino. Dean Randazzo, a pro surfer and local legend, opened the store six years ago, using the nickname Hawaiian surfing fans had bestowed on him, "Jersey Devil." While Randazzo is no longer involved with the shop, his aura still draws shoppers — and sells T-shirts. 
"People like the designs, and then when we tell them about the history, they'll buy it," said the manager, noting that the store also promotes Randazzo's cancer charity. It also helps that shoppers are greeted at the entrance by a colorful array of t-shirts — custom Jersey Devils styles, featuring reaper and skull motifs, as well as favorite surf brands like Hurley, Billabong and RBCA. Most cost around $25.
Also in New Jersey, in Ocean City, beachgoers are snapping up UPF T-shirts from brands like Coolibar at Island Beach Gear. "It's really trending upward," said General Manager Brent Burt of the protective fabrics. "People have been very busy lives, and are looking more to clothing for sun protection. It's easy to just throw something on." Burt explained that the new technical fabrics are designed to keep wearers cooler or warmer depending on ambient temperature, making them versatile for use from beach or paddleboard to boardwalk drinks.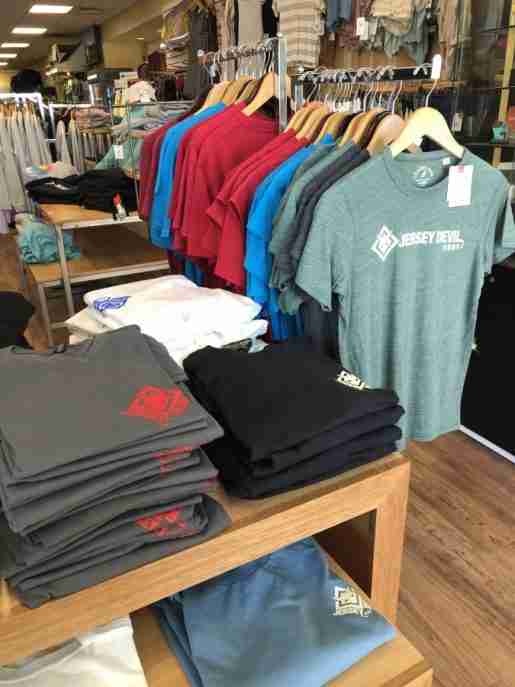 A T-shirt display at Jersey Devil Surf Shop. Concern over sun lotion safety is encouraging the sale of sun protection apparel.
The 10,000-square-foot store, strategically located just over the bridge from the mainland, does particularly well with T-shirts from surfing and outdoors brands. "Salt Life shirts really fly out of here," said Burt. "And Panama Jack — that brand is synonymous with the beach." He added that activewear brands sell especially well when they are associated with surfing and sports celebrities; Island Beach Gear maximizes trends through its active social media program.
For the 2020 season, the store is looking for apparel designed for active lifestyles. Burt said his team will check out the winter trade shows — especially Surf Expo in Orlando — looking for new vendors and fashion-forward look. 
"There are so many great styles for any age," Burt reflected. "Whether you're in the millennial category or the baby boomer category or anything in between, we've got something for you."