By Natalie Hope McDonald 
The Tenement Museum in New York City's fabled Lower East Side is a testament to the way immigrants lived at the dawn of the 20th century. Not only does the museum occupy actual former tenements in the rapidly gentrifying neighborhood in lower Manhattan, it specializes in tours that provide authentic glimpses into what life was like for those who came to the New World more than a century ago. 
This gift shop here has become an extension of the educational experience in a few very creative ways. By selecting items that celebrate the history of the city, neighborhood and American immigration to New York City, guests are able to preserve their experiences in tangible ways, whether with a token of their visit or materials that further enrich their learning on subjects as far ranging as urban studies and culture.   
According to Celina Kelly, associate director of retail operations, some of the most popular items being sold right now run the gamut from the educational to the entertaining, like fire escape ornaments and Lower East Side map T-shirts. The shop recently introduced a new Lower East Side baby onesie that has been selling briskly, Kelly said. 
"Other items that sell very well," she explained, "including our Newspaper Crossword Puzzle, Greek coffee mugs and Immigrant Cookbook."
A few other standouts at the shop include illustrated tote bags, a book about the history of the Tenement Museum, steam heat radiator pins, notecard sets, tea towels featuring drawings of brownstones and paper dolls. The themes of many of the products, however whimsical, tend to tie back to the museum and familiar sights from city life (like fire escapes and water towers).  
"These items are most popular with our visitors because they are New York-centric," said Kelly, "and can only be found at our museum." In fact, the products exclusive to the gift shop are actually designed by the museum staff. Often these are items related to the history of New York, which tend to sell well to an audience that is attracted to symbols of urban history. "The items we find that generate the most interest are items that we design in house," she admitted. 
To ensure that guests have access to the most popular items, the shop maintains a list of its 50 best-selling items to ensure they stay in stock. "We never want to run out," said Kelly. Many of the same items from this list are also sold in the museum's website to much success. 
"We work with an incredible collection of vendors who believe in our museum's mission," Kelly said. "Many of them are small, privately owned businesses that are either New York-based or immigrant-owned. We are very conscious of the size of many of our items, in that the majority of our visitors are traveling domestically or internationally. We never want them to find something that doesn't fit in their luggage!"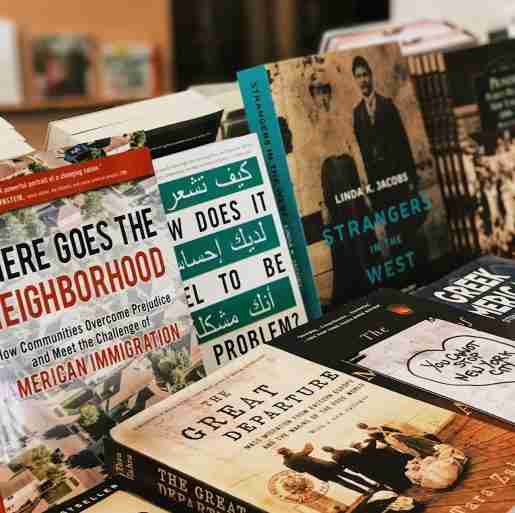 A book display at the Tenement Museum. Standout merchandise for the
gift store include paper dolls, tote bags, notecards, tea towels and more.
Where History Books Are a Big Seller
Ever since the Museum of the American Revolution opened two years ago on the anniversary of the first battle of the war, it's become a must-see attraction in historic Philadelphia. Located in the midst of the city's most famous monuments, like Independence Hall and the First National Bank, the museum's contents provide context to the events leading up to, including and beyond 1776. And because it's such a popular tourist attraction, much planning has gone into creating a spacious gift shop that really celebrates the museum exhibits and the role Philadelphia has played in the founding of America. 
Tanya Heath, the assistant director of retail, said that the shop has become especially popular among book lovers: "We sell a lot of specialty titles and books focused on the American Revolution, specific things even Barnes & Noble in nearby Rittenhouse Square doesn't have on hand." 
Visitors also tend to buy a lot of apparel and home décor items, including "Revolution" mugs, pint glasses featuring Alexander Hamilton quotes, "Join or Die" shot glasses, canteens, mugs celebrating both the battles of Valley Forge and Boston, and mugs with quotes by other famous historical figures from the time, like Abigail Adams and Patrick Henry. There's even a mug wrapped in vegan leather to replicate some of the old-time styles one might have seen back in the day, but with a modern cruelty-free twist.
The apparel collection is also a standout, including a range of hoodies, tees and sweats for men, women and kids in designs that feature the stars and stripes, famous sayings like Abigail Adams' "Remember the Ladies," and, of course, "Give me liberty or give me death." The apparel here is designed to reflect history with the use of more contemporary designs that tend to appeal to more fashion-forward shoppers. 
One standout in the apparel category these days is the "Liberty and Union" tee for teens that looks like something out of a comic book. Heath said pretty much anything featuring Hamilton is a big seller among younger people who have rediscovered his story through the Tony Award-winning musical.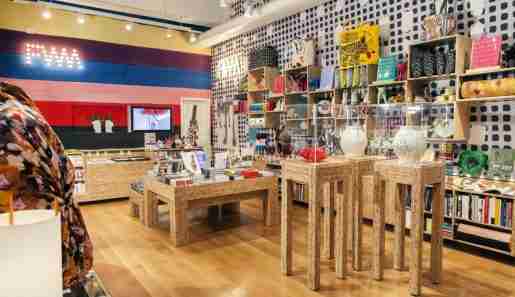 A view of the Fabric Workshop and Museum (FWM) gift store. The shop's inventory includes artist-in-residence creations, functional objects and FWM publications. Carlos Avendano
"Guests also love specific items that tie into both the museum and Philadelphia," she explained. "Our 'Join or Die' and 'Chain of States' stories sell really well because these are memorable symbols that are easy to explain, and that represent both the Revolutionary War and our city." 
The shop also carries a very creative range of collectible replica home decor items based on some of the items that museumgoers may have seen in exhibits, like a Triphena Bowl and large City of Boston mug. The shop also carries replica weaponry, buttons, calligraphy sets and items that would have been used by soldiers during the Revolutionary War.  
And because Philadelphia was home to so many famous founding fathers, anything featuring Ben Franklin is also a huge hit. "He's very popular with visitors," says Heath. "George Washington and Alexander Hamilton items are also very popular in the shop." 
A really nice feature of the museum shop is that it's accessible whether someone buys a ticket for entry or not. In fact, a lot of the traffic comes from tourists who may be looking for great souvenirs, but may not have the time to wander through the exceptional displays and exhibits here (one of the museum's claims to fame is having Washington's original tent from Valley Forge). The shop is also located next to the cafe, which is also open to the public (and even includes outdoor seating that looks out to the city's bustling historic district). 
"Guests are very spontaneous and most purchase same day at the shop," said Heath. "For those who are hesitant to make bigger purchases, we do recommend shopping online or even calling and doing phone orders."
The shop also provides in-store shipping for a flat rate that usually meets guests at their final destinations in a matter of days. She admitted that this added service has become a convenient option for travelers who may want to save room in their suitcases. 
Nabbing Special Edition Works by Emerging Art Stars 
Also located in Philadelphia, the Fabric Workshop and Museum (FWM) is a non-profit arts organization devoted to creating and celebrating work by artists in new media. Because the range of exhibits span different categories, from two- and three-dimensional to video, the intimate gift shop features some of the most unique items in the city. 
Some of the most interesting items in the shop are actually designed in-house by artists in residence, while others are tied to more famous names like Louise Bourgeois and Robert Venturi, an architect famous for his postmodernist designs in Philadelphia. In addition to featuring a range of styles, the inventory also reflects various price points.
Tracey Blackman, the director of facilities and retail, said, "These days our best-selling souvenir items are hand-printed and recycled material coin purses, pouches, tote bags and finger toys."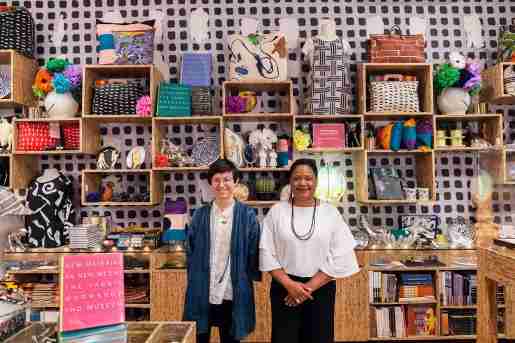 Tracey Blackman, right, director of Facilities and Museum Shop with Sabine Lipten, shop assistant, of The Fabric Workshop and Museum Shop, Philadelphia, Pa.
Some of the shop's most unique items are the multiples and special limited-edition works that truly reflect the workshop's enduring artistic programs. Over the years, many artists have collaborated with the shop to deliver thought-provoking works in a variety of mediums that tend to be usable and tactile, as well as collectible.
"FWM customers are always interested in buying items from artist editions—featuring designs by past FWM artists-in-residence—and exhibition-related merchandise," said Blackman. "In addition, our shop also sells a wide selection of non-exhibition-related design items, including napkins, clothing, jewelry and paper products."
All of the items in the shop are in some way eye-catching, like, for example, decorative containers, vases, lamps, pillows, chair covers, napkins and tablecloths. "We also sell hand-printed fabrics by the yard," Blackman said. 
Most of the popular souvenir items are strategically located at the point-of-sale counter. "These souvenir items tend to be inexpensive items that many customers can't resist adding on when completing their purchase," she explained, "making this one of our top-selling merchandise categories. We also highlight artist editions and exhibition-related merchandise, featured in several locations throughout the museum shop, including vitrines and display cases."
A Pop Art Symbol Becomes a Cash Cow 
At the Nelson-Atkins Museum of Art in Kansas City, Mo., Brian Day, museum store manager, spends a lot of time finding the most creative merchandise to celebrate new exhibitions. Known for its collection of Asian art, the neoclassical destination also showcases many new shows that run the gamut from the classic (Albrecht Durer) to the more contemporary (Jean-Michel Basquiat). The museum has also become known for its photography exhibits and on-site installations. Right now, guests can see Andy Goldsworthy's "Walking Wall," a stone installation, and Anthony Hernandez's street photos of Los Angeles. 
The museum shop features a wide range of merchandise, some of which relates to special shows, while other items celebrate the art world overall. "Our best-selling souvenirs are anything shuttlecock-related," said Day, "such as the shuttlecock mug or any of our Bloch Galleries Impressionist 11-by-14 prints."
The shuttlecock, a traditional projectile used in badminton, has become a pop culture-inspired symbol of the museum thanks to Claus Oldeburg's giant "Shuttlecocks" sculpture on the lawn. Some of the related merchandise includes shuttlecock mugs, ornaments, teacups, T-shirts, coaster sets, jewelry, magnets, key chains and shot glasses.
"We also carry home décor items," said Day, "such as vases and sculptures, etc. We find that our customers enjoy purchasing many types of items to help decorate their homes."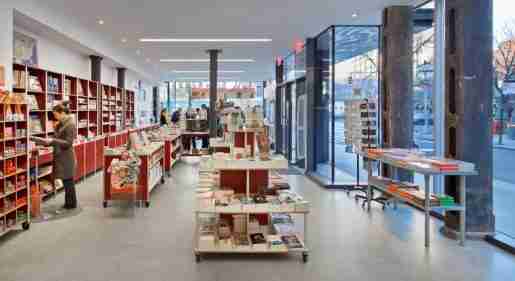 A view of the sales floor at the Tenement Museum. This New York City museum also houses a gift store that is an extension of the educational experience the attraction offers.
Regular guests of the museum have also come to appreciate the range of merchandise that is new, often based on or at least inspired by the latest exhibitions.
"Depending on the exhibition," said Day, "there will be customer interest in purchasing merchandise that aligns with an exhibition. For instance, we have many items for sale in the store that align with '30 Americans' (our current exhibition)."  There is a catalog and exhibition-related merchandise, such as magnets, stationery, and many other products that are selling well with customers, Day said. 
To make the browsing experience as artful as the inventory, items are carefully organized throughout the space. "We merchandise by theme or exhibition," he said, like books and products that align with a current exhibition. "Often times, we also organize by color scheme." The effect is appealing to the art crowds that have made the museum a very popular and well-respected destination. As such, he said, "Our customers overwhelmingly purchase more often in the store than online."