By Natalie Hope McDonald 
Mrs. Mitchell's Gift Shops have been a tradition on Cape Cod ever since George and Freda Mitchell opened their first store in 1966 in Hampton Beach. Still going strong (and still an independently owned family business) the Mrs. Mitchell's brand has expanded to include additional locations in Hyannis and West Yarmouth, still selling many of the items that people have come to expect from these longtime purveyors of regional delights. 
These days, Lynn Mitchell is heading up operations, ensuring that the New England traditions that first made Mrs. Mitchell's a favorite stop for locals and tourists are very much alive and well. The cash cow for the shops tends to be in Cape-themed souvenirs, apparel and décor (think lobster and sailing motifs) but there are also a few edible gifts that have made the locations a standout from the many other tourist destinations along the Cape. 
"Our original location at 285 Ocean Blvd. in Hampton Beach makes our homemade fudge," said Mitchell. "That is one of our best-selling edibles." 
In fact, Mitchell's brother is the guy who makes all of the fudge being sold. Yes, Mrs. Mitchell's is still that much of a family affair. In fact, he uses the same recipe that has been welcoming generations to the Cape Cod institution for more than a half-century.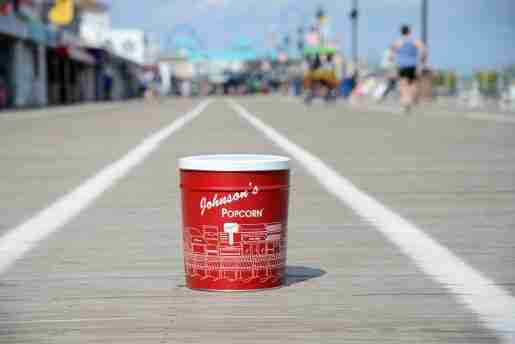 A photo provided by Johnson's Popcorn showing its most popular
product, a large tub of hand-churned caramel corn that is still made on the Ocean City, N.J., boardwalk.
And while the fudge flavors have expanded – rest assured that they still include traditional chocolate and chocolate peanut butter (still the best-sellers) – the shop now also makes up to 15 newer flavors that are appealing to younger customers every day.
Mitchell said next to the fudge, the salt-water taffy is also popular among seasonal crowds come summer. The shops also sell beach plum jelly, which is well known in the region, as well as chocolate from CC Provisions. "Their chocolate-covered cranberries are one of our top sellers," said Mitchell. "We have added local New England honey and maple syrup, as well, and both have started off strong in sales."
Regional Tastes 
Also on Cape Cod, Plum Porch in Marston Mills, Mass., bills itself as a sophisticated gift shop that sells a wide variety of fashions and souvenirs. Owners Corrie Mays and Samantha Leonard are both locals who have found a niche outfitting locals and tourists year-round. 
While the young and fashion-forward owners encourage customers to sip champagne while they shop, Plum Porch also carries a few edibles that make great gifts to sample or take home. 
Among the candy being sold, said Mays, "our most popular would be the McCrea's caramels made here in Massachusetts." McCrea's Owner Jason McCrea
specializes in slow-cooked, handcrafted caramels that are made from all-natural ingredients in Hyde Park, Mass. Different ingredients, like fair-trade vanilla, organic maple syrup and Highland Scotch, give these caramels their unique flavors.
Plum Porch says that the Cape Cod Sea Salt tends to be most popular along with the Single Malt Scotch. "We often sell that as a gift for men and recommend they pair it with one of our double old-fashioned glasses engraved with a map of Cape Cod," said Mays. "It makes for a very nice presentation and unique gift for men …that's not always easy." 
Other unique gifts being sold here include Cape Cod Home Remedies, baked chili cheese dip mix, do-it-yourself herb gardens and Pepper Spring's Soup mixes, which are perfect for travelers who are on the go (they are designed to be delicious by simply adding hot water).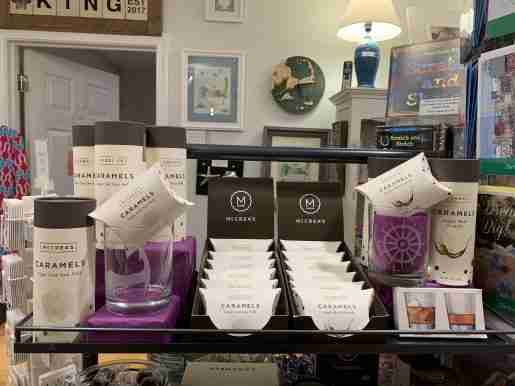 At Plum Porch in Marston Mills, Mass., McCrea's caramels, which are made in the state, are the most popular candy variety sold.
A Maker and Retailer In One 
Buying Johnson's Popcorn is a rite of passage at the New Jersey Shore. With a home base on the boardwalk in Ocean City, the smell of fresh-popped corn has become an unmistakable part of summer in the Garden State. Interestingly, as Johnson's has become such a favorite over the years, the company has expanded to not only become its own purveyor, but Johnson's also sells the edibles to other retailers, including Hallmark stores in both New Jersey and Pennsylvania, as well as gift shops like James Candy in Stone Harbor, N.J.
"Our most popular item, whether it is on the boardwalk in Ocean City or Wildwood, is our large tub of popcorn," said Rebecca Juzwiak, vice president and COO of Johnson's. Measuring more than seven inches tall, the tub is filled to the brim with air-popped, hand-churned caramel corn that's still made on the Ocean City boardwalk. 
"The most popular flavor we sell is our caramel popcorn that is hand-mixed in copper kettles the exact same way we started in 1940," said Juzwiak. "All of our retailers showcase their items differently, but in our stores, we showcase it by cooking it right there on the spot so all of our customers can see the process and eat caramel corn literally right out of the kettle."