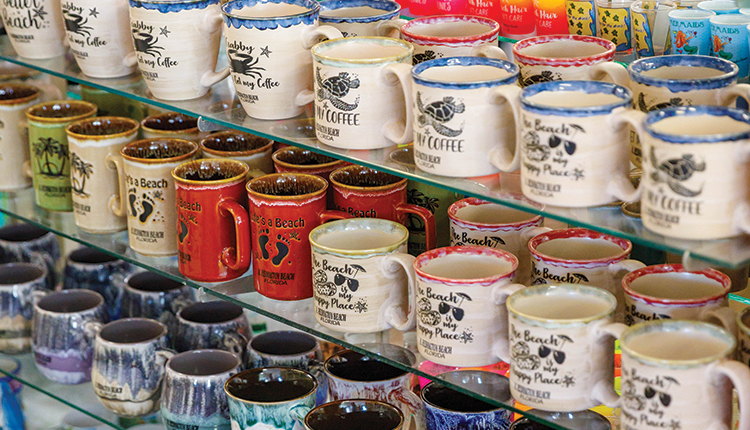 From impulse buys to name-drop keepsakes, souvenirs are selling like crazy at seaside locations. Impulse purchases ring in last-minute revenue for coastal retailers that smartly stock and neatly display a range of low price point products, usually at the check-out counter.

Sessoms' Candy & Gifts in Sea Isle City, New Jersey, on the other hand, has an entire store filled with merchandise that might all be considered an impulse buy. Customers are immediately drawn to the 6-foot lighthouse display stacked with shot glasses and mugs.

"At the counter, we have coasters, magnets, keychains — the whole section is 'impulsey' and says Sea Isle City on it," says Jay (Junius Jr.) Sessoms, owner of the multi-generational shop, in business since 1972. Customers are often overheard saying, "It's the only store like this on earth."

The boardwalk gift store carries items like sharks-in-a-bottle, pirate paraphernalia, model ships, bamboo wind chimes — and souvenir staples priced so customers can add them to their bag without a second thought.

Sessoms stocks perennial favorites like decals and Hydro Flasks — customers buy Sea Isle City stickers for them — along with trendy items. "This year we have jiggly wiggly slugs and the latest fidgets," he says. "During the summer, we have to replenish the displays every day or it looks like we are empty."
Sessoms keeps impulse price points under $20, and there is a wide selection of items that are less than $10.
"If you can get it under the $10 and $20 point like $9.98 or $14.98, that will sell a little better, but our economy here has switched," he notes. "We used to be a blue-collar area, and we really are not anymore. They are building million-dollar homes in town so if they like it, they buy it."


A name-drop stop
When customers visit Souvenir City in Orange Beach, Alabama, they're usually there for one of two reasons. "When they get here they buy a lot of their beach supplies to go to the beach, and before they return home they buy all their souvenirs," says Lee Howell, general manager of the two Orange Beach Souvenir City locations and Gulf Shores Beach Supply.

Luckily, with a wide selection as the name indicates, souvenir-seeking customers usually have no trouble finding exactly what they are looking for.

The store sells all sorts of merchandise with Orange Beach displayed on them, including T-shirts, hats, picture frames, snow globes, keychains, magnets, drinkware, decals and towels.
"We sell really anything you need for the beach or to take home as a gift with a name-drop on it," says Howell.
"Our main thing that we sell with the name drop is T-shirts. Everybody wants an Orange Beach or Gulf Shores T-shirt to take back to a friend or family member," he adds. "We also sell a lot of coffee mugs and a lot of picture frames, a lot of little trinkets and snow globes. People are always looking for something with the location name on it to take back home with them."


Something for everyone
Souvenirs large, small and everywhere in between adorn the shelves, racks, tables, walls and display cases at The Little Pelican in North Redington Beach, Florida. According to owner Rene Wolf, it is the only store that carries North Redington Beach merchandise.
"We have a lot," she says. With a fixture upgrade in 2021 that gave the store more shelf space, the store has increased its inventory threefold.
The store was able to bring in new toy, apparel and jewelry lines thanks to having more room to display its offerings.

Shoppers on the hunt for the perfect souvenir can find just about anything they are looking for, including drinkware that ranges from handpainted shot glasses, coffee mugs, and the store's best-selling Silipint line of pint and shot glasses. They'll also find a wide selection of magnets, postcards, pocket knives, keychains, picture frames, bracelets and towels.
It's Christmas year-round at The Little Pelican. The store also expanded its ornament selection and now carries some 200 different types. Approximately 100 of them feature a name-drop. Snow globes are also a hit.
"Snow globes are probably one of the main lower priced souvenirs. I have glass and acrylic ones that are very different," says Wolf. "We also came up with a magnet called 'beachfront property.' It is a square plexiglass block that is name-dropped with the person's name as well as North Reddington Beach. The back has a sunset picture and inside has sun, sand and shells."

When Wolf looks for new products to carry in the store, her criteria consists of two main factors: uniqueness and price point.
"We want to make sure we aren't overpricing ourselves," says Wolf. "We have upgraded the store and added higher price points, but the store has been here for 30 years. I wanted to upgrade the look and feel and bring in quality merchandise for a great price.
Retailers on the coast are stocking plenty of products to help their beach-loving customers relive happy memories with items to wear, display and enjoy.