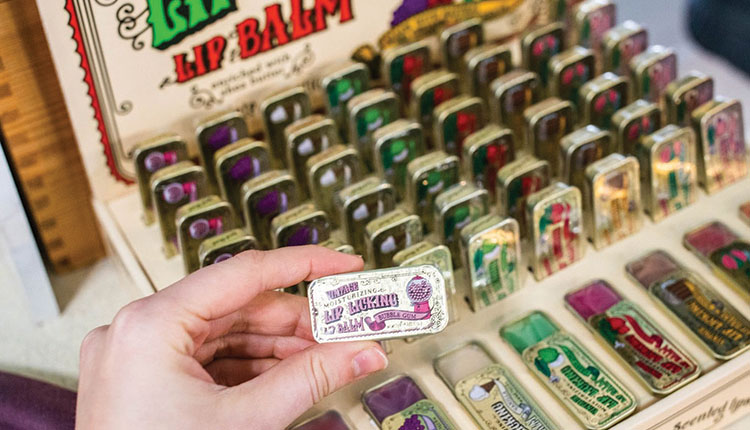 Finding the perfect gift can take a lot of time and thought. Retailers often hear browsing shoppers say they are looking for a "unique" gift — a special item that reflects the recipient's tastes, personality, or something they didn't even know they needed.
Nikki Hickman, owner of Serendipity Gifts in Saint Charles, Missouri, hears this from customers every day. "Our customers are almost all tourists," she explains. "That definitely plays into what we carry. They are looking for things you wouldn't find in the big box stores — maybe a brand they've never heard of, or something they've never seen. We also carry Simply Southern, which is a pretty well-known brand. It's cute and comfy. We have a lot of humorous, 'snarky' gifts, too — just very unexpected, positive, happy finds."

Hickman says in her 1,000-square-foot store, comfort in all forms continues to be a dominant trend, as well as self-care products — "whether it's our Hello Mello PJs, or bath and body care, like lotion or just a silky pillowcase. Since COVID, the landscape has really changed. People are not dressing up as much. Many folks are still working at home. They're just more comfortable," she says.


Brightening the mood
At Lotus Lake Gifts & Decor in Chanhassen, Minnesota, Owner Kate Nordby says many of her customers look for gifts to brighten someone's day, particularly during the long, cold Minnesota winters. She says self-care is also a popular category in her 1,000-square-foot store.

"Customers are looking for things to brighten the mood, whether self-care products or candles, either as a gift for themselves or someone else," she says.

Whether the retailer carries national or local vendors, or a combination, distinctive products or fragrances continue to keep customers' interest. Because Nordby's store has a largely local clientele, her regular customers want to see a regular inventory of new merchandise.

"Shoppers are looking for unique items, so our store is ever-changing," she says. "They expect it to be different."

Nordby tries to infuse some humor throughout the store and in the displays. "I'll add little pops of things to make people laugh. It's fun to watch people shop and find something unexpected. We get a lot of locals, but there is a dinner theater known statewide right across the street from us, so that brings in the visitor traffic every year," she says.
Rather than necessarily following "trends," Jessica Martella, owner of Adorned Accessory & Gift Boutique in Johnstown, Pennsylvania, has noticed a change in customers' buying behaviors. "Our biggest selling line right now is E. Newton, which is gold-filled jewelry. It has a higher price point for our store, but it lasts, rather than something that's costume. People are willing to make more of an investment in something that will last."

Martella says she has also seen a huge demand for home fragrances. "Over the last two years, people were burning candles like crazy," she pointed out. "Any kind of products for 'scenting the home'—wax melts, diffusers with essential oils …people seem to be giving that sort of gift."
She also experienced how COVID changed the landscape. "People were home more, so they wanted their homes to smell nice." She explains. "Anything crystal or sparkly [jewelry] seems to be less popular. People just aren't going out as much. The jewelry is smaller. They want practical, small jewelry they can wear every day. They're just not wearing as much of the big statement pieces."


Local sells
Dazzles Gift Boutique's customer base is about 95 percent tourists, notes Tracey Stamp. The Duck, North Carolina-based boutique carries work by local artists and crafters. While Stamp does not have one outstanding best-seller, she has noticed most of her customers are gravitating toward items made by local vendors.
Handmade, homemade or something with a local flair are consistently strong sellers for gifts regardless of location.

"The year COVID broke, people were buying everything," she says. "Last year, we were more conservative and selective. It's hard to say, trend-wise, because some things that were strong sellers didn't sell as well, or something I didn't think would sell flew off the shelves. Some people like their jewelry; some people like the name-dropped items. It's a pretty even mix across the board. People are definitely looking for deals, and they definitely like local."
Most of these retailers find their vendors by going to gift shows. Because Stamp likes to work with local vendors, she says, "I'm always looking. People come into the store to show me some of their items, or I hear about them through word of mouth. When I travel, I look for interesting vendors. People will approach me."
Dazzles was runner up for "Most Unique Items" in a Best of the Beach contest, so her strategies appear to be working.
Nordby says helping customers find the perfect gift is often a very personal experience. "The biggest thing is connecting with customers. It goes beyond helping people shop."
She says the stories she's heard from people over the years run the gamut — from the most wonderful things, to the most heartbreaking.

"It's not a responsibility I take lightly. Our customers want to connect with people. They are excited to find a gift they are proud to give," Nordby says.