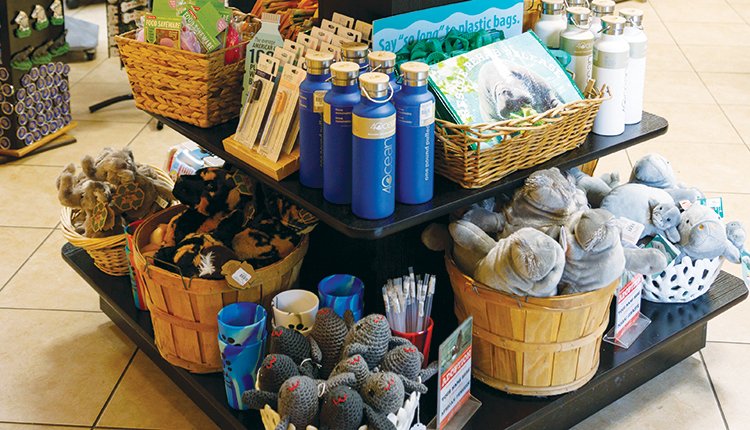 Souvenirs are more than just a reminder of a trip when zoos are involved. Zoo gift shops across the country know that they are catering to a crowd of visitors who have made special bonds with resident animals ranging from fun-loving manatees to slithery snakes. That's why they often carry a variety of animal-themed and name-dropped gifts for all ages.

Kids especially can't wait to get that special item that reminds them of the new members of the animal kingdom they've just formed a bond with.

"Our best-selling item far and wide is plush," says Elie Johnson, director of retail at ZooTampa at Lowry Park. "It's mainly because of our customer base. It's kids coming to the zoo and they make a connection with one of the animals, and it's just having that plush to bring home to remind them of the animal they saw or interacted with. It helps them have that memory at home at well."
The most popular plush items across the zoo's six gift stores, pop-ups and mobile carts tend to be snakes and painted dogs. ZooTampa is also one of the few zoos in the country that carries a shoebill stork, "which if you've never seen one, you should check it out," says Johnson.
The snakes do well, she says, because of how they are displayed. "We have a rack that they hang from, so it is like a long snake and it really draws kids over."
Plush aren't the only items with animals that the kids go wild for, notes Johnson. "We have these buttons, and we sell them for $1 each. They'll have a photo of an animal that is actually here at the zoo and then it has the ZooTampa logo on it."
The buttons are an upsell item at the cash register, "so we sell quite a few of those," Johnson adds. Good Luck Minis from Safari Ltd. are another low-priced big seller. They are pocket-sized animal figurines that the zoo sells hundreds of in a day.

"They also do really well with our members because there are always new ones coming out. They come back and try to collect them all," she says.
Reusable bags are also trending. ZooTampa removed all its single-use bags in July. "We always had a reusable bag option and they always did well, but now that we don't have any other bag options for the guests, they're doing even better."
The zoo sells a custom manatee bag and is coming out with a custom Florida panther bag soon. The zoo also works with a local artist who creates stickers that are custom to the Florida area. The artist also donates 10% of the sticker proceeds to conservation funds which appeals to the clientele.

Name-drops are about 50/50 of the stores' mix, according to Johnson. They do well at the zoo's gift stores, particularly for those who are visiting from another area. "If we have people coming into Florida, they are going to be more attracted to the name-drop item."
Some of the plush animals wear vests and hoodies with a name-drop sewn in. T-shirts are the zoo's best-selling name-drop item, but snow globes, keychains, and magnets are also part of the name-drop mix. The zoo doesn't do a lot of name-drop on its giftware because that is more geared toward members who aren't as interested in it, notes Johnson.

Johnson has seen some shifts in merchandise trends since the COVID-19 pandemic. Where before a customer might have settled for whatever item was available at the time, now, they are going after items they are specifically seeking.

"I could sell an armadillo plush in 2020 and no one cared because they just wanted an item, even though we don't have an armadillo at the zoo," she explains. "Now people are more focused on getting that correct item that they want that means something to them."
Mission-based items are one such example. Johnson says customers are willing to pay more for them because they support conservation initiatives. A bracelet the zoo carries is one example.

"We find that guests don't mind paying a premium for it, which is really cool because it ties back to the zoo's mission as well and we can promote these conservation-based items," she says.


Name-drop popularity
The Zoo Miami gift shop aims to maintain a "vast variety of eye-catching and neat trinkets, toys and apparel," according to Carlos Abreu, retail operations manager at The SSA Group, which manages the store.
According to Abreu, the zoo's top three best-selling inexpensive souvenirs are usually plush, postcards and magnets.

"Name-drop items are almost always top sellers, but truly anything that has to do with our animals at the zoo are nearly impossible to keep on hand," Abreu says.
Every month, in partnership with the zoo, the store chooses to donate to a specific animal fund. The store staff creates displays of the featured animal, and the plush products associated with that animal tend to be big sellers.

One vendor's postcards feature prolific wildlife expert and photographer Ron Magill's wildlife photographs.
"These postcards are a constant restock item as guests tend to purchase 10 or more at a time," notes Abreu.
Zoo Miami takes recommendations from their guests and zoo members on what items to name drop. Team members and zoo staff also like to purchase these items before they're sold out.
"Where best to get recommendations for product than the guest making the purchase themselves?" says Abreu. "Typically, any name-drop items we carry tend to practically fly off our shelves."

In the case that the zoo had leftover items, they would be moved to the on-sale section. But that hasn't happened yet. According to Abreu, the zoo's name-dropped merchandise always sells out.


Sweets, pennies and more
Tarynn Bennett, retail guest experience manager at the Lake Superior Zoo in Duluth, Minnesota, says some of the zoo's top-selling souvenirs are its penny magnet holders, stickers, Good Luck Minis and caramels.
"Our Annie B caramels are one of our top two sellers. They're inexpensive and support a local business at an affordable price," she says.

Penny press machines are located throughout the zoo. Guests can crush a penny at these machines with one of the zoo animals on it.

Shoppers can then purchase penny books or bracelets to hold the souvenir penny.
Along with performing good research to find new vendors with inexpensive souvenirs to stock, Bennett is a member of the Zoo, Aquarium & Garden Buyers Group (ZAG). She says it is a great resource for sourcing locally made items, fair trade products and more.


Considering costs
Inexpensive souvenir pins are the top seller at Miller Park Zoo in Bloomington, Illinois, according to Guest Services Manager Sandra Goaley.
"I think they sell so well because they are straightforward and don't have an animal or year associated with them," says Goaley. "If a guest is looking for a particular animal with our name, but can't find it, they likely won't buy anything. But if they find something that is neutral instead, they will likely get it."
Goaley browses print catalogs and the Internet to aid in the search for inexpensive souvenirs. When something catches her eye, she'll look into how much the sales price would be and decide if it's something the zoo's guests would purchase. She also asks the staff, "Would you buy this for this much?"
"It works because I'm not only considering our cost, but what someone would purchase something for," Goaley says. If she finds a product she likes on its own, without a name-drop, she'll consider what it would look like with a name.

Goaley would consider offering merchandise that isn't moving at a discount price, but also believes that for the most part since there's something for everyone at a zoo gift shop, it'll eventually sell.
Zoos have plenty of options to entice customers with purchases that help further connect with memories, animal experiences and causes that zoos help promote. Sticking with animal themes and name-drops are successful strategies.