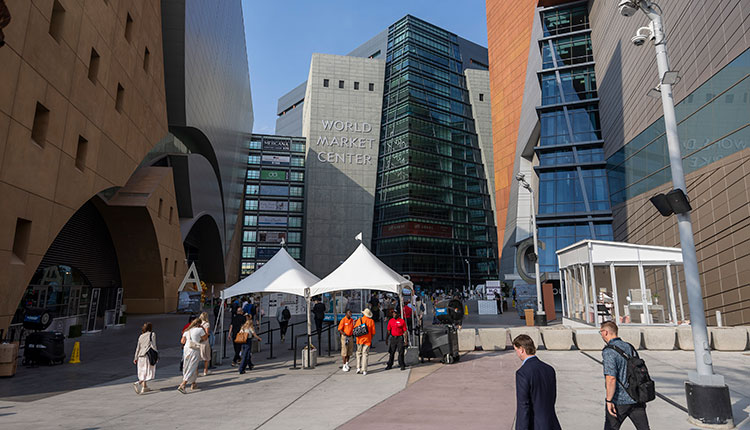 ANDMORE will host its semi-annual Las Vegas Fall Buying Event, featuring over 50 home, gift and lifestyle permanent showrooms across buildings B and C and the Las Vegas Design Center (LVDC) Oct. 4-5 at World Market Center, Las Vegas. The event is open to the trade only, with on-site registration required. Buyers can RSVP for the event online.
"The Fall Buying Event provides one final opportunity for western-based retailers and designers to close out their 2023 gift and home sourcing and prepare for the new year," says Dorothy Belshaw, ANDMORE executive vice president and chief growth officer. "With open-daily resources in the LVDC combined with open gift and lifestyle showrooms, World Market Center is the perfect destination to discover products and write orders."
According to ANDMORE, the Fall Buying Event is an extension of World Market Center Las Vegas' open year-round offerings in the LVDC. During the event, buyers can source in LVDC's 30-plus designer showrooms, presenting more than 120 product lines as well as additional gift, lifestyle, gourmet, tabletop and home decor showrooms on campus.
The event includes a list of over 20 gift and home showrooms, located in Building C. Current participants include Collective Home, Diverse Marketing, F.E.M. Sales, Fine Lines, Giftcraft, Gifts of Nature, Just Got 2 Have It!, Karen Alweil Studio, Kathleen Milne Co., Keena, Kurt S. Adler Inc., Mood Dekor, Mother Ruggers aka Orlena LLC, The New Era Sales Team Inc. (NEST), Next Step Reps, R-Biz Associates, Rug Factory Plus, Sales Producers Inc., Stephen Young, Toyology and Vertuu Designs. Appointments are highly recommended.
The 2023 Fall Buying Event runs concurrently with the Las Vegas Souvenir & Resort Gift Show at the Las Vegas Convention Center, providing an opportunity for buyers to source products across category ranges. The Fall Buying Event runs from 9 a.m. to 5 p.m. Oct. 4-5.