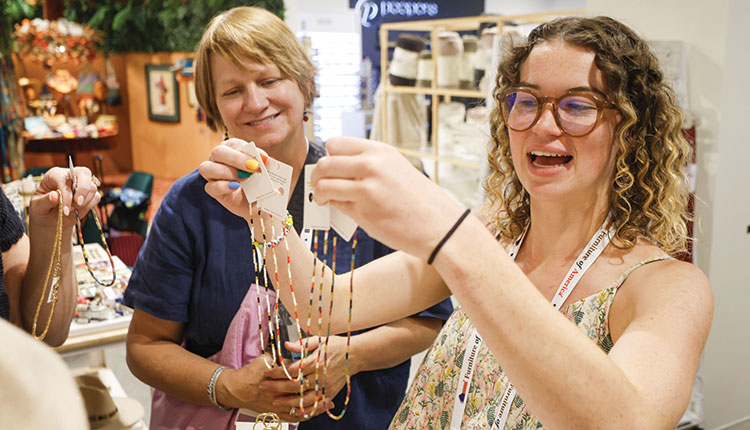 New product introductions, expansive programming and advanced at-market technology combined to deliver a positive market experience for buyers and sellers at the summer 2023 Las Vegas Market, July 30 – Aug. 3, 2023, at World Market Center Las Vegas.
"Las Vegas Market delivered on its promise as the industry's premier West Coast destination for gift, décor and furniture sourcing," said Bob Maricich, ANDMORE CEO. "Exhibitors and attendees alike forged valuable connections and generated new business opportunities through cross-category resources and networking offered only at Las Vegas Market."
With attendance representing nearly all 50 states and 49 countries, buyers from around the world converged at Las Vegas Market to find the latest and greatest from 1,000-plus suppliers of furniture, decor and gifts.
"I love coming to this market! It's very accessible to buyers from all over the country, and exhibitors are so easy to navigate throughout campus," said Stephanie Sala, owner of Five Little Monkeys, Albany, California. "I come here to see trends and get a sense of what product I need to keep my store cutting edge within the industry."
While the majority of attendees hailed from the West and Southwest, the summer edition also recorded a double-digit increase in buyers from the Southeast. In addition to interior designers and retailers large and small, Las Vegas Market hosted some 12 nationwide buying groups, bringing dynamic business connections and exponential purchasing power to the July event.
The summer 2023 Las Vegas Market featured some 3,500 product lines across the gift, bedding, decor and furniture categories throughout four buildings on the World Market Center Las Vegas campus, giving buyers the chance to discover an unmatched variety of product. More than 20 showroom updates brought a wealth of new and expanded resources to the July buying event.
Beyond exhibits, Las Vegas Market offered more than 30 events, educational programs and activities over five days of market.
Las Vegas Market's reorganization and expansion of home furnishings resources continued this summer, creating a more comprehensive breadth and depth of décor and furniture product in an easy-to-shop environment.
Permanent showroom expansions and relocations also extended the range and number of resources available to both designers and retailers.
Summer 2023 capped 10 years of Las Vegas Market gift leasing momentum, with highlights including additions and expansions as well lease extensions by industry-leading brands and sales agencies. The market's ongoing gift category growth and development was evidenced by significant summer market expansions on C11 by sales agencies Fine Lines and Stephen Young, as well as long-term recommitments by Creative Co-Op; Gifts of Nature; NEST, The New Era Sales Team and Road Runners.
Gifts of Nature, a sales agency for products that inspire, marked its 10-year anniversary as a Las Vegas Market tenant with a five-year lease renewal.
"When we came to Las Vegas in 2013, we were looking for new customers, more exposure and more reach and that is exactly what this market has delivered for us," said John Brown, Gifts of Nature president and CEO. "We have ambitious goals for this market going forward, and I'm confident in the prospect of meeting them."
Las Vegas Market's nearly 400 gift and home temporary exhibitors – some 25% of which were first-time participants – also reported positive energy and newly-opened accounts over four days at The Expo at World Market Center Las Vegas.
First time exhibitor Alyssa Stanzione, design director of The Card Bureau, said, "This is our first Las Vegas Market. We found out about it through word-of-mouth, and I think we made the right choice in coming here. As we plan for the future, I want to expand to a bigger booth and come with more inventory. The diversity of buyers at this market has been wonderful for us, and we look forward to coming back."
ANDMORE's new @Market app made its Las Vegas Market debut, delivering an easier, more user-friendly experience for buyers. Its combination of scan-and-go registration for badging, in-app navigation, product and exhibitor organization and post-market summaries offered buyers a more efficient experience from start to finish.
The winter 2024 Las Vegas Market is January 28 – February 1, 2024, at World Market Center Las Vegas.