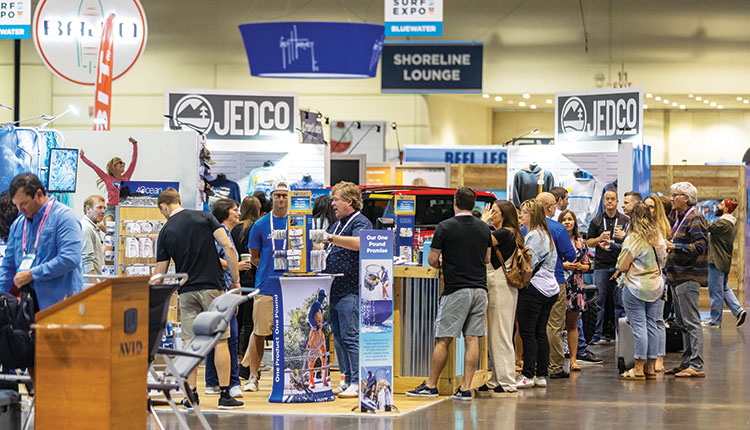 Surf Expo, a watersports and coastal lifestyle trade show, expects to welcome over 5,000 registered retail buyers, 700 exhibitors and 175 first-time exhibitors to its upcoming show Sept. 7-9 at the Orange County Convention Center in Orlando, Florida.
"Surf Expo thrives on creating a marketplace that is valuable both to our retailer and exhibitor communities," says Roy Turner, senior vice president and show director of Surf Expo. "We are excited about our stellar lineup of brands for our summer show, and more buyers are continuing to register each day."
Surf Expo says the 5,000 registered buyers attending the September event come from 3,000 stores. A number of board sport retailers plan to attend the event. The show is also popular with cruise lines, amusement parks, hotels and resorts, department stores, specialty chains, off-price retailers and authorized concessioners for retail operations in airports and national parks.
This year's event welcomes more than 175 first-time exhibiting brands, including 7th & Palm, Bacon Lettuce Tomato, Bison Coolers, Binkybro, Clarks, Cold Case Gear, da-sh, Dian Motors, Dotti, Deviate Board Co., Earthpack, Elakai Ltd., Emu Australia, Forcis, Free Country, Gabor, Gathr Outdoors, Hest, Island Goat Apparel, It's A Good Day Resort Wear, Jolie Beauty, Korkers, Kracken Adventure Bikes, Ku-kio, Line + Cleat, Listicle, Lonely Hearts Club, Loss-Proof, Love Thy Turtle, Mamala Surf Wetsuits, Novelty Inc., Ottoman Treasures, Pimp Shrimp Clothing, Pool Pony, Red Shark USA, Relentless Betrayal, Saola, Salt Wife, Seaskin Custom Wetsuits, SeaSucker, SolRide, Sunski, Totes Isotoner, Trihard, TrshBg, Welly and Yukon Outfitters.
"We have an impressive list of 700 exhibitors coming to the summer show, and our buyer community will have plenty of opportunities to discover new products and trends while strengthening relationships with existing vendors," says Turner.
Registration is open for Surf Expo September – visit surfexpo.com for additional show information and the complete exhibitor list and floorplan.