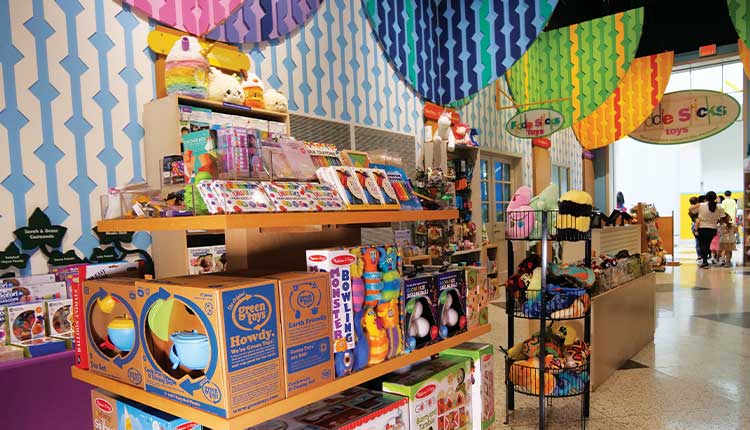 Museums are all about educating their patrons, and when those visitors include children, the learning has the opportunity to continue beyond the exhibit. A museum gift shop's offerings can give children a memento commemorating their experience while also continuing the learning experience beyond the walls of the museum.
Merchandise for kids is all the rage at the Children's Museum Houston's gift shop called Fiddle Sticks Toys. The store offers a wide variety of items for newborns to the 12- to 14-year-old age range. For each age range, different categories of merchandise reflect the museum's exhibits, including engineering, science, math, literature, craft kits and interactive toys.
"There is nothing for adults specifically, but they would enjoy a brain teaser, puzzle or game," says Conchetta Lewis, director of retail operations at Children's Museum Houston.
Similarly, the shop at the Cape Cod Children's Museum in Mashpee, Massachusetts, aptly named The Parent Trap, caters primarily to kids. In fact, Heather Palmer, community outreach director, says that 99% of items sold at The Parent Trap are geared for children and preteens. Products run the gamut, and include apparel bearing the museum's logo, do-it-yourself crafts, STEM kits, family games, jewelry, books, plush, bubble makers, toys and animal and dinosaur figurines.
"Visiting the store before leaving offers guests the opportunity to bring home something educational and fun that will continue to remind them of their positive experiences at the museum," Palmer says.
At the New Jersey State Museum Foundation Shop in Trenton, New Jersey, products for kids make up 60% of the store's offerings, according to Karen Klink, manager of retail operations at that museum shop. Children's toys, books and games line the shelves, along with adult gifts, books and jewelry.
Best Sellers
Because the museum is a popular destination for tourists, Lewis says souvenirs tend to garner the highest interest at Children's Museum Houston. For example, Silipint's cups in fun colors featuring the museum's logo are a hit.
"They are made of silicone so they're easy to clean, are reusable, and can hold hot or cold beverages," she says.
Kid-friendly souvenirs such as survival kits containing binoculars, a compass and a magnifying glass are also popular. Sensory toys are also a hit, such as logoed fidget balls with textured surfaces.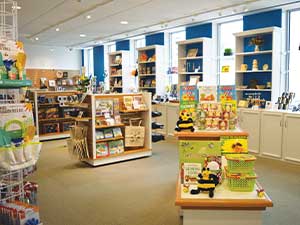 Unique plush toys, such as a gigantic pink Massive Squishable Mushroom, is another draw and sells for $250. Other smaller Squishable options sell for $15 to $40 and include unique shapes such as avocados and frogs.
Plush is a top seller at The Parent Trap. Its best year-round sellers are stuffed mermaids with sequins and colored hair, Ty plush, light-up items, dinosaur grabbers and wiggly sensory items like dolphins, dinosaurs and caterpillars, Palmer says.
In the summer, the most popular items include Funny Mat washable placemats; wooden puzzles with dinosaur, ocean and construction themes; eggs with growing mermaids and dinosaurs; bubble makers; and ukuleles.

"Children visit from all over the world and the most common thread is their love for all things, both real and imaginary that are ocean related," Palmer says.
At the New Jersey State Museum Foundation, mineral chip bracelets, carved stone animals, logoed rock pencils, putty items and mood necklaces sell well.
"These items are priced between $5 and $10 and relate to the museum's collections," Klink says.
Taking Stock
Apparel is always a popular souvenir, and Wild Child Hoodies with hoods that look like lobsters, sharks, dinosaurs and unicorns are top clothing sellers at The Parent Trap. They have "Cape Cod Children's Museum" embroidered on the front.
At Children's Museum Houston, T-shirts take top billing in the apparel category. "We have one style that is very simple, offered in a variety of colors, and bears the museum's name and logo," Lewis says.
Games are another popular category for kids at museum gift shops. Self-Teaching Chess by Cardinal, sold at Cape Cod Children's Museum, is a great product for families, according to Palmer, because it makes the game accessible for kids and adults alike. "It's a staple in our age six-plus STEAM room."
Blue Orange Games' The Burger ASAP! is one of Children's Museum Houston's biggest sellers. In this fast matching game, players take their set of double-sided ingredient cards and start making burgers. It's a race to flip the cards and arrange them in the proper order to recreate the recipes one at a time. Points are earned based on their difficulty level.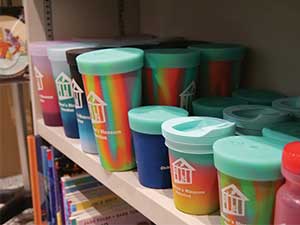 Kids can't seem to get enough plush and luckily museum stores are stocked. Ty Beanie Balls, also called Puffies, are popular at The Parent Trap. They come in a variety of animal forms and land on their paws whenever they are rolled or tossed.

At the New Jersey State Museum Foundation Shop, kids go wild for Wild Republic's Cuddlekins and Aurora World's Mermaid Dolls with reversible sequins and brushable hair.
"Sharky McShark" books and the National Geographic Books from Hachette Book Group, as well as "Goodnight Books" from Penguin Random House, fly off the shelves at The Parent Trap. Books in Scholastic's "How Do Dino" series are well-liked at Fiddle Sticks Toys.
Palmer says she can't keep The Toy Network's Dinosaur Grabbers, light-up rings and turtles in stock at The Parent Trap, while magnet sets, the Ginormous Grow Dino Egg, Break Your Own Geodes from GeoCentral, putty and gel items sell well at New Jersey State Museum Foundation.
Impulse Buys
When it comes to last-minute purchases, Lewis has found that anything under $10 attracts young shoppers at Fiddle Sticks Toys because that is typically a child's budget. A variety of souvenirs are in that price range and are housed in a series of bins. They include Dinosaur Chompers, vehicles, Nee Doh's sensory balls and pocket-sized plush toys.
The biggest impulse buys at The Parent Trap include Ty Beanie Boos featuring various animals, light-up bumpy rings, squishy octopuses, dinosaur eggs and fossil kits, and die-cast or plastic cars, trucks and ATVs.
Appealing to Different Ages, Genders
The Parent Trap caters to children from infants to preteens. "Families who visit typically have multiple children and want to find something age-appropriate for each of them," Palmer says. "Having items that are not only fun, but also educational, is our goal."
She has found that many items appeal to all children, regardless of gender, such as ocean animals, dinosaurs, puzzles, bubbles and books.
When looking for merchandise, Lewis starts with a main category such as science, and then tries to find an activity that will appeal to a broad age range. Likewise, she will seek out merchandise that appeals to a range of genders rather than those that are gender specific.
Hot New Items
Both Palmer and Lewis have found that newly released movies tend to dictate merchandise trends. According to Palmer, Ariel from "The Little Mermaid," is popular again because of the movie remake. Search-and-find puzzles are also in demand because guests love both puzzles and scavenger hunts.
Lewis says that items featuring characters from newly released movies, including "The Little Mermaid," "Spider-Man: Across the Spider-Verse," and "The Super Mario Brothers" sell quickly. Merchandise that stimulates the senses is sought after.
Traditional items such as wooden toys, paper dolls and gyro wheels are a draw for parents and grandparents who have fond memories of playing with them as children. "You can't go wrong with the classics," Lewis says. "They are tried and true and still hold value."
Keeping Up With Trends
Knowing what guests want is imperative to a shop's success. Staff at the Cape Cod Children's Museum excel at observing and interacting with guests.
"Simply looking at a child's outfit can tell us what's popular right now," Palmer says. "Welcoming and communicating with both adults and children who visit us allows us to get the inside scoop on many things, such as popular TV shows, movies, music and books." Another helpful avenue for Palmer is attending the Cape Cod and Islands Gift Show annually.
TikTok is Lewis' go-to for keeping abreast of trends. "I can see in real time what people promote and what kids are interacting with," she says. "I follow a variety of stores across the country. This enables me to see what new things are available in other areas that I may not be privy to."
Klink relies on trade shows and working with sales reps. "Nothing replaces personal connections," she says.
Drawing guests inside Fiddle Sticks Toys is located in a prime spot in the main hallway, so guests easily spot the store and want to enter.
"Seeing a large pink mushroom and other attractive merchandise pulls them in," Lewis says. The shop arranges items by category and age.
The New Jersey State Museum Foundation Shop displays products by department such as dinosaurs, space, rocks and art. Some lower price point items are positioned on the front countertop.
Being successful in selling merchandise at museum shops isn't rocket science, but with the right mix of souvenirs, educational items, games and plush, kids won't be leaving the museum empty- handed.