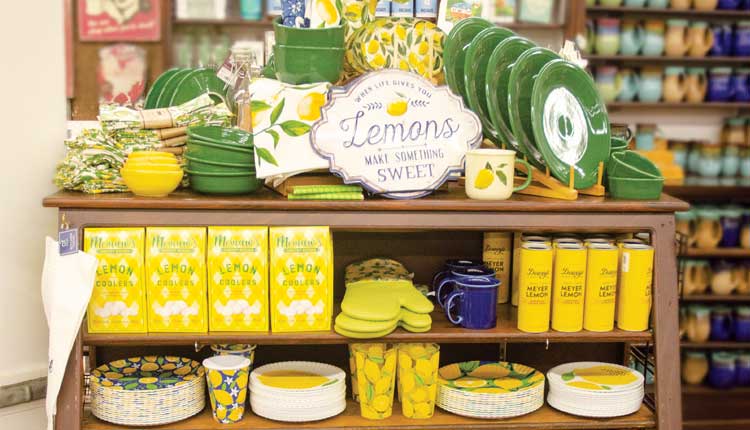 Best sellers in the kitchen accessories and housewares categories typically have the winning combination of functionality and attractiveness. Add some local flair or other unique element and it's difficult for many retailers to keep certain product lines on their shelves.
This has been true for The Great Alaskan Bowl Company in Fairbanks, Alaska, which is a home goods and food shop as well as a forest product manufacturer and one of America's last working bowl mills, according to retail manager Emily Berriochoa.
"We carry the products that we manufacture, Alaskan birch bowls, steins, vases and other laser engraved products. We provide personalization services in-house. We also carry items from over 200 Alaskan makers, businesses, artists and authors," she says.
The Great Alaskan Bowl Company represents approximately 50 North American-based companies. Bowls are the company's standout best seller, as along with cutting/charcuterie boards, ulu knives and wooden utensils.
Similarly, Mast General Store in Valle Crucis, North Carolina, with 11 locations in 10 towns in four U.S. states, stocks merchandise that fits the rural, homespun, and vintage theme of a general store.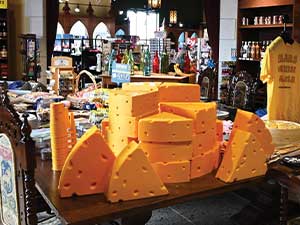 Kitchen and housewares include standard cooking (Lodge cast iron, mixing bowls, gadgets) to baking to mixology. When it comes to choosing themes and colors, the team at Mast, including Elizabeth Lowe, visual merchandising coordinator, buyers Connie Gioscio and Greta Hollars, will select items that fit the Mast General "story," and create a story within a story.

For instance, a display might have lemons as a focal point. From there, an entire color and theme story will emerge, complete with lemon-printed dishware, towels and other items to create visual interest. Fiesta tableware, Lodge cast iron, jar openers, old-fashioned dish cloths and dish towels and chainmail cast iron cleaners round out Mast's best sellers in the kitchen and housewares category.
Did someone say "cheese?"
It's all about cheese and cheese-cutting housewares at Mars Cheese Castle in Kenosha, Wisconsin. According to creative director Natalie Broussard, Mars stocks a variety of cheese-cutting housewares that appeal to cheese enthusiasts, home cooks, party hosts looking for the right implements to take their food presentations to the next level, chefs and culinary professionals, shoppers looking for the perfect gift, and wedding planners or event coordinators seeking out the ideal food preparation tools.
"It is important to note that the customer base for cheese-cutting tools may vary depending on the specific type of tool, its functionality and the market it targets," she says.
"We use crates of different sizes and custom risers to create height in our displays, and we adhere to the general store idea of 'packing in as much stuff as possible' into our stores and our displays." — Sheri Moretz, Mast General Store

Along with their selection of over 1,000 kinds of cheese and Wisconsin-themed souvenirs, Mars' carries cheese-cutting tools, such as cheese knives, planes, boards, graters, boards, slicers and forks.
"Overall, cheese-cutting housewares make it easier to prepare and serve cheese and can add a touch of elegance to any cheese platter or charcuterie board," Broussard says.
She notes the staff's knowledge of its various cheeses is essential to recommending the proper tool for enhancing their cheese-eating experiences.
"And we always recommend a beautiful board to not only enhance the presentation, but also provide a sturdy surface for cutting and serving cheese," she says.
Keeping shelves stocked
Grouping is the preferred merchandising method at The Great Alaskan Bowl Company: "We try to display within both a product line or a theme. So for example, we have a baking section with rolling pins, biscuit cutters, sourdough starter, cookie cutters and bread cookbooks. We keep all our boards together in one place, all our wooden utensils in one place," Berriochoa explains.
The Great Alaskan Bowl Company is an attraction, a factory and retail store all in one, perfect for explorers: "There are sections/departments, but it is really just a lovely journey through Alaska that relates to every household," she says.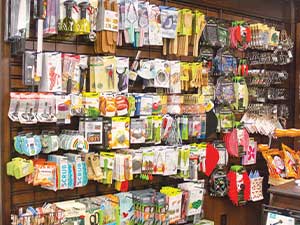 For an even more authentic experience, visitors can see products being made right in front of them. "Many of our items are investments that remind customers of their parents or grandparents and in turn, they can imagine their grandkids eating popcorn out of the same bowl, or rolling out cookies with the same rolling pin," she says.
At Mars Cheese Castle, Broussard says merchandising methods depend on the item. "We utilize open shelving units to showcase the different types of cheese-cutting tools, arranging them in an organized manner, grouping similar items together," she says.
Pegboards are used to hang cheese cutting housewares, with tags on each item explaining product and pricing information. She also recommends bundling to show how the items can be used together.
Mast General Store stays true to its roots by using display pieces that tie in to the rural, homespun aesthetic of the store itself. "We build many of our display units but use antiques whenever possible," Lowe says.
Antiques are used liberally in the stores' mercantile department, where they might use an old cast-iron cookstove to display Lodge Cast Iron with corn meal, mixing bowls, wooden spoons, and aprons. Or, using apple butter as a theme, customers might expect to find displays featuring house-branded apple butter, an apple peeler, baskets and some "soft things," like an apple-themed towel, to add more color and to tie the tableau together.
"We utilize open shelving units to showcase the different types of cheese-cutting tools, arranging them in an organized manner, grouping similar items together." — Natalie Broussard, Mars Cheese Castle

"We use crates of different sizes and custom risers to create height in our displays, and we adhere to the general store idea of 'packing in as much stuff as possible' into our stores and our displays," according to Sheri Moretz, storyteller at Mast, and part of the visual merchandising team.
Mast's merchandising strategy is a bit unconventional: a little overwhelming, yet inviting and shoppable, according to Moretz. "A visit to the Mast Store is a journey to discovery — you will find what you came in for and you might also discover something else that you have been looking for for a long time or something you didn't know you needed," she explains.
Berriochoa says her team members face the challenge of not having enough space to fit all the merchandise they want to display. She relies on keeping items at eye level and leaving enough room for items in one area.
"Our merchandising strategy is to make it look modern but homey — we have found a handful of old hutches online in the last few years that have helped soften our display but also remind customers of being home," she says.
Making recommendations
Kitchen and housewares' universal appeal make them strong sellers. Whether buying a gift for themselves or someone else, consumers can find plenty of options for foodies of all kinds. The Mast team guesstimates kitchen and housewares make up approximately 60% of sales due to the fact that the items have a universal appeal and because of their stores' locations in tourist destinations, college towns and areas with expanding populations.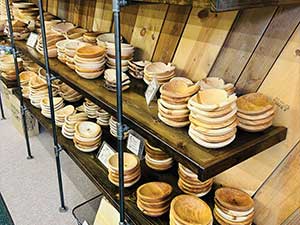 "They are popular places for people to come pick up wedding and/or housewarming gifts, a little something special for someone setting up housekeeping for the first time, accents for kitchens, souvenirs for their trip, et cetera," Moretz says.

Berriochoa says giving customers the opportunity to handle the merchandise to better understand its features and functions is important. "I think you want them touching things, imagining the item's use in their home and hands. We want our store to feel like a place where they could hang out for a while," she says.
The Great Alaskan Bowl Company is always looking for display pieces that look like they belong in someone's home, according to Berriochoa. She says the store also prefers items that help customers reach the dream of making homemade bread, popcorn movie nights or a slower, more authentic way of living.
From novice cooks learning their way around the kitchen to the most experienced chefs seeking out the latest and greatest food preparation gadget, consumers look to niche and general retailers for a wide range of kitchen accessories and housewares to help them fulfill their kitchen dreams.