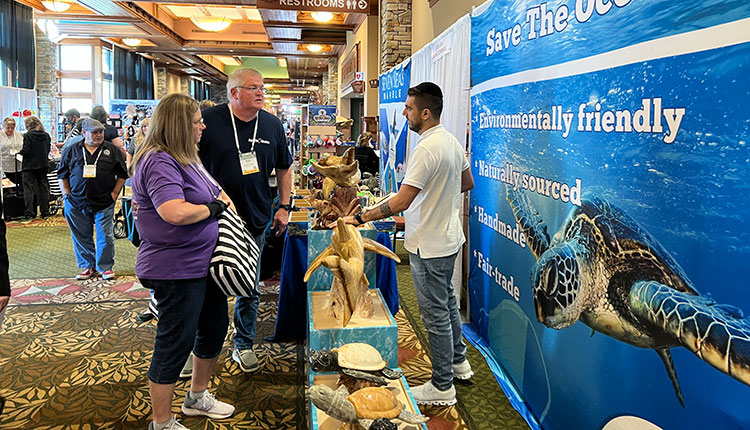 International Gift Exposition in the Smokies (IGES), the largest gift and souvenir show in the Smoky Mountains managed by New York-based Emerald, has partnered with Enchanted Moments, a sales organization representing the toy and gift industry for the East Coast. IGES says the partnership will launch the Toy + On Trend Pavilion at the November edition of IGES. The pavilion will debut within the Sevierville, Tennessee, location of IGES, which takes place Nov. 7-9, showcasing more than 35 vendors to over 6,000 buyers.
"Enchanted Moments is excited to partner with IGES to create a toy and on-trend pavilion. This new area will showcase many of the leading toy, trend, candy and impulse vendors in the USA," says Tony Davis, executive vice president of Enchanted Moments. "It's been such a pleasure getting to work together on this venture, which we believe will bring some exciting new opportunities for both our companies. We look forward to seeing what comes out of this amazing partnership."
The new marketplace will feature an array of games, toys and hobby essentials from trending brands, including Super Impulse, Crazy Aaron's Thinking Putty, Deluxebase, Fun In Motion, Playvision, Big Discoveries, Grandpa Joe's Candy and Incredible Play.
Emerald's Executive Vice President Karalynn Spouse adds, "This collaboration opens up incredible opportunities for our buyers, offering them expanded product options precisely in the categories they are actively searching for. As we know, retailers attending our show are eager to write orders, and a staggering 80% of them are specifically seeking out new products. With this partnership, we are delivering precisely what they desire, granting them access to a vast array of innovative offerings. Furthermore, this alliance provides these vendors with an exceptional chance to connect with new customers situated on the East Coast, with stores that cater to the tourism industry. Together, we are forging a path that leads to growth, success and mutually beneficial relationships. The possibilities are endless, and we cannot wait to witness the positive impact it will have on IGES and the industry as a whole."
According to IGES, the Toy + On Trend Pavilion will sit alongside other pavilions, such as Campground, Made in America and Sustainably Made Products, which is a partnership with the Fair Trade Federation. The pavilions will all be located within the Sevierville Convention Center, one of the two locations for IGES, the other being the LeConte Center in Pigeon Forge, Tennessee. IGES events take place Nov. 7-11, and registration is free for qualified buyers.