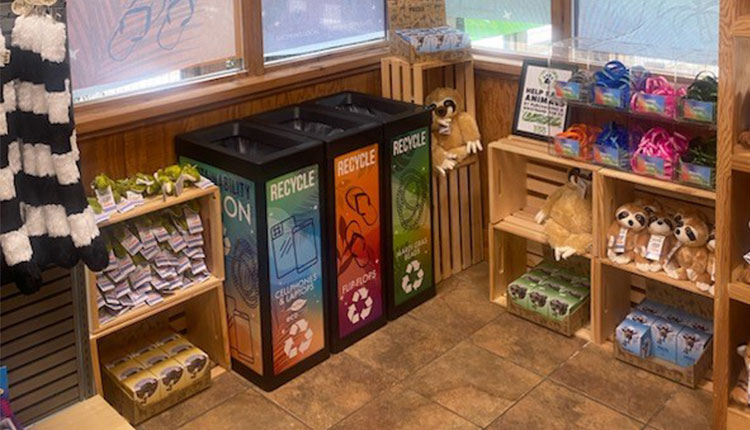 The Hattiesburg Zoo, Hattiesburg, Mississippi, has installed a permanent "Sustainability Station" inside its gift shop to encourage year-round recycling. Shop customers and zoo guests can stop by the station to drop off several unique items that can't be recycled in traditional curbside recycling programs, including Mardis Gras beads, laptops, cellphones and flip flops. The station also features a sign that features suggestions on how guests can reduce waste.
"We wanted to put [this] in the gift shop so guests did not have to pay admission to participate," says Jeremy Cumpton, director of conservation, education and wildlife at the Hattiesburg Zoo.
The gift shop sells sustainably made souvenirs near Sustainability Station, such as stuffed animals with stitched eyes, puzzles and wristbands supporting conservation efforts.
Cumpton says the zoo has three partnerships to recycle materials placed in the Sustainability Station bins. He says Arc of Greater New Orleans has partnered with the zoo to recycle the Mardis Gras beads. Eco-Cell partnered with Hattiesburg Zoo to refurbish and recycle laptops and cellphones. Cumpton says Eco-Cell's refurbished cellphone proceeds support conservation efforts for great apes around the world both in the wild and at refuges. The zoo also recently began paying TerraCycle to collect and recycle flip flops distributed to Sustainability Station.
Cumpton says the Sustainability Station debuted at the shop July 12. While the shop has no way to track exact numbers of donations made to Sustainability Station, Cumpton says thousands of people visit the gift shop every year.
"We encourage guests to support conservation and sustainability when they can," says Cumpton. "It's also an investment in their future and their kids' future."