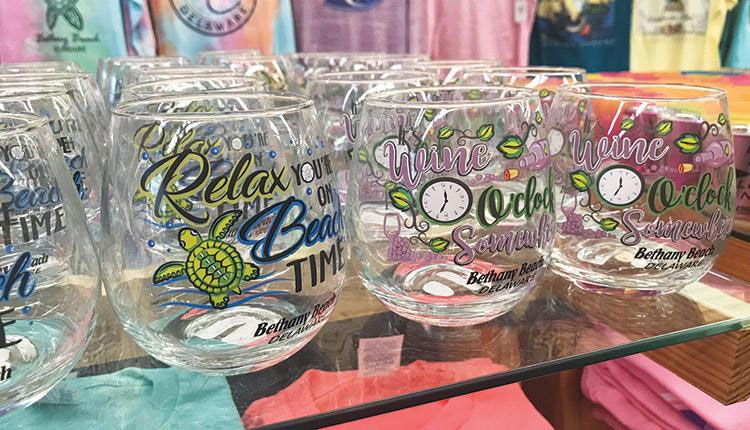 A seaside or beach getaway is always a welcome escape for busy families on a quest to unwind and detox from their hectic lives. And once they embark on a journey to your seaside location, the experience becomes so memorable that they want to find a memento that commemorates the trip and brings back fresh reminders of those good times.
But what makes a good souvenir for one person may not be the same thing someone else likes. Some people like to collect the same type of item from different locations, while others are constantly seeking something unique and individual to them and the specific coastal destination they are visiting. As a seaside retailer, you have to please them all and stay true to your location and brand.

"Souvenirs are always great physical keepsakes of good memories," shares Nilina Mason-Campbell, owner and operator of Portland, Oregon-based Made by Nilina, maker of illustrated souvenirs and gift items. "When people go to a beach or coastal location, they're most definitely conjuring a new experience and building a memory. The coast is something different [than a city trip]. Even if you manage to have a loaded schedule in a coastal town, there's an element to it that always feels like an escape — a break. Souvenirs are very much connected to nostalgia and memory — no matter the locale."
And the market certainly reflects people's desires to find that perfect beachside trinket. Gift, novelty and souvenir store revenue in the U.S. is expected to grow to $16.6 billion by 2024, according to market researcher Statista.

Seaside retailers can inspire greater purchasing on souvenir items by sourcing custom items that reflect their unique locations, as well as by using some often-overlooked tactics to help their souvenirs stand out from the noisy nearby competition.
Custom creations sell
Selecting the right souvenirs for a seaside retail location can surely be challenging. The goal is to "find the balance between staying true to your store's theme and staying on trend," explains Mark Carle, president of Seminole, Florida-based CJ Bella Co., a lifestyle company that makes decorated tabletop coasters, car coasters, 100% cotton flour sack towels and pillows. "If you wander too far outside of those parameters, I think it becomes confusing to the customer."
Souvenir offerings have certainly become wider in range, making the job of stocking the right options harder.
"Where you might have once only found hats, shirts or stickers, now you will find towels, pillows and other products," Carle says. The goal is to provide items that showcase your specific area.
"Keep in mind what sets your region apart from others," advises Donna Hays, national sales manager of the Lipco Group, a souvenir and gift manufacturer based in Kirbyville, Missouri. The company specializes in customized keychains, magnets, mugs, figurines, plush animals and T-shirts. "What plants or geological features define your area? What about your most prevalent or beloved wildlife? Souvenirs with a dolphin theme will sell great in coastal regions with dolphins, but they won't sell as well in a region without dolphins. Make sure the souvenirs you stock in your store are good representations of your area."
So, while you can carry some of Lipco's best-selling items like magnets and mugs, by customizing them to your location with a unique design or logo, this merchandise has a greater chance of selling and stands out from the competition, Hays says.
Sue Kinch, owner of Pontiac, Michigan-based Tangico, maker of custom wine stoppers, coasters, ornaments and magnets, agrees. "Start with best-selling apparel images and adapt them to create other custom products. Tourists want things they don't see in multiple stores."
She says what resonates are images on your souvenir pieces. For instance, "an anchor will be a solid image in all coastal territories, but the more specific you can make that anchor with a name drop, the better it will retail."
When Caloosa WaterWear, a coastal lifestyle brand, decided to become one of the featured artisans at the new Delray Beach Kollective, it was obvious to company President Rebecca Fordham that local sells. "Since I've opened my space within the Delray Beach Kollective, I've noticed a lot of people who are visiting Delray Beach coming in to the store looking to support local small businesses and local artists. They come in knowing that the store is a collective of artists and are specifically looking for something made locally to take home with them."
Her Christmas ornaments featuring Delray Beach along with imagery that captures the area have gotten a great response. "I've found in general people like to collect Christmas ornaments on their travels so that they can revisit the great memories made on their trips each year when they decorate the tree," she says.
Be as specific as possible to the sights of a seaside location, since this will go further than generic coastal items with a name attached, Mason-Campbell points out. "They carry more significance since they come closest to replicating someone's experience of the area," she says, adding that anything from types of boats to crustaceans to native fish and seabirds can be customized to a region. "Is there a way to feature your area's actual lighthouse rather than a stand-in? Is the boat on the item the same kind seen in your area? The more representational the item, the better — it's more personal and closer to distilling an actual experience into the physical realm."
Then when a seaside retailer displays these items, they can partner "the same design on multiple products to give customers an eye-pleasing collection of matching merchandise to choose from," Hays suggests.
Stay current on local fads
What separates a good retailer from a great retailer are unique, niche souvenir products.
Fashioncraft's cannabis novelty mugs certainly fall into this category. These fully functional mugs can be used for morning coffee and smoking herbs, says Executive Vice President Mark Wells. "As cannabis becomes more mainstream, our line is becoming more and more popular," he says.
To bring relevant items to your seaside retail location, Hays recommends you pay attention to the latest pop culture crazes that your customers might be interested in when they visit your store.
"Was a popular movie or TV show set or filmed in your area? What memes, sayings or modern vocabulary can you capitalize on?" she asks. "Souvenir trends don't exist in a vacuum and will always be affected by what is trending in the surrounding world and popular culture at large."
To bring fresh souvenir options to your customers, "look for items with low minimum purchase quantities," Hays suggests.
For children, Squire Boone Village, a souvenir manufacturer and supplier of custom print, earth science, candy and jewelry products based in New Albany, Indiana, offers beach stones by the bagful that can connect special stones or trending ones to a region. The faux leather drawstring bags can be customized, and "we calculate how much fills a bag so retailers can price by the bagful instead of spending time weighing or counting individual stones during peak season," says Communications and Marketing Manager Carrie Rigsby.
Reliable trinkets
There is still a huge trend toward the tried-and-true souvenir items branded by a seaside retailer that can be collected to showcase multiple vacation venues for one person's or one family's lifetime of traveling adventures.
"As a kid, every time I went to the beach, we got a new game to play upon arrival," Mason-Campbell shares. "Eventually I had a whole collection of coastal games that I'd continue to play after we got home. Keep in mind that some people return frequently and may want to build a collection of a particular item every time they visit. Small, plush toys can work in a similar way.
"And some people aren't collectors at all, but they want some sort of small proof — a token if you will — that they were there," Mason-Campbell adds. "Something small that doesn't add to the clutter may be the right item for them. Having affordable impulse items is great, too, because it can attract children's eyes but be affordable enough for a parent to indulge in purchasing."
Carrying items that range in price in this category is also important, advises Chetan Gupta, Impulse Souvenirs sales manager. Approximately 80% of souvenir retail items are under $20. "They create a need in a marketplace and represent a memory of a special trip," Gupta says.
A Touringplans.com poll found that a majority of people are willing to spend between $0 and $50 on souvenirs.
Some items that fit into this category are small and useful. Fin Pin Shop creates enamel pins, stickers, accessories and other retail items that often include funny ocean puns that draw shoppers in. Squire Boon Village makes temporary tattoos that are custom created with a retailer's store logo or tourist destination. For kids, ocean-themed hitchers on twister pops are big hits. They come in nine sea animal shapes that Velcro around nearly anything, but bundling a toy and candy is a winning combination, Rigsby says.
Magnets will always be the No. 1 take-home souvenir, Hays adds. "They are easy to pack, can be found anywhere and are inexpensive," she says. "Keep your magnets trendy."
A more recent trend is the revitalization of stickers — hot sellers that should continue this year, Hays emphasizes.
Useful souvenirs are also popular, such as custom bottle openers and bottle opener keychains from Catania Medallic Specialty, Avon Lake, Ohio. Catania offers a patented bottle and can opener called Pop2Now that opens both cans and bottles.
"A retailer needs variety," says Anton Maratos, director of marketing, Noveltex, Coral Gables, Florida. The company offers a complete collection of custom-designed products specifically for seashore locations.
"They need to carry a little bit of everything to capture the needs of every customer," Maratos explains. "The buyer shouldn't buy what they like; they need to buy what sells. And sometimes what sells isn't what we like. It's all about variety of price points and products."
Souvenirs help bridge the gap between experience and memory, Carle points out.
Rigsby agrees. "Souvenirs conjure up memories of a fun vacation with friends or family long after the trip is over. Souvenirs are something you can only buy where you are when you are vacationing and having fun. Souvenirs sell for that very reason.
"Nearly every person who travels and goes on vacation will look for a souvenir to take home and commemorate their trip," she adds. "They're looking to buy — so have something ready for them!"