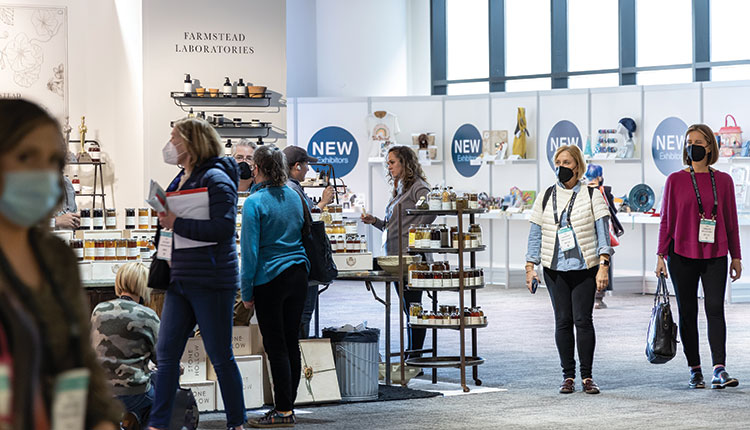 Atlanta Market will feature its largest number of temporary exhibits for Summer 2023, with 3,000 lines in 34 categories presented in new and expanded categories and showcases, July 12-16, at AmericasMart Atlanta.
"Atlanta Market's expansive temporary exhibits are the ultimate destination for finding what's new and next this summer," says Dorothy Belshaw, IMC chief growth officer. "New categories and destinations make Atlanta Market a 'can't miss' for product discovery and business opportunity for Summer 2023."
Key highlights at the Summer 2023 Atlanta Market include the debut of the new Modern Maker category, a juried collection of design-led and maker-driven handmade products ranging from lifestyle and home decor to gift. Located in Building 2, Floor 2, Modern Maker features approximately 10 brands, including Clayton & Crume (handmade leather goods and accessories), Gary Bodker Designs (handcrafted glassware) and ZPOTS Studio Pottery (handmade ceramic tableware).
Cash & Carry Jewelry and Cash & Carry LUXE relocate alongside the Antiques collection to create an immediate-delivery destination in Building 3, Floor 1. Cash & Carry Jewelry features approximately 90 exhibitors offering fine and fashion jewelry and accessories. Cash & Carry LUXE is a juried collection of selected exhibitors featuring high-quality, luxury jewelry and fashion accessories. Antiques is a collection of approximately 50 exhibitors offering European treasures including antique furniture, vintage paintings and prints, unique collectibles and one-of-a-kind items.
To accommodate specialty food expansion, Gourmet and Gourmet LUXE relocate to Building 2, Floor 3. Gourmet includes 90 exhibitors offering specialty gourmet food items, beverage products and cookbooks. Gourmet LUXE is a juried collection of six exhibitors providing gourmet products made from the finest ingredients.
Also notable for Summer 2023 are new showcases of some 35 brands exhibiting in their first-ever wholesale market in three Atlanta Market categories: Body & Soul, General Gift and Handmade. Within Handmade, Emerging Artists features a juried collection of artisans debuting original handmade creations.
Body & Soul's Emerging Brands presents innovative new personal care products such as soaps, lotions, scented candles, loungewear and fragrances.
Newcomers in General Gift's Emerging Brands offer monogrammed and personalized gifts, resort and souvenir items, stationery, collegiate licensed product, pet products and more. Brands making wholesale industry debuts in Atlanta this July include: Beadnikrow Jewelry; Cashmere Moon, LLC (vegan & cruelty free skin-nourishing products); Divine Drip Jewelry (jewelry and crystals); Laurel Greenfield Art (paintings inspired by food); Oh My Sweetie (jewelry); Renegade Silver Jewelry; Spot Colors (embroidery kits); and Wendala's (sugar scrubs).
Four leading trade organizations – Georgia Grown, GC Buying Group, Greeting Card Association (GCA) and Museum Store Association (MSA) – return to Atlanta Market with showcases in Summer 2023.
Georgia Grown expands to feature 40 brands in the Georgia Grown Pavilion in Gourmet and extends its participation by in-state brands to three other Atlanta Market categories. Body & Soul welcomes Georgia-grown brands Evolve Botanica Co. (all-natural skincare products), NYC-Essentials (handcrafted personal care items), and The Girl in the Garden (natural personal care products); Housewares welcomes Banyan Designs (home décor and accessories); and Bella Cucina Artful Food (specialty food gifts and accessories) relocates to HIGH DESIGN.
GCX EXPO by GC Buying Group returns for its third Atlanta Market with 100 top gourmet foods and kitchenware tool brands. The GCX Expo is open to GC Buying Group members as well as retailers who join on-site.
For Summer 2023, Atlanta Market buyers also have access to 100 temporary exhibitors bringing outdoor furnishings, umbrellas and textiles, plus garden décor, fire pits and more to the first-ever edition of Casual Market Atlanta. These temporary exhibits run Monday, July 10, through Thursday, July 13, on Floors 6 and 7 in Building 1.
For Summer 2023, Atlanta Market's 1,600 temporary exhibitors are organized in 12 exhibit halls as:
Building 1
Floors 6 & 7: Casual Market Atlanta Temporary Exhibits
Floor 8: Fine Linens & Home Textiles; Home Accents & Home Furnishings
Building 2:
Floor 1: HIGH DESIGN; HIGH DESIGN LUXE
Floor 2: Housewares; Modern Maker; Tabletop & Entertaining; Tabletop LUXE
Floor 3: Gourmet; Gourmet LUXE + Georgia Grown Pavilion
Floor 4: Outdoor Living; Outdoor Living LUXE; Seasonal/Gift + GCX Expo by GC Buying Group
Building 3
Floor 1: ANTIQUES; Cash & Carry Jewelry; Cash & Carry LUXE
Floor 2: Emerging Artists; The Gallery Collection; Global Designs; Handmade Designs; Handmade Jewelry; LUXE; Made in America; Museum Gifts/Fine Gifts
Floor 3: Body & Soul, Spa Products; Body & Soul LUXE; Children's World; Modern Child
Floor 4: Boutique; Boutique LUXE; Gentleman's Boutique; Jewelry, Fashion Accessories & Apparel
Floor 5: General Gift; General Gift LUXE; On Trend Gifts + *Noted Village
In Summer 2023, Atlanta Market temporaries will be presented Wednesday, July 12 – Saturday, July 15, 9 a.m. – 5:30 p.m., and Sunday, July 16, 9 a.m. – 2 p.m., except Antiques and Cash & Carry which close on Saturday at 5:30 p.m. For Casual Market Atlanta, temporary exhibits are open Monday, July 10 – Wednesday, July 12, 9 a.m. – 6 p.m. and Thursday, July 13, 9 a.m. – 2:30 p.m.