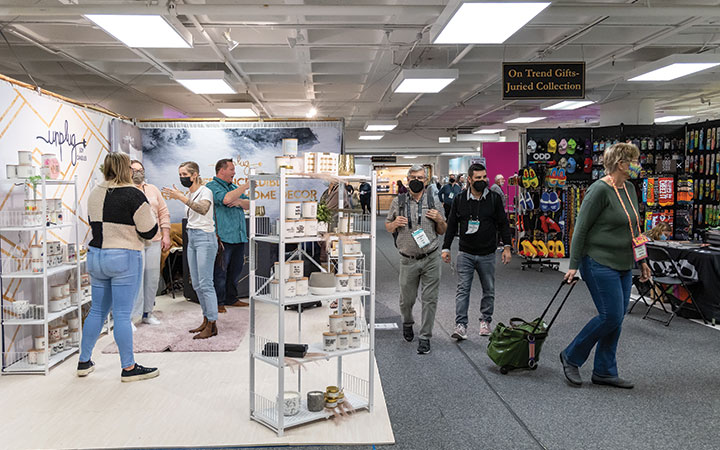 The nation's largest in-person gift marketplace, Atlanta Market, expands its collection of some 700+ gift and lifestyle permanent showrooms with 16 updates set to open for the Summer 2023 edition, July 11-17, at AmericasMart Atlanta.
"Atlanta Market presents the broadest and most in-depth gift offering available to buyers this summer," says Dorothy Belshaw, IMC chief growth officer. "Brand debuts and expansions continue to diversify the permanent showroom resources with growth in general gift as well as key specialty categories including gourmet, housewares, tabletop, outdoor living and seasonal."
Atlanta Market's gift resources are presented on 19 floors in Buildings 1, 2 and 3. The Summer 2023 market features eight new showrooms, five expanded showrooms and three relocated showrooms across the full spectrum of gift categories.
In general gift, four showroom updates include one new addition: TRVL Design (travel bags). Two expanded showrooms are Be Home Inc. (ethically sourced handcrafted home goods from around the world) and The Light Garden (illuminated faux botanicals and decor). One relocation is Kitras Art Glass (one-of-a-kind blown-glass art pieces).
The nation's largest permanent seasonal/gift collection of holiday, floral and gift brands, offered on five floors in Building 1, features four updates for Summer 2023. Two newcomers are ES Essentials (home décor, floral and seasonal items) and The Doll Maker (Precious Moments dolls). Showroom expansions include Pinnacle Peak Trading Co. (European giftware and holiday décor) and Tremont Floral Supplies (artificial florals, floral accessories, containers, gifts, home décor and holiday items).
The tabletop, gourmet and housewares collection increases its gourmet food, housewares, tabletop and entertaining lines on two floors in Building 2, with the addition of four new showrooms: Oh Sugar, LLC (customizable cookies and candies), Picnic At Ascot Inc. (outdoor gifts), Qualia Glassware (glassware) and The Resident Chef (gourmet mixes). Two expansions are Kasperzak & Associates Inc. (representing 29 housewares, tabletop gift and decorative home lines) and Portmeirion Group USA Inc. (tabletop brands Portmeirion, Spode, WaxLyrical, Wrendale Ceramics, Pimpernel, Nambé and Nachtmann Crystal). Additionally, Lifetime Brands (kitchenware, tableware and other home products) relocates.
Crystalize Home (decorative hanging crystals)is a newcomer to the casual furniture and garden gift lines showcased on two floors in The Gardens.
Beyond the permanent showroom resources, buyers also can explore some 33 temporary exhibit categories presenting some 3,000+ lines in 10 exhibit halls across AmericasMart's three buildings. Of note for gift buyers is the addition of a new Modern Maker category, a juried collection of design-led and maker-driven handmade products from lifestyle, home decor to gift. Atlanta Market's 1,100+ temporary exhibits present artisan products, apparel, children's, gourmet, jewelry, outdoor living, stationery, spa products, tabletop and more, July 12-16.
A full list of Atlanta Market brand resources is at AtlantaMarket.com/exhibitor/exhibitor-directory.