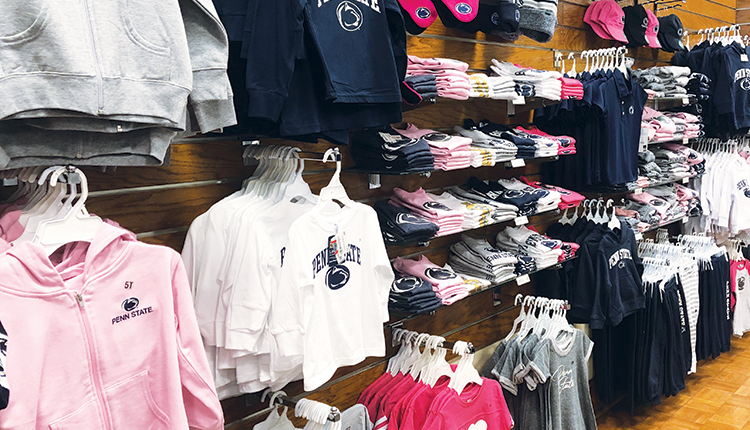 It's always the right season to cheer for licensed apparel at sports team stores, college stores and museums. Higher-end sports team apparel is popular due to its durability, collectability and attractive look and feel.
At Lions Pride, a Penn State University fan store in State College, Pennsylvania, Manager Michaela Penkala describes the store's top-selling more expensive apparel item as "Champion crew neck heavy-weight classics. It's a high-end item that's popular to wear to games, gift and keep. We have them in navy, white and gray with navy and white graphics on. Navy and white are our colors."
To display higher-end apparel items, Penkala says the store uses a variety of approaches. "We have some items hanging, such as hoodies and quarter zips, and we have our T-shirts and crew necks folded on shelves, but clearly and easily accessible. We also dress a couple of our mannequins in this kind of attire, we have several mannequins positioned in our store window, and one on the sales floor so people can see how the clothing looks."
Much of the store's clientele consists of school alumni, both in-person and online.

"In the store, students will come in with other family members or their parents, and they are usually looking to buy a lot of items, particularly the higher-end pieces that will last for a while, the kinds of things that you can pass down," she says. "Some people will say they have good quality items that their dad had in college, and things like that. So, they're definitely looking for similar, heavy-weight, good quality pieces that will last."


Appealing to everyone
John Parry, manager at the Colorado University Bookstore in Fort Collins, Colorado, reports that the store's best-selling more expensive apparel items are hooded sweatshirts.

"They range from a price of $40 to $90 depending on the brand and the style. They're popular because they're warm to wear at games, but for us, it's a part of the community and the environment."
The store displays its high-end items in a variety of ways, Parry says. "We cross-merchandise with other items, and we display them on mannequins and on racks. We also have nesting tables in the back of the store that show the four or five most popular styles and colors, and we place mannequins wearing them next to those tables. We also hang them throughout the store and have them on other mannequins throughout the store in a variety of different styles."
The type of shopper who most often purchases more expensive apparel items can vary. "Students buy it, alumni, community members and visitors," he says. "There isn't one demographic that purchases it. Everyone wants to buy a good quality, popular item."

Parry says, "Even at the higher end we have a wide variety of price points so that we can appeal to more people interested in buying these hoodies."
Students who are more likely to be on a budget go for the price points around $45. The Under Armor performance items in the $80 to $90 range tends to be purchased more by family and visitors during student drop off in the autumn and at family- and home-game weeks. "Even if they are bought for their students, the students themselves don't purchase those as often," Parry says.


Jerseys and more
At Just Sports, a fan store in Gilbert, Arizona, Manager Jacob Saptho says the best-selling higher-end item is an Arizona Suns team jersey.

"They have a lot of fans in the area and the team started off very well this year. We have a turquoise color jersey that honors the Native American culture in the state in terms of the color, and that sold very well for us," he says.

Team hats for both football and baseball also perform well. Saptho divides the items Just Sports sells by type and into specific sections, which he says makes them easier for customers to find.
"We also have window displays, which I place based on the teams that are playing or the season in which team types are playing We also keep items folded on racks throughout the store where they are easily seen and can be selected by size."
Saptho describes the type of shopper who purchases more expensive apparel items as "a mix of visitors and local fans. We do get a lot of people who come in from out of state who support specific teams and want to purchase high-end items."


Dedicated to speed
The National Hot Rod Association (NHRA) Museum in Pomona, California, contains a wide collection of displays and gift shop apparel dedicated to the sport of drag racing. According to Administration Supervisor Lisa Russo, top sellers in the higher-end apparel category are the gift shop's black Varsity jacket that feature Hot Rod Heritage logos priced between $100 to $135.
The store also offers workshop-style shirts priced between $45 and $68, and ghost-track drag strip shirts, such as those representing the Lions Drag Strip and OCIR Raceway, that are priced at $25 to $35. A cozy zippered hoodie with a "Museum in Motion" logo is offered for $45 to $50.

Jackets are displayed on a rack of hangars. The store also has six half-mannequin torsos throughout the store that it uses to display event- style T-shirts and other shirts.

"We use the mannequins to highlight merchandise during events at the museum and whenever we have items left over from events that we want to feature," says Russo.
Shoppers searching for higher-end gift shop apparel tend to be racing fans, notes Russo. "When we hold national events at the Pomona raceway, that's when we see visitors to the museum who will come in and purchase the higher-end items."
While at college stores, more expensive team apparel is typically often purchased by parents and alumni, sports fan stores and museum locations, get their higher-item sales from the most active and involved fans. sgn