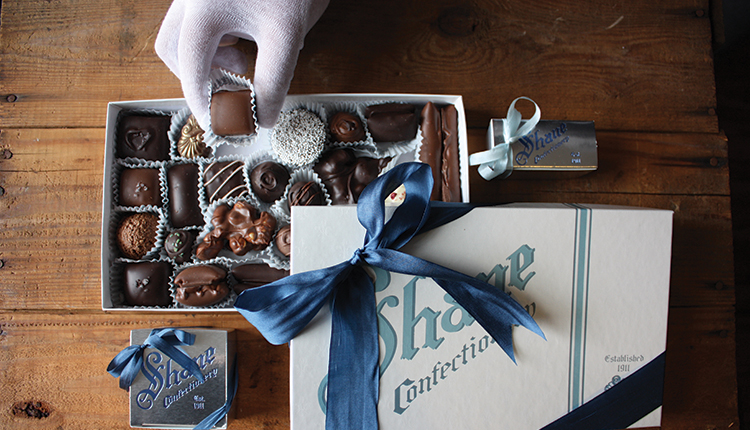 Unique and often handmade, the sweets candy stores offer never go out of style as gifts or self-purchases. Maybe that is why some candy shops stay in business for decades, with new owners taking up the mantle and moving the business forward. Shane Confectionery, a candy store in historic Old City Philadelphia, is one such example of a sweet shop that has endured for more than just decades.


Good feelings and taste
The historic confectionery was founded in 1863 and is considered America's oldest continuously operating confectionery shop. While it's gone through a number of owners over the years, since 2010, brothers Ryan and Eric Berley have owned the thriving business. And their "sweetness" doesn't stop there. The pair also own The Franklin Fountain Ice Cream Bar just two doors down from the candy store.
Eric Berley says candy is an affordable luxury that puts people in touch with good feelings from their own childhoods.

"As a buyer, you can find and match price points and tastes to nearly anyone on your list — it's both incredibly personal, respectable and perennially appropriate," Eric says, regarding candy as gifts.

Artisan candies, which elevate both the craft process and the suppliers' stories of the raw ingredients "can transport individual taste experiences into a sustainable, socially responsible and immersive community experience," he says.
Shane Confectionery also offers complimentary items in the Drinking Chocolate Cafe in the back of the candy shop. This special area of the store allows customers to experience historically inspired cookies and candied nuts. A bundled gift area has also recently been expanded to marry antique glassware with the store's candy.


Blending art with chocolate
The store's shoppers are a mix of tourists and locals, with history tour participants among the clientele, and the shop also engages in a wholesale business. For example, the store supplies a chocolate and pretzel bar at the Philadelphia Museum of Art and also provides merchandise for businesses in South Philadelphia and Philadelphia's Fishtown.
Burroughs says the store sources cacao from Uncommon Cacao, and the company works directly with farmers in South America to make sure fair wages are paid. The beans are turned into chocolate at the store's kitchen. Sugar, flour and dairy products are from local providers, and Itaja sugar is used for the chocolate.


Candy for all
Although candy is often associated with children, Shane does not specifically target kids. Eric says the store seeks to preserve the "spirit of childhood" with its products. The shop highlights flavor over sweetness, a practice that doesn't necessarily appeal to children. "This is a paradox we live daily as we simultaneously churn out huge batches of Philadelphia Buttercream," he says. Still, there is something for everyone, and smaller portions at both The Franklin Fountain and Shane Confectionery are perfect for youngsters.


A brand for the future
The company addresses the need for, among other traits, ethical and transparent business practices.
Eric says it all comes down to his personal philosophy of "doing the right thing."

"I can say that our Shane management team here has worked really hard to persevere [through] pandemic years and circumstances and come out stronger, with a will to expand both our chocolate- making production spaces on our block as well as our online and wholesale sales footprint."

He admits, "We've made a lot of mistakes over the years, taken stock often of our strengths and weaknesses and are poised to see more clearly that Shane Confectionery becomes what we always knew she could be — a successful, profitable and exciting brand to carry us into the future."