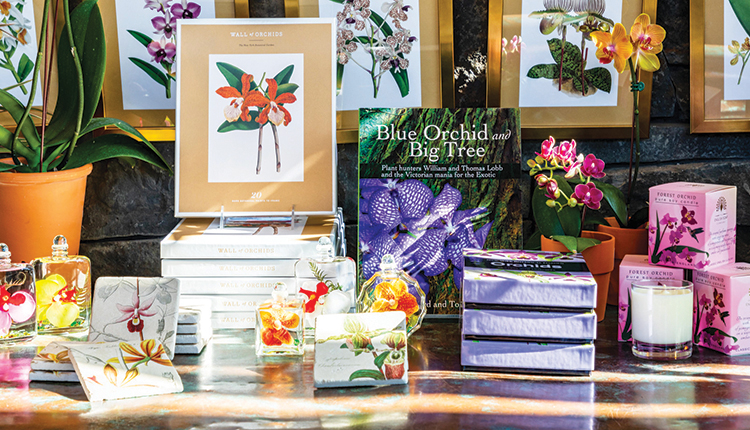 Botanical gardens have many ways to draw in sales with merchandise that appeals to their plant-loving customer base. From gardening essentials to gifts that beacon to the specific region or exhibit, garden gift shops have many options that help extend a visitor's experience.
When looking for new merchandise to carry in her shop, Sue Legault, visitor center and gift shop manager at Blithewold Mansion, Gardens and Arboretum in Bristol, Rhode Island, meets with vendor reps and reviews their offerings.
"The key is to build good relationships with them," Legault says, and to stay on point. "Some reps represent a number of different lines; a lot of time and energy can be wasted if reps show everything they have. After a few meetings, a good rep will understand my needs and only show items that fit with my assortment."
If Legault notices something in her travels that would be a nice addition to her product line, she'll make a note, take a photo and investigate it further. Staff and volunteers also recommend items.


Understanding trends
Heather Bass, gift shop manager at Iowa Arboretum and Gardens in Madrid, Iowa, says understanding why customers visit the arboretum helps her determine which new merchandise to carry in her 256-square-foot shop.

"Seeing what is popular with customers in the past helps predict what will likely interest future customers," she says. In addition, "Sometimes new merchandise follows a certain gardening trend. The shop also carries items that complement events being held there."
Because her shop aims to carry locally made items, Linda Wolfe, director of guest services at Tohono Chul Park in Tucson, Arizona, attends area craft fairs and artisan farmers markets to source out new vendors. She also finds local vendors through Local First Arizona, a nonprofit organization committed to community and economic development.

Siobahn Gilmore, store director at Naples Botanical Garden, Naples, Florida, explores the exhibiting artists, researches trends on social media, leverages existing vendors and attends trade shows, while Margaret Csala, director of retail and business development at New York Botanical Garden in Bronx, New York, attends gift shows; solicits colleagues on local small business recommendations; develops relationships with reps and publishers for books; and researches online media, reviews and blogs when looking for new merchandise.


Big sellers
Coastal-themed decorative items are among Legault's top-selling merchandise categories. This is because Blithewold Mansion is on Narragansett Bay, where many coastal communities are located.

Home decor items with floral patterns also sell well. "We attract visitors who not only enjoy gardening, but also want their homes to reflect their love of flowers and all things nature," Legault says.
Another popular seller is garden tools. "Because of the shop's small size, we only sell hand tools," Legault says. "I try to find tools that you wouldn't ordinarily find in straightforward garden centers."
These might include well-made garden gloves in a decorative pattern. The shop also carries a line of ergonomic tools and a line of seeds that have beautiful packaging based on works of art.
Plants are a top-selling category at Naples Botanical Garden. The shop there offers many varieties, but orchids and kokedamas are the best-sellers.


Themes that resonate
Locally made items such as jam, honey, earrings and pottery are a top-selling merchandise category at Iowa Arboretum and Gardens. "These items appeal to customers because they are quality products and guests like to support locally produced items," Bass says.
Outdoor metal wind spinners and garden art are another bestselling category for Bass. "Guests draw inspiration from our grounds and like to purchase these items for their own yards," she says.

Food, particularly those items that represent the Southwest culture, is a popular category at Tohono Chul Park. Prickly pear syrup and jams, jellies and salsas are a way to bring home a taste of Tucson, Wolfe explains.
Stationery sales stay strong throughout the year. "By carrying notecards of the desert's beautiful flora and fauna as well as replications of artwork shown in our galleries, folks can take home a piece of Tucson," she says. "The artwork can be easily packed and framed, and it's affordable."

Textiles also sell well at Tohono Chul Park. Visitors purchase Southwest placemats, runners and tea towels to remind them of the desert colors back home or as gifts.
At New York Botanical Garden, plants are a popular selling category. Gardening customers buy annuals, perennials, shrubs, bulbs and so forth, says Csala. Indoor plant sales have increased over the past few years. The garden's annual orchid show, which runs for eight weeks, is a huge draw for orchid enthusiasts. The gift shop sold more than 7,000 orchids during the exhibition.
Exhibition-related merchandise, including, mugs, magnets and collectible art are also popular. "Visitors, whether local or tourists, love branded items that reference a specific exhibition," Csala says.
Furthermore, books have notable sales. Csala's shop offers a wide array of titles on topics such as gardening, botany, herbal remedies, floral design, cooking and entertaining. Leather-bound classics sell well during the holidays, and seasonal and exhibition-related titles are always a hit.
The kokedama, a Japanese moss ball plant, has been a great new hit at Naples Botanical Garden. "They are unique, easy to maintain and beautiful," describes Gilmore. "They are perfect as a unique gift for a hostess or a living centerpiece for the home."


Impactful images
The gift shop at Blithewold Mansion, Gardens and Arboretum sells an image of a pink poppy on magnets, coasters, trivets and ornaments. The pattern is a replica of the tiles used on the mansion's breakfast porch floor. "I think it's a popular image because it's a pretty pattern and a lovely memento of a visitor's time spent in such a magical place."

Recently, monstera leaf images have become popular at New York Botanical Garden due to the houseplant trend with images featured on tote bags, mugs, magnets, mouse pads and iron-on patches.

T-shirts, prints, notecards, and many other items feature a variety of trees and leaves at Iowa Arboretum and Gardens' gift shop, and at Tohono Chul Park, the stately saguaro is a best-selling image. The saguaro is also the state's iconic symbol. "Succulents continue to be a strong image on textiles, dinnerware, stationery, jewelry and other merchandise," Wolfe says.
For botanical gardens looking to increase their merchandise offerings, the sky is the limit and what sprouts out of the ground is the inspiration.