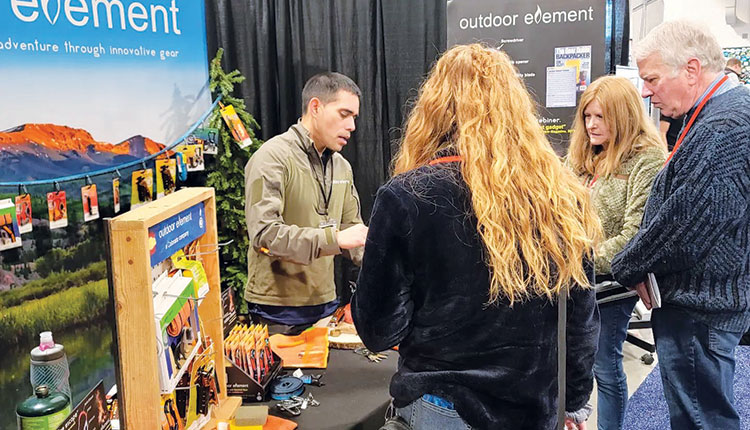 The Rocky Mountain Apparel, Gift & Resort Show is finding success under its new ownership. RedlineXpo relaunched the show in 2021 as a bi-annual show.
Square footage of booths leased for the company's fourth edition of the show grew by 16% from the February 2022 event, while attendance grew 20% between the same two shows, according to Evan Shoda a partner with RedlineXpo.
Shoda said exhibitors and attendees alike at the February show were impressed with the growth of the show and expressed their optimism in the continued upward trajectory. "Vendors were appreciative of our new marketing initiatives as well as our focus on bringing in key accounts from around the country."
"The venue was convenient and the attendance was exceptional," said exhibitor Thad Fabish of Wild West Shirt Co. "We are looking forward to coming back in August."
Hollie McBride of exhibiting company Sea To Me said, "The Rocky Mountain Show exceeded our expectations. We will be back next year."
Murffy Stevens of Monterey Imports, a souvenir company that has exhibited at the Denver show for 65 years said, "For the first time in a long time I'm optimistic about this show's long-term future. I appreciate the fresh energy and attention that this management team has brought to the show."
He added, "It's wonderful to see first time buyers and new retailers in addition to all the dedicated buyers and exhibitors that keep this show going. Denver is always an important show, and a strong market, but there is a new sense of vitality that's so important and actually makes it fun to walk through the door again. The bi-annual show returns to Denver, Colorado's National Western Complex Aug. 14-16.
Growth is expected from last year's August show with increased product offering expansions in every category. "We have a strong category of established companies with trusted and familiar lines as well as a large number of new manufacturers bringing new products and lines to market," according to Shoda.