With schools shuttered around the nation, American children spent much of this spring at home. Their parents, meanwhile, bought more and different toys than usual — partly to keep them entertained, and partly to fill the educational vacuum left by school closures.
"We've sold so many puzzles, we can't keep them in stock, especially the higher piece count ones," said Jana Doyle, who with husband Chuck owns Kiddlestix Toy Store in Tulsa. Learning-oriented activity books, wipe-clean workbooks and other educational pastimes are also big sellers at the 4,000-square-foot store. "Anything to keep kids busy and engaged while they're home."
For parents juggling remote work with restless, cooped-up children, immersive pastimes are essential. Plush, typically a huge category for toy stores, has plunged in popularity: Teddy bears are great to snuggle with at night, but they don't keep kids occupied while their parents take Zoom calls. Aside from a brief spike around Easter, Kiddlestix has barely sold plush since the coronavirus crisis started, Doyle reported.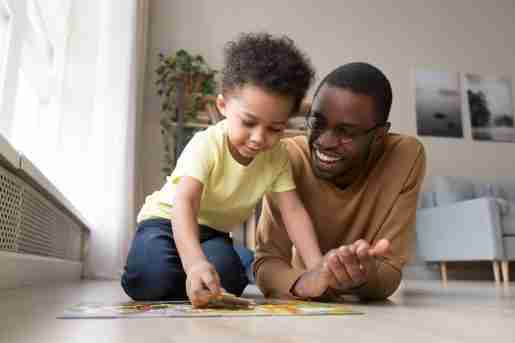 Like virtually all toy retailers, the Doyles have had to change the way they do business. When the government-mandated shutdown of non-essential business shuttered toy stores in March, Fiddlestix shifted to online and phone retail, offering curbside pickup and delivery for orders over $50. Since not all inventory is posted online, the Doyles counsel customers by phone and text photos of specific items from the store, where they are simultaneously homeschooling their children.
Even after the storefront re-opens, the Doyles, like other retailers, expect certain COVID-era business practices — like enhanced online shopping and delivery — to become permanent. "We're just having to adapt every day," she reflected. "We're still offering the same customer service we did before, just in a different way."
"We've sold so many puzzles, we can't keep them in stock, especially the higher piece count ones."
– Jana Doyle, Kiddlestix Toy Store, Tulsa, Okla.
In Albuquerque, N.M., Bricks and Mini Figs, a LEGO-themed boutique, had been gearing up for dozens of summer birthday parties — a critical part of the franchise business, which Owner Rick Crouse bought a year ago. With his 2,000-square-foot storefront shuttered in spring, the retailer was delivering birthday party packages locally so customers could try to replicate the Lego party experience at home.
"We were fully booked last month, right when everything happened," said Crouse in April. "Now I sit here trying to keep myself busy. And I wonder, how are we going to pay the bills?" As a business owner, Crouse didn't qualify for assistance from the federal government's paycheck protection program, and he estimated his lost revenue in the tens of thousands of dollars for spring alone. Other setbacks have included merchandise shipments being returned to the vendors when the storefront was closed.
Crouse has been working on an e-store, but as businesses have expected to reopen, he was ambivalent about how fully to invest in transforming his business model — which until the shutdown depended largely on in-store parties and customer foot traffic. "An online store is a lot of work," the retailer explained. "To take a picture of everything you've got…So then I asked myself, do I just wait this out, or do I have to switch?"
A loyal customer base and the enduring popularity of Legos have kept the store afloat so far, as have special promotions for Easter and other spring occasions. But if, as some analysts predict, a second wave of shutdowns occurs later this year, Crouse is unsure how his store will fare. "The situation does force us to innovate," he said. "But it's a constant struggle to figure out what to do, and I'm not sure what the answer is."
In Houston, Big Blue Whale, a six-year-old toy store, "threw up an e-commerce site overnight," said Manager Angela Cook. The 2,000-square-foot storefront was shuttered as of April; Owner Vanessa Wodehouse was taking phone orders and considering a curbside pickup option.
"We're lucky to be in a tight-knit neighborhood, and people have been very loyal. I think we'll get through this."
– Angela Cook, Big Blue Whale, Houston, Texas
With local children home from school, Big Blue Whale has been selling puzzles "hand-over-fist," added Cook. "We can't keep them in stock." Plush is normally a top seller for the store, with a dozen popular brands, but sales have declined as parents search for more interactive options.
In the Sun Belt, quarantine means kids spend all day playing outside, Cook said: "Everybody has yards here with swimming pools, so we're selling a lot of outdoor stuff." Bubbles, inflatable pool toys, balls, a giant outdoor Jenga game, and trendy Micro-brand scooters have been best sellers during the lockdown. Craft and science toys have also been favorites, occupying kids constructively while parents work.
Like other retailers, Big Blue Whale has taken a cautious approach to future orders. At last February's Toy Fair in New York City, Cook recalled anxiety over the effect of the Chinese coronavirus outbreak on that country's exports. "We've had vendors tell us they've got their warehouses stocked, but nothing else is coming," Cook said. "So we don't know what the fourth quarter is going to look like yet. The rest of the year is a total crapshoot."
Job losses have hit consumers hard in Houston, a town that revolves around the recession-battered oil industry. "We're lucky to be in a tight-knit neighborhood, and people have been very loyal," said Cook. "I think we'll get through this."
Social distancing is a way of life in the Great Plains, where shuttered schools have sent children outside all day. Radio controlled cars and similar toys have been the top sellers at Wheels Wings N Hobbies in Mandan, North Dakota, said Owner Monte Brodersen.
"People are at home and bored, and need things to do," observed the retailer, who has also sold more kites lately at the 3,800-square-foot store. Apart from curbside delivery, Brodersen has changed little about the way he does business at his 15-year-old store.
In neighboring South Dakota, which never imposed a formal shutdown, business has remained strong at Who's Toy House in Rapid City. Store Owner Somer Kingsbury decided to lock the doors and let customers shop by appointment. "We're only having 10 people at a time, and you have to remember that that includes our staff," said Kingsbury, who explained that social distancing is fairly easy in her 3,400-square-foot store. Some vulnerable clients have asked to come outside of business hours, and she has accommodated those requests.
Easter boosted revenues during the early days of the lockdown. Kingsbury sold more than 300 custom holiday baskets that patrons ordered by specifying a budget and a child's favorite colors, themes or hobbies. To give customers a better idea of the store's inventory, she'll text or email images of items, then gift-wrap selections and, when a customer pulls up outside, deliver packages right into the car trunk.
With high anxiety over germs, washable plush has been in demand, Kingsbury said. "People want something they're able to throw in the machine," she explained. Even more popular are active games that are versatile enough to be played by the whole family, outdoors, and over and over again. Hula hoops and scooters are customer favorites, along with LEGOs and brain teasing puzzles.
Variety, novelty and personalized service are the way to thrive in a challenging business climate, Kingsbury added. "In this pandemic, we've got to think outside the box," she reflected. "We still have the same kind of business, but we're doing things a little bit differently."