Plush was a gift shop favorite before the pandemic — and now that families are returning to children's museums and parks, stuffed critters remain a hit with shoppers.
The Children's Discovery Museum of the Golden Crescent in Victoria, Texas, saw its revenue more than double from 2019 to 2021; plush played a starring role. "Kids go crazy over these silly $15 stuffed snakes," said Liz Tise, the executive director. She tries to choose items that align with the museum mission; for instance, a dinosaur exhibition generated brisk sales of dinosaur plushies.
Tise arrived in February 2020, a month before the COVID-19 shutdown. She saw revenue slip from $6,600 in 2019 to $5,100 in 2020 before rebounding to nearly $16,000 last year, and 2022 looks similarly promising. Determined to bring back her museum's retail, Tise set up wholesale partnerships, networked with colleagues at other Texas children's museums, and announced the shop's first-ever net retail income last year.
And that was despite supply chain challenges. "Our top seller in 2020 was a $6 giant horseshoe shaped magnet that the kids loved," Tise recalled. "I had it in stock for about a half a year in 2020, but it's been hard to keep it on the shelf." Games typically are less popular, but Tise has also done well with musical toys like harmonicas and kazoos at the 150-square-foot store. She looks for items that cost less than $3: "Parents are quicker to spend small amounts, so I try to keep that price tag affordable for families."
A range of prices is also key to the sales at the Explorer Store at the Science Museum of Minnesota in St Paul. "You have to include items that children can pay for with their own allowance or money," explained Kate Johnson, manager of Retail Sales and Strategy. "Small grab-and-go items by the counter have been very successful for us this year."
The plush category brings in anywhere from $10,000-25,000 in monthly sales, according to Johnson, who oversaw this year's launch of a best-selling branded plush dinosaur. Dubbed the Adopt-a-Rex, each toy wears a name-dropped hoodie and comes with a certificate signed by the museum paleontologist, "so you can adopt bring home your own T-Rex," Johnson said.
Fidget poppers, dinosaur figurines, slime and science kits round out the top toy sellers at the Explorer Store, which earned $185,000 in sales between January and May of this year. Rock and fossil specimens are a perennial favorite with children, who especially favor shark teeth and carved animals. "We will often see children with both rocks and toys at the register," Johnson noted.
At KidsQuest Children's Museum in Bellevue, Wash., the top sellers are a mix of pretend play and so-called STEAM items — an acronym that stands for science, technology, engineering, art and math. Educational toys from the Fat Brain brand, along with any wheeled vehicle, "are super popular," affirmed Miranda Sage, museum floor and store manager.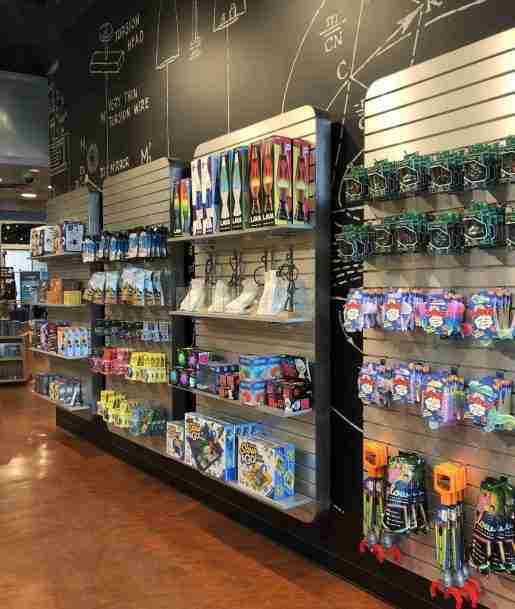 Sage uses the gift shop's strategic location to watch how patrons interact with museum exhibits. "We base a lot of our items that we sell off that," she noted. "Stocking unique items that visitors can't find elsewhere is a great way to draw people in."
At the Red Rock Ranger Station in Sedona, Ariz., souvenir shoppers want plush mementos of javelinas, ring-tailed cats, and the like. "All our plush are animals found here in Coconino National Forest, so they go with what guests have learned in the park," explained Amber Meek, retail manager for the Arizona Natural History Association, the park's partner organization.
Stuffed animals are the top selling category at the 200-square-foot retail outlet. Other kids' favorites include books, puzzles, playing cards, and activity and coloring books. "If customers request something, we'll go on a hunt for that item," Meek explained. But given the ongoing supply chain problems, she'll overlap old and new vendors to make sure the shop has enough inventory.
Twelve-inch stuffed mermaids with reversible sequined tails are the hot item at the Cape Cod Children's Museum in South Mashpee, Mass. "We can't keep those in stock, noted Heather Palmer, community outreach director, who oversees the museum's retail. Another best-seller is an item called a "dino grabber," with a squeezable dinosaur's head at the handle. "It's the first thing that kids go to in the store," Palmer observed.
Not all the best sellers have been so predictable. The store's top game lately is a chess learning kit, inspired by Palmer's now-grown children and the popularity of the chess club at local schools. The museum has even held family game nights that have driven sales of the chess toys.
One secret to successful children's retail is anticipating demand. "We don't just get the Massachusetts school vacation week; we have visitors from across New England and New York," Palmer recalled. "The whole month of April was busy, because those other states are coming to visit us."
When choosing new items, Palmer looks for quality products that will hold up to sustained play. "We want something that kids will have for a while and get to be creative with, and have an educational artistic component," she noted.