– By June Allan Corrigan –
The interest in caves and caverns never seems to wane. What lurks within? Fortunately, either before or after a tour, visitors are also curious to see what lies within accompanying gift shops. Somehow jewelry never fails to capture shoppers' attention. For this article, four cave and cavern attractions around the country revealed some of their top selling items and lines.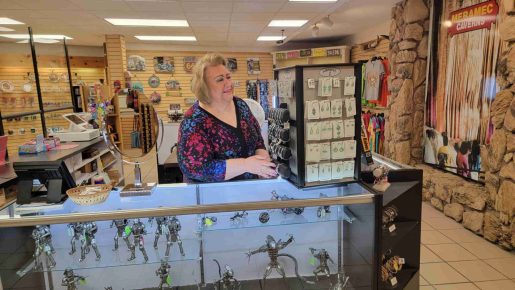 Gemstone bead and tumbled stone bracelets have been garnering lots of attention this year inside the gift store at Majestic Caverns in Childersburg, Ala. "We believe it's because their price point is very affordable," said General Manager Ryan Burke. The bracelets feature many different types of gemstones including carnelian, amethyst, obsidian, sodalite, and more. "When displayed correctly, they add a great aesthetic to our gift shop. All the beautiful colors really draw shoppers in."
Display and lighting are key to generating excitement for the jewelry at Majestic Caverns' gift store. The approximately 1,500-square-foot retail space takes care to make the gems shine in an attractive and prominent setting. Their gemstone bead and tumbled stone bracelets are of particular interest to women and young ladies. The gift store carries a variety of styles so every age bracket can find the perfect accessory to suit their tastes.
Prior to or after touring the extensive cave system known as The Lost Sea Adventure in Sweetwater, Tenn., visitors frequently visit the attraction's charming shopping and dining enclave known as Old Sweetwater Village. The 300-square-foot General Store that lies within features three lines of jewelry. Pendants by Village Originals, Inc. are a perennial favorite. "Shoppers pick out a style they like and they can choose either a silver or gold chain. They're a good price point in my opinion," said Retail Co-Manager Brandon Freeman. The pendants hang attractively from a tree-like display apparatus and easily garner attention.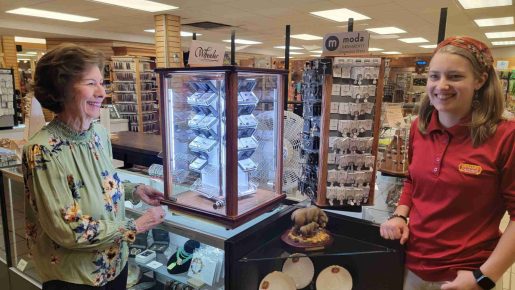 Selections from the Wheeler Manufacturing Company jewelry line are the second top-selling jewelry line at The Lost Sea Adventure's General Store. "Again, the price point is appealing but people also appreciate the lifetime warranty the manufacturer offers on their rings," explained Freeman. "The company provides these little warranty cards where you write the name of your organization and the date of purchase to give to the customer." The General Store takes care to focus very good lighting on the brand to show it off to its best advantage.
Freeman wonders if a third top-selling item at The Lost Sea Adventure's General Store can be considered a piece of jewelry at all. Fahlo animal tracking bracelets are attractive and meant to be worn around the wrist so they certainly fit the description. Fahlo is a company that partners with non-profit organizations to create bracelets which come with a real live animal to track. The creature has been tagged in the wild and it's hoped the interactive tracking experience provided by the tangible bracelet (downloaded via an app) will educate customers about wildlife and excite them about conservation. At the same time, Fahlo donates hundreds of thousands of dollars to save wildlife. Animals such as sea turtles, elephants, polar bears, sharks, penguins and most recently lions are tracked. "The bracelets are really popular. We retail them at $18.99 and have been pleasantly surprised by how well they've done. We've had to re-order them several times this past season."
Demographic-wise, The Lost Sea Adventure's General Store carries something for everyone. Wheeler jewelry pieces appeal to women in their 20s and upwards. The Village Originals line is also popular with that group but has been known to attract slightly younger aged shoppers as well. Meanwhile, the display counter devoted to Fahlo animal tracking bracelets invariably captures the attention of tweens and young teens.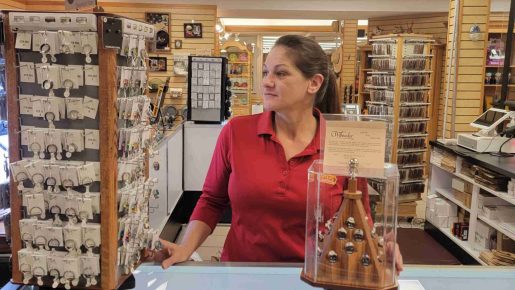 Jewelry from the Wheeler Manufacturing Company happens to also tops sales at Cosmic Cavern, a privately owned limestone cave in Berryville, Ark. "It's very good quality jewelry and it's made in the U.S.A.," said Pam Stewart who in addition to being a tour guide at the attraction, serves as the buyer for its medium-sized gift store.
Earring, rings, pendants and bracelets are all on offer at Cosmic Cavern. Strategically, Stewart has created a jewelry display in the center of the gift store. "Lighting is key, especially with a brand like Wheeler," she added. Some of the jewelry resides inside a display case while some of the less precious pieces sit on top.
Eclectic groups of people may decide to take a Cosmic Cavern tour on any given day but typically, it's women who shop for jewelry inside the gift shop. Stewart plans accordingly. "Teenage girls on up to 80-year-old grandmothers – they are all potential customers so I make sure to always have a good variety," she concluded.
Jewelry from a wholesale designer in Vancouver, Canada, sells very well inside the gift shop at Meramec Caverns in Sullivan, Mo. "I get most of the jewelry we feature from A.T. Storrs Ltd. They provide very good service and really strive to make their customers happy," said Judy Turilli, the gift shop manager. She noted the Canadian company's jewelry pieces are both affordable and attractive and really seem to resonate with people who visit the Caverns.
Females primarily shop for jewelry at the Meramec Caverns main gift shop, ranging in age from teens on upward. The retail space is part of larger 5,000-square-foot footprint which includes a candy store, a wax museum devoted to Jesse James and an area where kids can pan for gold. A.T. Storrs Ltd.'s Wild Pearle jewelry collection, in particular, strikes a chord with the Missouri attraction's shoppers, but the Canadian company's jade and hematite pieces are also popular. "We tend to dote on natural things here since our primary attraction is a cavern," Turilli said.
When it comes to generating excitement for the jewelry, Turilli's job is made easier since A.T. Storrs Ltd. provides a handsome display case to showcase their products. A four-sided stand alone, it holds a lot of inventory and is very eye-catching. "The company is very good about shipping out their products," Turilli concluded. "They feature stones from all over the world yet we can sell a pair of their earrings for approximately $12.99." No question about it, it ends up being a very attractive arrangement all around.