What kind of jewelry sells best? It depends on who's buying, and where.
At hotel boutiques, tourists buy local souvenirs. In metaphysical stores, many seek healing stones. Religious people look for crosses and stars. And many shoppers are simply drawn to something pretty, either as a self-indulgence or as a gift.
In Flagstaff, Ariz., local Native American jewelry is a favorite of shoppers at Little America's Gift Shop and Lifestyle Boutique at the Little America Hotel. "The silver, the turquoise — that's what most of the tourists want," said Manager Lee Uerling. Southwestern scenery inspires sales of jewelry featuring Western butterflies and hummingbirds, Uerling added. A selection of religious jewelry, including crosses and prayer boxes, appeals to faithful residents as well as visitors.
More expensive pieces, such as the Swarovski crystal that can sell for up to $250, get dedicated display cases. But Little America's Gift Shop has found success with displays that emphasize the region; Native American jewelry, for example, is presented alongside Pueblo tribal pottery and Kachina dolls.
Local artisans and vintage materials drive sales of handmade jewelry at the Belhurst Wine & Gift Shop at the Belhurst Castle and Winery, a lakeside resort in Geneva, N.Y. Antique flatware from the hotel restaurant is refashioned into one-of-a-kind bracelets and rings, said Gift Shop Manager Kristine Fiorilla.
"People really gravitate toward those old spoons," she noted. Another Geneva-area craftsman makes silver, brass and copper charms and pendants featuring images of the castle and the Finger Lakes. All of it is displayed in an organically inspired, vintage-style setting that incorporates driftwood from the lake. "There's nostalgia in buying something from a place that they've visited," Fiorilla explained.
Most patrons come in expecting to spend $40-$50 on jewelry. But instead of splurging on a single item, many will choose $20 stackable bangles set with semi-precious stones from the Canvas line, which mimics the popular Alex + Ani look. "Twenty-one dollars and under is a price point where people can buy two of them, add to their collection," noted the manager. For groups coming in for bachelorette getaways, Fiorilla said, each woman can afford to purchase a bracelet.
With gentler price tags, Belhurst Wine & Gift Shop displays jewelry throughout the store. Costlier pieces go in a custom-made glass case that deters theft. Less-expensive necklaces are suspended with pins from hanging fabric boards; handmade wire jewelry from India has its own section. Cheaper trinkets are displayed at the point of sale — "pickup items like birthstone necklaces in a jar," Fiorilla said.
Most jewelry purchases at Planet Earth Rising in Folsom, Calif., fall between $20 and $80, with the majority under $100, said Store Owner Paula Watson. "We carry things that an average person can afford," she explained. "After 30 years in business, we've figured out what people want."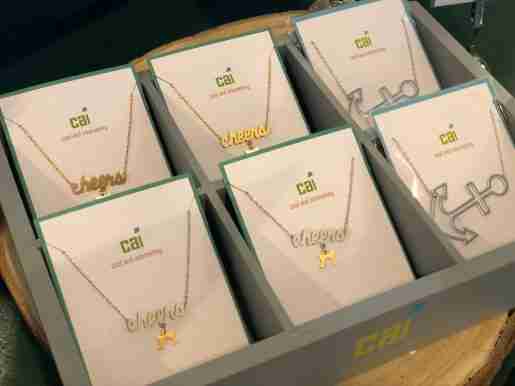 Aside from reasonable price points, Watson's customers want semi-precious jewelry set in sterling silver — durable, quality gems like amethyst, citrine and quartzes. To help them navigate the 5,000-square-foot store, Planet Earth Rising staff members display jewelry by type, alongside related minerals and figurines. "Grouping the same kind together works better for impact," Watson said.
The expensive stuff is similarly in cases at Jewelry and Mineral of Las Vegas, said Manager Cesar Martinez, while less costly jewelry hangs on hooks. Beaded bracelets in tiger's eye, rose quartz and amethyst are top sellers, both for their accessible price point and the metaphysical qualities of popular stones. "People want to heal; they want to fix their reality," said Martinez. Gems like amethyst and quartz, he added, "are an external source that helps fix their internal selves."
Martinez and his colleagues are ready to help guide patrons to the right jewelry choice — be it a gift, a healing stone or a pendant with spiritual meaning. "You just kind of read the vibes," the manager explained. Crystals, he added, are "a very personal thing." Effective service depends on reading each customer's needs, said Martinez; in a spiritual shop, "everything really sells itself."
Jewelry is organized by color family at Everlasting Gifts Inc., a spiritually oriented boutique in Roseville, Calif. Manager Erynn Niccum arranges sterling silver pieces in four cases distributed along walls and around other books and gifts; items featuring pink and red stones are in one section, while clear, gray and black gems are in another.
With "a huge variety of stones," Niccum said, the system makes it easy for customers to find what they're looking for, whether it's a healing rock or a particular color. "Sometimes people have a favorite stone, or they're looking for something with meaning," she noted.
Pendants are a top seller at the 1,000-square-foot emporium. "It's an easy way to keep the stone close," explained Niccum. "You don't have to keep it in a pocket or pouch, and a lot of people can't wear bracelets." Everlasting Gifts carries a range of pendants to suit just about any wearer, from simple settings to faceted, elaborate styles and high-end stones.
Beaded bracelets are another customer favorite. Inexpensive and versatile, they typically feature rounded stones; amethyst, rose quartz, and labradorite are especially popular, Niccum said. "A lot of people will get their birth stone, or else they're looking for a specific healing energy that comes from the gem," she added, noting that black tourmaline is thought to be protective. "And a lot of customers just get them because they're gorgeous."