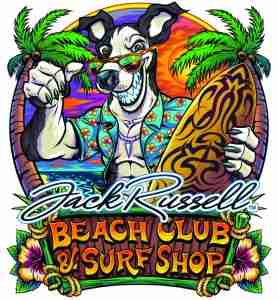 Come and reacquaint yourselves with our resident dog lover/owner: AJ the mischievous JackRussell is making a premier appearance at this year's IGES Show in Booth 6750 in Pigeon Forge, Tenn. AJ's owner has been around a long time and AJ is the youngest star in our lines of apparel, gift, and resort wear. You might even remember his much older cousin – Bad Dog. Some of our designs are well-known favorites, others have been reimagined and even more new designs will be on display for the post-COVID market. We invite you to stop and see us and see for yourself what our new designs can do for your bottom line.
Our designs are proven successes, and we are looking to join forces with others who want to offer something other than the "usual" resort wear that you can get anywhere. We only sell through licensed reps and we will never be in a big box store, eBay or Amazon market. As always, our goal is to assist small businesses to compete with the big dogs on a level playing field, because the "usual" cannot compete in today's market. We can and we do allow you (or your customer) to choose your design, choose your garment style, choose the color, choose the quality, choose the sizes, and choose the location. You can add name-drops and special sizes too.
We are all about doing the right thing, so are you ready to go back to work? Come to our booth, meet Ken and Gloria and see what JackRussell has to offer your customers that is new and exciting. Booth #6750. We will see you in Pigeon Forge!