By Carimé Lane
Stationery and gift stores have been on the front lines of keeping our spirits up during the pandemic. Read on for more information about how stationery is moving in four gift stores across the nation, along with details on their calendar, frame and gift wrap sales.
Gum Tree has two Californian beachfront locations – one in downtown Manhattan Beach (1,500-square-feet), and the other in downtown Hermosa Beach (roughly 1,000-square-feet), where they also run an attached café.
They carry a large selection of notebooks and boxed thank you notes. They're known for their big and beautiful selection of individual cards, said Co-Owner Lori Ford. These cards are their best-sellers when it comes to stationery products.
Frames sell well, expressed Ford, especially bone, printed bone, inlaid bone, along with some wood and mother of pearl. The frame selection covers all shades of ivory and indigo.
"We are at the beach, so the natural materials sell really well here," Ford said.
Letterpress and metallic foil printed stationery are well-loved at the store, but watercolor style artwork on cards and journals are also trending at the moment. During the pandemic, cards were a hot seller. Ford feels letter writing is making a comeback as a way to connect with friends and family.
"It's a more heartfelt and meaningful way to stay in touch in this increasingly digital world," Ford said.
Stocklist Goods & Gifts in Tacoma, Wash., saw $500,000 worth of sales last year in their 1,700-square-foot shop. They plan to open an additional 1,800-square-feet in the coming summer, said Liz Van Dyke, owner of the shop.
At Stocklist, they sell a variety of styles of calendars from various calendar vendors to reach a broad demographic. Their best-selling calendars tend to be larger wall calendars with space to write appointments. Small planners that fit into your pocket-book or purse are also frequently purchased.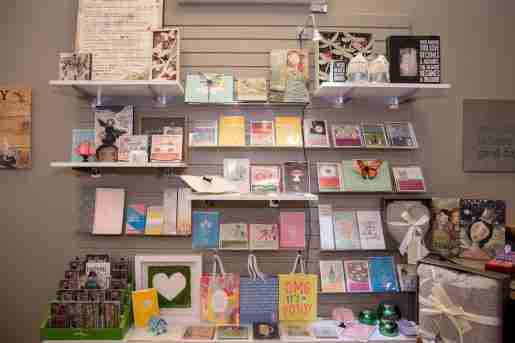 Stocklist Goods carries an extensive collection of their top-selling Cavellini & Co. posters and prints, which double as gift wrap.
Cards sent "just because" are trending, along with cards containing sentiments of support and love, said Van Dyke. Cards where artists are donating a portion of their proceeds to a charity, including COVID-19-related charities, are doing well. Sales of stickers have also taken off– Stocklist sells stickers by roughly 15 different sticker artists.
"Stickers sell as a great little addition to cards," said Van Dyke.
JK Gift Shop is co-owned by two sisters: Julie McNabb and Katie Heinz. The Ohio-based gift shop can be found in two locations–one in Wooster (1,200-square-feet) and the other in Medina (2,500-square-feet).
At JK, they carry a large card selection. Lines include cards ranging from humorous Shannon Martin cards, to sweet Compendium cards to Curly Girl cards, which are blank inside. They also carry a variety of journals.
Because they also run an interior design studio, they stock a large assortment of decorative frames (Mudpie, Demdaco and Kalalou). They also sell many giftable frames.
The staff at JK handmake their gift wrap. They design bags using cut-out balloons and trim for birthdays, cut-outs of a bow tie and long tie for Father's Day, and so on.
"The bag the customer receives can be given straight to the recipient," McNabb said.
These bags are given to customers as part of their loyalty program, but may also be purchased by out-of-towners for $2.95. JK has Emily McDowell bags available for purchase as well, emblazoned with fun sayings like: "OMG it's a pony."
In the card section, anything with a humorous tagline does well, said McNabb. For instance, Shannon Martin cards are favorites. In the frames section, oversized wooden frames that say "Sister," "Grandparent," or "TGIF: This Grandma's Fabulous" are most popular.
Frames with interchangeable attachments are also big hits. The attachments include a baby carriage attachment for the birth of a baby, which can be changed into a backpack for the first day of school, and changed again for other occasions or to suit the season.
There's been an uptick on journal sales with pretty and positive sayings and decorations. McNabb anticipates this trend will continue, as people continue to record their thoughts, especially during this historic time where we're facing Covid-19.
Love of Character, located in Wichita, Kan. carries a large assortment of greeting cards in a wide variety of genres, along with paper goods, note pads, stationery sets, notebooks, plus accessories like pens, washi tape and desk accessories.
Rifle Paper Co., a line they've carried since opening in June 2016, is their best-selling brand of stationery. Love of Character carries their entire line. Anna Bond, who hand-paints the illustrations for Rifle's products, is known for her folky floral style, said Owner Mary Billings. "She's the trendsetter in that market," Billings commented. Rifle Paper Co. is always innovating with new floral patterns and styles, Billings added.
"We accent with other funny brands, or brands with a more modern style, like Moglea, with abstract designs, or even clean line, gender neutral friendly designs as well. We try to have a spectrum for our customers," Billings said.
Love of Character sells ready-to-use planners and calendars.
"In calendars, we try to find fun ones that have really pretty prints that people like to put in their homes as a pretty accessory and wall décor, and smaller desk size calendars as well," Billings said.
They carry higher-end gift wrap by independent designers, in a mix of single and continuous rolls.
Small, cute notepads are no brainer purchases for customers to gift to themselves or others.
"They're an easy gifting item that most people are going to enjoy," said Billings. "And you're not dictating someone else's style by buying a notepad for them."
They also produce custom notepads and stationery, which are ideal for teacher's gifts, graduations, and Christmas gifts where customers have more time to plan their purchase out, Billings said.
In the past year, uplifting designs have been trending in stationery.
"With everything that was going on, people gravitated towards fun colorful patterns–rainbows, smiling faces and funny sayings," Billings said.
Greeting cards that make someone laugh or smile in a time of hardship have been popular as well, Billings said.
She sees the niche for graphic simplistic designs, which are now on the sidelines, growing in the future in contrast to the bright and loud trend we're seeing now.