Launches Limited Edition 100 Millionth Squishmallows, Social Media Contest, and Donates to Art in Action to Commemorate Celebration
Jazwares, a global leader in toys and licensing, along with its Kellytoy subsidiary, recently announced a significant milestone surpassing 100 million Squishmallows® sold since the plush toy line first came to market in 2017. The occasion is being commemorated with a celebration of the fans and introduction of an all-new Select Series Hans.
As part of the celebration, the Squishmallows brand launched a #GetGoldenHans video hashtag contest on social media with 100 winners. And one of the new Select Series Hans was identified as the one hundred millionth and was offered at auction to raise funds for Art in Action. The organization provides classroom lessons that inspire critical thinking and creativity with engaging visual arts experiences. In addition, the Squishmallows brand will donate $50,000 to Art in Action to further support their efforts.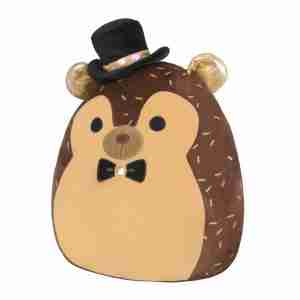 "I want all fans and collectors to know how inspiring they are to the Squishmallows brand, and how much we appreciate and share their passion for our characters," said Kellytoy's Co-President Jonathan Kelly. "It is because of them that we have achieved this amazing milestone. We are so excited to share what's coming later this year and beyond. In addition to introducing many more new Squishmallows, we will be announcing several other exciting initiatives to engage our fans and collectors online and off."
(For more information, visit www.squishmallows.com.)