Apparel at Botanical Gardens
Susan Dean, the meticulous retail curator at Bayard Cutting Arboretum Horticultural Society in Babylon, N.Y., knows her clientele: discerning women in their 40s and up. They're looking for a fun item to wear, but generic togs won't cut it. "Our shoppers want pretty, distinctive accessories," explained Dean, who as a board member of the Arboretum Horticultural Society is the gift shop's manager and buyer. "My demographic isn't looking for a logo T-shirt."
Apparel and accessories are a perennial category at botanical garden gift shops — but as retail competition gets more intense, garden shops are stepping up their game with distinctive and locally specific merchandise.
Dean actually used to stock named-dropped tees, but they didn't do well. What does sell: kimono style shawls, diaphanous scarves, and rain capes with museum art prints — elegant items that shoppers won't find just anywhere. "I do want some branded things, so people can remember where they've been, but I don't want to be a souvenir shop," explained Dean. Bayard shoppers are more likely to pick up a name-dropped tote bag or hat than a piece of clothing.
Dean and her all-volunteer staff had just launched the gift shop one year before the pandemic shut it down. After being closed for the following two years, the store recently reopened, and Dean, a retired teacher, is still figuring out the merchandise mix. The gift shop is housed in a converted bedroom in the arboretum's vintage manor house, so space is limited.
But sales and enthusiasm have both been strong this spring, as pandemic-weary Americans have flocked to gardens. "We were a well-kept secret until Covid," noted Dean. "People are looking for another outdoor place, apart from the beach."
Visitation is also strong at Ganna Walska Lotusland in Santa Barbara. Store Manager and Buyer Karen Kester takes pride in a selection of "things you won't find anywhere else," she said. She works directly with artisans both local and across the globe; customer favorites include necklaces handmade by Turkish women and silk scarves that the store's assistant curator hand crafts using dyes from garden plants.
Lotusland's distinctive horticulture is reflected in the shop selection. Another line of scarves, printed with original paintings of lotuses, is hand finished in Italy; much of the jewelry features real leaves pressed into earrings and pendants. Even the popular sun hats are crafted from natural, plant-based materials, such as raffia, straw and sea grass.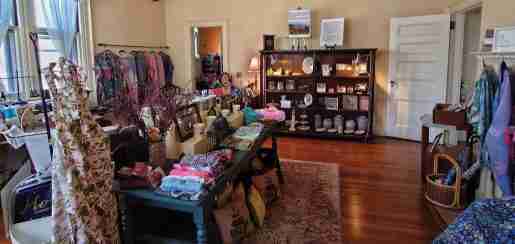 Hats in general are a strong category at gardens, where visitors may come unprepared for the sun. That's why Kester also carries name dropped, embroidered baseball caps. "If people come to tour and didn't bring a hat, they often feel like they need one," Kester explained.
Lotusland does carry T-shirts and sweatshirts, displaying apparel in its own section. Scarves hang from wall hooks, while hats are perched on an antique iron rack. Kester favors themed displays, color coordinating apparel and accessories around artwork. "Everything is very tied together, bringing our garden from outside inside the store," said Kester.
Anything with flamingos is a hit at the Flamingo Gardens Botanical Gardens and Everglades Wildlife Sanctuary in Davie, Fla. Store Manager Margaret Alicea stocks T-shirts name-dropped with the gardens for both kids and adults, and youth styles featuring Florida alligators and macaus are also popular. "This is a wonderful attraction for kids, and we cater to families," Alicia said.
Hats of all kinds are popular at Flamingo Gardens, where baseball caps are a top item for both adults and children. Last summer, the gift shop ordered sun hats and fedoras, "and those sold very well," said Alicea. "We have a lot of strong sun here. And it's Florida, so people go to the beach a lot." For the same reason, swimwear for kids is another strong category.
At the 1,200-square-foot store, Alicea uses four-way fixtures to display her brightly colored merchandise. Alongside shirts and hats, there are flamingo scarves, flamingo plush and all manner of flamingo trinkets — thanks to the store's buyer, who scours the internet for fun new items.
With less than 1,000 square feet to work with, Gift Shop Buyer Felice Robertson relies on endcaps and shelving to display turtle-themed tees and trinkets at Tybee Island Marine Science Center. "It's challenging, because there's no room for a four-way," she said.
Best-sellers include Fahlo brand turtle "tracking" bracelets, whose purchases support turtle conservation and come with an app to follow a particular critter. The bracelets have proven so popular that Robertson has also started carrying Fahlo's shark bracelet.
Anything bearing the Tybee Island logo sells well, especially kids' T-shirts featuring turtles and other marine themes. Robertson hopes to stock more hats as the season goes on, along with accessories aimed at the smaller budgets of scouting and school groups. "Everything's doing well right now," the manager reflected. "Sales have really picked up."
The supply chain has made stocking inventory difficult, but "we're learning to adapt," Robertson added. She is looking forward to a July trade show in Atlanta — her first time attending since the pandemic — and a Myrtle Beach expo in December. Googling vendors and researching suggestions online can yield interesting merchandise, "but there's something about touching an item, seeing it in person," Robertson explained. "I've been buying for nearly 30 years, and that's still important." ❖