By Carimé Lane
Even in today's market, jewelry sales are still strong. This article contains interviews with five retailers on current jewelry trends, and offers tips on how to sell more jewelry.
In her 4,600-square-foot showroom in Colo., Owner Joy Thollot at Thollot Diamonds and Fine Jewelry is seeing a rising demand for large lab-created diamonds (two and a half to three karat). Custom jewelry is also a hot ticket item, and tiny narrow rings, with negative space between the rings, are also drawing customers.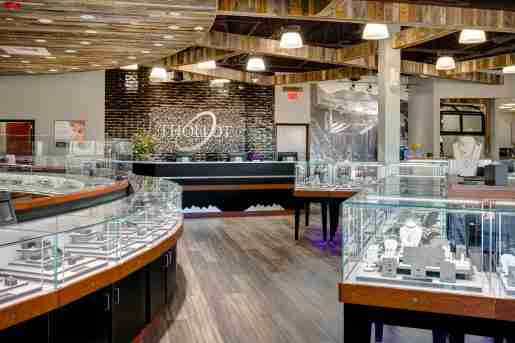 The numbers at Thollot's store are up. She said people are feeling drawn towards fine jewelry at this point in time because people still have money to spend on luxury items. The money they would have directed towards travel or other luxury goods, can now be funneled into buying fine jewelry.
"[People] still want to celebrate occasions. So, it seems as though jewelry is a really good option for them right now," Joy said.
Right now, Joy said, many are flocking online to buy jewelry.
"Because of that, they seem to be comparing a lot more vendor to vendor," said Thollot. "We're getting a ton of new customers we've never worked with before, simply because they're looking for people with good reviews."
She advised other retailers, then, to… "…really watch your reviews." And, if you do end up getting a negative review, she recommended you address it right away.
Thollot also emphasized that customers are impressed when their initial–and subsequent–inquiries are addressed promptly.
"It's one way to set yourself ahead of the competition," Joy said.
Robert James is one of the owners at the family-owned shop Maruskiya's of Nome in Alaska, which sells both handmade and commercially-made jewelry. He said their customers are currently seeking more contemporary designs.
Maruskiya's is in an isolated location, made even more secluded since Covid hit. Because the region has previously been decimated by pandemics, the city has strict Covid regulations.
Even so, while their sales have been impacted overall, jewelry has always been the biggest seller for them and it continues to sell now. James also noted that while customers have been straying from consumerism, they have become more interested in something they can wear.
To sell more jewelry, along with displaying items in aesthetically-pleasing ways, James is a fan of rotating displays. These displays can hold plenty of merchandise in one place, and make for an interactive shopping experience. They spin independently, revealing items a customer may not have previously seen. And customers can also interact with the display, pushing the button to move the display so they can browse the jewelry at their own pace.
Tony Prater, CEO of Jensen Jewelers of Idaho, LLC, said custom jewelry is trending–from small changes made to wedding sets to wedding bands featuring custom inlays or fashion jewelry that is altered to add some personal meaning to the item.
"It's all about the experience of creating something that is uniquely their own," Prater said.
When asked whether finer jewelry is currently trending, Prater said that it doesn't matter whether a piece of jewelry is fine or fun. It is the story behind the jewelry that makes the sale.
"Everyone wants their jewelry to be specific to them and their lives," explained Prater. "So, the jewelry needs to not just look good on them; it also needs to remind them and help tell a story about why they bought that piece of jewelry. Maybe it reminds them about a trip they took, or about a special occasion, or brings back special memories of a person. Their jewelry is part of telling their story."
Jensen Jeweler's annual sales are at about $16 million thus far this year, and Prater says the key to making jewelry sales is the customer, and the relationship the store builds with them.
"Jewelry is all about emotion," said Prater. "From the time we introduce ourselves to the reminders and follow up, we want to know our customer so that we can show genuine interest in their adventures in life."
At Cheryl Burchell Goldsmiths in Coeur d'Alene, Idaho, Owner Cheryl Burchell said there are many current trends, but notes that the trends depend on where you live. According to Burchell, some trendy jewelry items are: small bands with big diamonds, stackable jewelry and rose gold jewelry. An up-and-coming trend involves the use of semiprecious stones, with diamonds, sapphires, or other precious stones, around them. Fine jewelry is also trending–and Burchell says that this trend, like other jewelry trends, is driven by Pinterest.
Providing "service" boosts jewelry sales, says Burchell. For instance, she says the store makes most of their sales taking care of customer requests for jewelry repairs and custom jewelry services. Once the customer has been into the store, and feels good about the way they've been treated during this service, they'll buy other jewelry as well, she says.
Over her 25-plus years of experience in the jewelry industry, Gena Smith, owner of Moonkist Designs based in Greer, S.C., has watched jewelry purchases become more personal. And in 2020, she believes online meeting and socializing has driven up the popularity of items like statement earrings and necklaces and matching jewelry sets. Mask jewelry is also currently a trending item, she said.
According to Smith, demand for fine jewelry is declining. She defines fine jewelry as pieces that customers who can–and will–spend several hundred dollars on for themselves or somebody else will buy. According to Smith, there's been a long, slow trend away from fine jewelry, caused by a shrinking middle class, mass production of goods resembling luxury items and consumers who no longer feel the need to show off their luxurious tastes. On the other hand, she said custom-made jewelry is now highly sought after.
Sales at Moonkist have increased by 30 percent from the previous year. To sell more jewelry, Smith suggested retailers take free online courses on Google analytics and Google ads. The time investment (8-10 hours) will be one of the best time investments you can make in your business, Smith said.
"It will help you with everything from figuring out how well your website's doing to who your customers are," Smith said.
Further, for jewelry store owners wanting to start–or improve on–an online presence, she advises "…narrowing your focus and putting everything together into groups that make the most sense." You can do that by looking at what your best-selling items are and thinking of them like a Pinterest pin board, Smith said.
Smith also finds responding to customer feedback key.
"Customer feedback is really your best source of direction on how to do things better," said Smith. "On the internet, that's even more important, because an engaged customer gives you credibility through feedback and social media posts that just can't be duplicated in any other way."