Some jewelry stores are experiencing differences in the top items they sell today versus pre-pandemic. Others find business to be more or less the same. For this article, jewelry shop owners and staff shared their tips on what they do to sell more jewelry and what items are selling best, including within the fine jewelry category.
At Piney Forest Jewelry in Danville, Va., Sales Associate Teresa Tolley, speaking for company president Paul G. Reynolds, reported that sales are steady and even slightly better than a year ago. "I would say silver jewelry is a better seller than gold right now, because it is less expensive, but we are still selling gold. Usually our gold sales are for the lighter weight, less-expensive items, and most of our purchases are around $300 or less. That said, I think people are buying more jewelry not less, maybe because they can't go on vacation." She added that the 1,500-square-foot family-owned business "doesn't normally sell a lot of high-end items in this location. And we don't sell online, which may be where some people shop for those types of items, looking for the big sales at chain stores."
To sell more jewelry, Tolley said that to a large extent, sales are based on staff knowledge in the store. "We are pretty knowledgeable. We can suggest items people might be interested in when they come in the store. We've been open 40 years, and we have a lot of local customers, many of them long-term. People will come and tell us they purchased their first piece of jewelry here when they were age 12, or their mother brought them in as a child." She noted that the store does not have elaborate displays, but keeping their display organized and neat also helps with sales.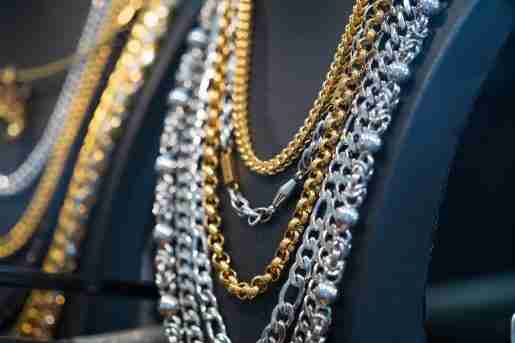 In Jackson, Tenn., Sara Scherer, manager of Little's Jewelers, said, "Social media has been a huge factor for us in terms of sales improvement. Also important is knowing the product in the store and what's available. We do a lot of custom work, and now more than ever customers have been at home on social media and sites like Pinterest and looking at rings, so they have been thinking about designs a great deal. They come in with an idea of what they want, and for us it is either about getting them something we have in stock that is close to that or doing a custom piece."
Like Tolley, Scherer said, "Our business has been really good, truthfully. We are seeing an uptick in bridal luxury bands for men. We are seeing more of those precious metals like golds and diamonds. We have also found luxury watches like Rolex have been a good seller, as is our diamond fashion line. The fashion line items aren't for bridal, but have diamonds in the pieces. A lot of these styles are layered or delicate and dainty, and the color gold is back in style – both yellow and rose gold."
She related that the biggest change she's seen is the increase in purchases for men's bands using precious metal and precious stones. "Bridal and fashion diamond design have been big always for us, but the shift toward increased volume of people coming in for men's bands, as well as just an increase in bridal requests in general, that's what is new. It might be because people who have been quarantining together just decided to get married."
At Scottsdale Fine Jewelers in Scottsdale, Ariz., however, business is slightly less strong. Co-owner Jill Lefcourt pointed out that the state overall is "in the midst of the pandemic, so we are just hanging in there for now. When it comes to selling more jewelry, we are primarily word of mouth and social media, and our Yelp reviews speak for themselves. We also use LED lighting to highlight our jewelry in-store, but there are no special displays or anything like that."
She said sales in general are "up and down and hit or miss. Wedding bands are big right now, and bracelets, and custom work, which is our special niche in fine jewelry. We make new pieces from old original jewelry, such as taking an heirloom engagement ring and making it modern. Our customers save a fortune in material costs; it's just a labor charge that they pay. That area of our business is as strong as ever given the present circumstances."
Michael Nutter Jewelers is not feeling any pandemic impact one way or the other according to Owner Michael Nutter himself, although he has made a significant change to his physical space. "I'm very much a specialty jeweler, and am very high end. My market is not the top 1%, but it certainly is the top 5% of consumers." The Gig Harbor, Wash. jewelry designer has "carved out a place in the market for the last 46 years that is very specific to high-end, he explained. "My last several jobs included a $25,000 bracelet, a $35,000 diamond ring, and a piece I am delivering today, a pear-shaped, rare tourmaline that is in the high sixes. It's very much special occasion work, a 38th wedding anniversary, a 40th birthday. I am blessed in the work, and that my eyes at age 64 can still create these pieces," he said.
The change he has made is moving his design studio home. "As of June 1st, my lease was up; the economy still needs to reset, and word of mouth is always my strongest way to increase sales. So, my storefront didn't make a lot of sense to me, although the decision was a struggle this summer."
There's no such struggle at Segner's Jewelers in Fredericksburg, Texas. Owner Sam Segner sees no difference in sales between pre-pandemic and present, and the store has been robustly in business for 82 years. "Our reputation is big, and that brings in sales. We had a customer who lives in Oklahoma, and her family has gone through four generations buying engagement rings from us. She came all the way from Oklahoma to continue that tradition, and that was really special for us," he said. The store also uses social media and well-lit, attractive displays as well as offering a staff that understands the merchandise for smart suggestive selling. Each of these elements positively impacts sales.
As to what items sell best, he described them as "Wedding and engagement rings, and anniversary gifts – they continue to sell well, just like always. Color stone rings and pendants and diamond engagement rings – the business is the same." In fact, when it comes to sales, the 2,400-square-foot shop saw "exciting sales" in June and he has high hopes for July. "We are just getting started," he noted.
With most jewelry shops seeing sparkling sales, diamonds are indeed still both a girl's – and a store's – best friend.