Trends in Jewelry at Resort Area Stores
Whether vacationing by the sea, or close to rushing rivers and beautiful mountains, shoppers often seek jewelry items at resort area stores, and look for items that will represent the region or remind them of their time away from home.
At Mermaid's Cove, located in the Pacific Beach area of San Diego, close to trendy bay front hotels, Tourmaline Surf Beach, and Sea World, the jewelry sold at Mermaids Cove, reflects the seaside location. According to Craig Ellsworth, who co-owns the shop with his wife Susan, its merchandise curator, "It's hard to predict what will sell best now, because there are always inventory issues that come up. But right now, the Steven Douglas jewelry line and Zeelandia line both do very well for us. We do a lot of sea-inspired jewelry," he related, "such as sea horses, octopi, and, of course, anything mermaid." He noted that the store shies away from inexpensive imports such as rhinestone jewelry. "Really everything is sea-inspired because of our resort location, and the jewelry items we carry are themed that way, too." Among the most popular items are a figurative mermaid sculptural necklace from Steven Douglas. "We work with higher- end items with these designers, because you are paying for the name."
Susan Ellsworth is the store's buyer, and, according to Craig, "She travels to a variety of shows, and finds items online. It is a kind of a hybrid. The sea theme is the thing that we look for." He added that "We promote our jewelry with in-store displays that Susan creates. We don't use any manufacturers or makers displays for our jewelry or any other item." Instead, he said, "We theme by subject – such as mermaid, or fish, in a central location in the store primarily. But we also mix and match jewelry items in display scenes with clothing and home décor." As to social media, the shop doesn't have a presence to boost sales yet, but the owners are considering a foray into TikTok.
In another California beach town, the charming and quaint resort destination of Cambria is located close to the popular Moonstone Beach. At Artifacts Gallery, Manager Shelley Woeste, said "Everything was carry is sterling silver, and the most popular is made with moonstone, because Moonstone Beach is right here." The store's jewelry is all hand-crafted, although not typically locally made.
According to Woeste, the shop originally found jewelry items at jewelry shows. "Now and during the pandemic, we find more online, but we have carried a lot of our jewelry companies for over 20 years, as well as bringing in new artists here and there. We are really looking mostly for things that are sterling silver set, and remarkable stones that highlight the jewelry itself. We have one shelf that is just silver, but most everything else has a stone in it. We do not carry any costume jewelry." The 2,000-square-foot shop also sells artworks, jewelry boxes, cards, and other small, keepsake items.
Woeste said displays are the best way to sell more jewelry, and the shop chooses to display by type of stone. "We do not sell any jewelry on our website, so it is always evolving here. We display by type of stone, rather than each jewelry artist. It helps people to find what they are looking for most easily. They'll usually come in and ask for a specific stone, such as moonstone or amethyst, rather than for a specific artist."
At Aqua Gifts, located in Coupeville, Wash. on Whidbey Island, Store Owner Christian Chambers sells a mix of gifts, jewelry, accessories, apparel, and bath and body products. In jewelry, he said the approximately 1,000-square-foot shop presently does best with two different types of jewelry. At a lower price point, he described "small, stretchy bracelets with small beads, gemstones, or tennis style with crystals around them" as doing very well for the store. "At the higher end, we do well with handmade jewelry made with crystals or natural gemstones. Some are locally made. I think people like the look of them, the nice material. We still do well with earrings, but smaller styles, dangly but smaller."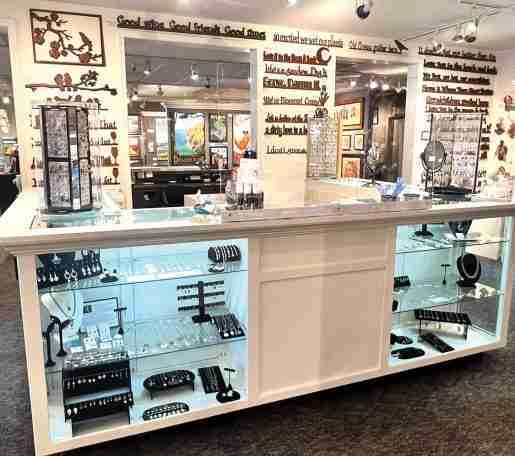 Chambers explained that "People like to buy themselves something shiny just 'because,' both locals and visitors." However, he said, "I think visitors like to have something special they can remember their trip by, even if it doesn't have the name of the town on it."
He finds the jewelry he carries primarily online. "I do have some reps who come to the store to show me what they have, and some local artists come into the store to show me what they've made. I haven't gone to jewelry shows for three years. What I look for is something unique, pretty, well-made, good quality metals, silver or gold and gemstones on the nicer pieces. It's also important to keep well-made jewelry at a lower price point here, too."
To sell more jewelry, Chambers related "It is all about display, getting things out where people can see them, and having nice fixtures, stands for necklaces and bracelets." In terms of display type, "People are not buying matching sets of jewelry anymore, so you can put pieces together that pair well, without being from the same designer or part of a set. Jewelry has its own section in the store, near the register where I can keep an eye on it, but if I am putting clothing items together on a mannequin, I will also put jewelry on it, so people can see what they can do with the outfit. I do some cross selling that way."
With locations in both Hood River Locks and Hood River, Ore., Spruce Gifts and Provisions offers an eclectic selection of merchandise, including jewelry. General Manager Lauralee Foley said that her number one top seller in jewelry is the brand Wheeler. The line features images of nature, including trees and fish. "They have amazing products and are an amazing company. Our second best-seller would be several local artists all put together, and their work sells well because they are local. In the Wheeler line we have some great inexpensive jewelry; with the local items, we focus on themes of the area, like the river, mountains, trees, and things like that. Both the images themselves and the fact that it is local help to sell it."
Foley said she finds jewelry for the store in several different ways. "Local artists come in and show us what they have. I find other, bigger lines at shows and online. We always love finding eco-friendly items, we love made in the U.S. items. With local jewelry, we're looking for unique and the items that kind of sell themselves being here."
Selling more jewelry depends on successful display techniques, she said, agreeing with other resort area shops. "We group jewelry together, which makes it easier for people to see it." She added that improving jewelry sales is also about "selling products that we love and believe in. We also wear what we carry all the time, so people see that, and they want to wear it, too."
Summing up, resort area stores sell jewelry items that fit their location and serve as great memories for visitors as well as appealing to local customers. ❖