By Sara Hodon
Zoo and aquarium guests make a point of stopping in the gift shop during their visit so they can browse the merchandise and pick up a few souvenirs for themselves or someone else. One of the most popular categories for these retail operations is name-dropped merchandise, which offers guests a wide range of buying options. "Name-dropping makes an item more special," says Jasmine Ramirez, director of retail at Seattle Aquarium in Seattle, Wash. "I have some guests that are specifically looking for Seattle Aquarium tees, and they want to wear them right away, so when they are taking pictures throughout our aquarium the pictures will show exactly where they were. It makes it easy to look back. Other guests fill their Christmas trees with ornaments of places they've traveled, and having our logo or name-drop makes it even more special." She adds their best-selling name-dropped items are tees. "They're easy to pack in a suitcase, so our guests don't have to worry about them breaking during the plane ride home. Name-dropping is very important, because guests can only get that item at your store."
Brandan Johnson, gift shop buyer at Henry Vilas Zoo in Madison, Wis., says their best-selling name-dropped items are apparel and magnets. "These two are the best-sellers because lots of guests love to have something to commemorate their trip to the zoo. Guests will come in only to buy something with the name of our zoo's name on it, they will buy a T-shirt for every family member or they will pick up a magnet for their fridge," he explains. David Whitaker, retail director, NC Zoo Society at the North Carolina Zoo in Asheboro, N.C., says keeping up with trends is critical for choosing name-dropped merchandise. "Obviously, if you have a trend like last year's spinners, it's easy," he says. "We like trying new products each season and we depend on the vendor for advice on what items are popular." Other trends he's seeing are "name-dropped plush, 'Yeti'-style drinkware, and recycled materials being used for everything from T-shirts to drinking bottles." He says their best-selling name-dropped items "by far" are their conservation buttons—"a 3" button with an animal. In 2017 we sold 76,000 at $1 each. Of course, key rings are always near the top of the list, and we name-drop all of our shirts, sweatshirts, and jackets," he says.
Name-dropped merchandise sells well because it's so versatile—just about any product can be engraved or printed with a venue's name and/or logo. It's also a way for guests to take a little bit of the zoo or aquarium home; Whitaker notes some visitors just want a special gift for younger children or grandchildren and gravitate toward plush or toys. Sara Hamlin, curator and zoo supervisor at Great Bend-Brit Spaugh Zoo in Great Bend, Kan., says their most popular items are the plush animals which resemble those in the actual zoo—she especially likes those from Rhode Island Novelty. "Kids just absolutely love them and parents don't mind buying them because they are at a reasonable price," she explains. "We sell a lot of lions and arctic foxes because they're the most popular animals in the zoo. I love working with the Snow Leopard Trust and Rhode Island Novelty. They're really easy to place orders with, they don't constantly call trying to make extra sales, and our merchandise is always shipped quickly and at reasonable prices."
Johnson says the name-dropped merchandise helps create happy memories for guests. "People like to commemorate their trip with an item that will remind them of the good times they have had here," he says. "These items are more common with young adults and beyond. Children are not focused on having something name-dropped – they usually want stuffed animals or toys." Ramirez says they are getting more requests for souvenir stickers with the aquarium's logo or name-drop from guests. "We've recently started selling them to accommodate the many requests we've received," she explains.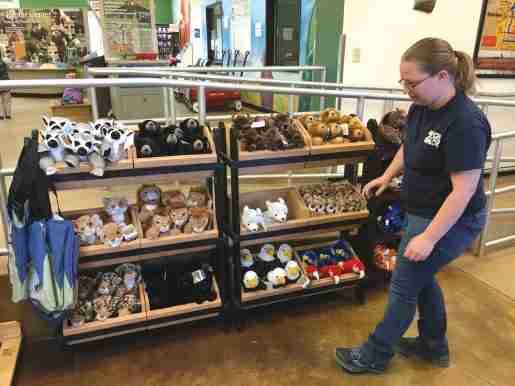 With so much merchandise available, there are countless opportunities for eye-catching displays. From re-creating one of the zoo or aquarium exhibits in the store using some of the name-dropped items, or displaying the plush items in their "natural habitats", there are many creative ways to assemble fun displays that highlight the items' unique features and reflect the venue's mission. Use the smaller items to fill space in larger displays on racks or by the register. As Whitaker points out: "With having so many types of items that are name-dropped, they're literally spread throughout the store." However the merchandise is arranged, most retailers agree that a full, orderly display is most effective for drawing customers' attention. Although following trends is important when buying name-dropped merchandise, most retailers have identified their tried-and-true items (typically apparel and smaller gifts like magnets and keychains) that will always sell well; keep plenty of those items in stock. Many suggest buying a small amount of the trendier items to determine how well they sell; you can always order more if there's a big demand. Arrange displays with a mix of both name-dropped products (trendy and the tried-and-true) to maintain interest and offer customers plenty of buying options. "I display these items in a big open area so they won't be missed," Johnson says. "Apparel has an entire wall dedicated to it with individual displays for each T-shirt design. Placing these items in 'front and center' areas helps guests find them and pick out the one they would like to take home." Hamlin says their plush is grouped together, with each type of animal housed in its own cubby.
Johnson says it's important to strike a balance when purchasing items to name-drop. Items like apparel are almost a guaranteed seller, but pay attention to the latest styles so your merchandise is staying relevant. "If you keep having the same name-dropped items, they will not sell as well over time," he advises. "Keeping your inventory new and fun will help with selling this merchandise. It will also keep guests coming back if they see your inventory is new and fresh."