By Carimé Lane
Morgan's Wonderlandis the one – and only – Ultra-AccessibleTM theme park. Their gift shop, "The Squad Shoppe" is approximately 400-square-feet.
Here, their T-shirts are their top selling name-dropped gifts. "We try to name-drop on most of our merchandise but any T-shirt with our logo or butterfly on it seems to sell the most," explained Kaleigh Green, food and retail manager.
The butterfly logo was created to represent Morgan's Wonderland, explained Green. "It symbolizes the life and joy you can find when visiting Morgan's Wonderland," she added.
To sell more name-dropped gifts, whenever they come out with new merchandise that has their name or butterfly on it, they like to display it right near the register or on the nesting tables as you walk into the gift shop. "The nesting tables right as you walk in the shop are the perfect location for guests to see merchandise," Green said.
They also use a mannequin in store decked out with everything Morgan's Wonderland, indicated Green. He wears a logo shirt, branded shorts, sunglasses, a lanyard, bracelet, and hat – all of which have either their name or butterfly on them.
At the 15 different retail locations within Hersheypark, they have more than one top-selling name-dropped gift, including their name program racks of keychains and mugs, higher-end drinkware and T-shirts. Their largest flagship store, Hersheypark Supply Co., is 10,000 square feet.
"For our name program rack offerings, our vendors make it easy to customize graphics and/or name drop onto these items to create fun, personalized souvenirs for our guests," commented Alexandria Carl, a senior buyer of retail for Hershey Entertainment & Resorts.
According to Carl, higher-end drinkware provides unique options with higher perceived value than their traditional counterparts. "We find that guests are willing to spend a little extra to have something special," said Carl. Some of their best styles currently are stocked from vendors such as Corkcicle, Silipint, and Asobu.
To sell more of their name rack items, Carl indicated that it's "definitely worthwhile to find a vendor that utilizes more modern names." They see much more success with the companies that update their available names each year versus those that don't update frequently, she added.
Carl also recommended seeking out the best quality products. "Don't settle for the cheaper option if you don't have to," expressed Carl. "Many customers will appreciate items that look and feel better, even if they have to spend a little extra."
Their number one rule of thumb when merchandising sales floors is to sell merchandise in "stories" or "programs." "It's a great way to upsell, and it's much more impactful visually," said Carl. "Instead of displaying one or a few stand-alone items, we build a full display featuring the same artwork, color story or theme."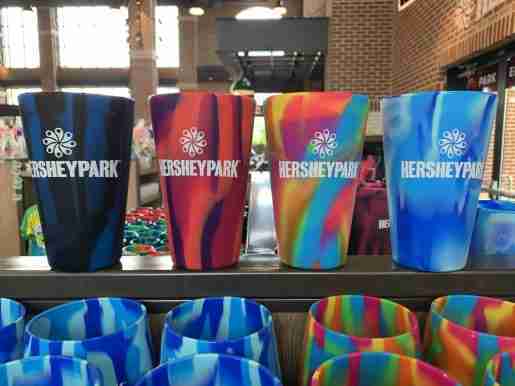 At Canada's Wonderland near Toronto, ON, Jordan Hartley, manager of merchandise, said their ride-themed custom 'Squishmallow' plush toys are immensely popular with their guests within their 15 retail shops on site ranging from 300 to 3,600 square feet. Other proven performers include their "Skater Collegiate" program of park name apparel – which includes styles for men, women, juniors and youths – and drinkware.
According to Hartley, when the store finds good art, they strive to integrate that art into a program that includes all of their biggest categories: apparel, plush, headwear, drinkware and gifts. "This also allows us to display the items together for a bold statement on the sales floor," commented Hartley.
In addition, they carry product that will appeal to guests of all ages and style preferences.
"From baby onesies to tie-dye T-shirts to teen-skewing fashion cut garments to comfortable sweaters – we make a concerted effort to have a souvenir for everyone at our shops," said Hartley.
A team of visual merchandisers carefully plans and program the displays. They focus on creating exciting and interesting shopping experiences for their guests, Hartley said.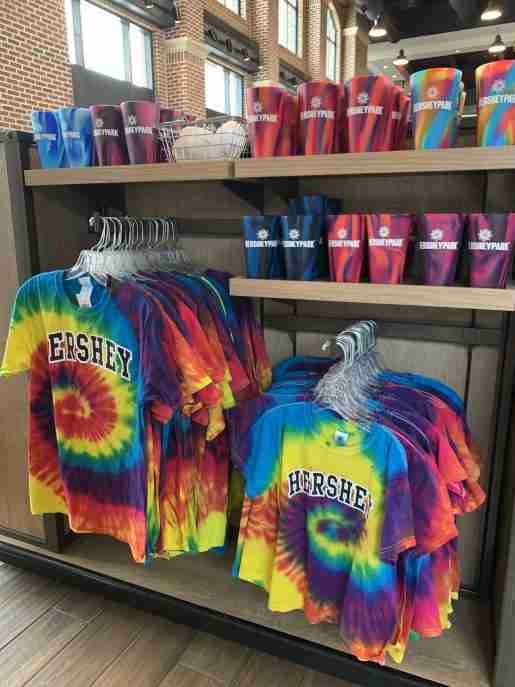 "Our team takes a holistic approach to our floor layouts, taking into consideration the flow of traffic through our shops and combining similar product groups that make sense (for instance – a program focused on children might be best positioned close to our candy section)," indicated Hartley. "They consider where they think our guest's eyes move upon entering, which way do they turn, and where do we want them to look next?"
At Magic Springs in Hot Springs, AR, General Manager Jesskya Hanna said their top-selling name-dropped merchandise is the AquaCase. It's a premium floating waterproof cell phone case that allows full use of the phone. Custom stickers have also been a hot buy this year. And naturally, they sell plenty of shirts, tanks, keyrings, drinkware and magnets.
They have multiple real estate throughout the park where they sell gifts and memorabilia. Their largest location is their 3,000-square-foot Emporium Gift Shop. The smallest – at 700 square feet is called The Attic. At the Emporium Gift Shop, guests experience a one-stop shop for a variety of gifts and Magic Springs souvenirs, in Surf's Up Swimwear, they can purchase swimwear, skincare, apparel and accessories. And The Attic is where they sell discounted souvenirs, toys and apparel.
"As the only theme and water park in Arkansas, we have built a strong reputation as the Thrill Capital of Arkansas, driving tourists and locals alike to our stores as they visit our park," said Hanna. "To help sell more name-dropped gifts, we strategically offer our top-selling items in multiple high-traffic locations. We've discovered that if a guest sees the product at one stop and thinks about it, the next stop will most likely make the sale, so we make it as easy as possible for them to see the items that will make their experience more special."
What's more: their team members are trained to upsell with every transaction to increase store revenue and guest experience.
Because Magic Springs is an attraction that guests love to visit and return to all summer long, their team changes the front entry displays often to keep a fresh showcase of their offerings, said Hanna. "We have mapped out our high-traffic areas and our top-selling items are placed on floor displays in the main walkways of our shops," explained Hanna. "To help as cashiers are assisting guests with purchases, we display our AquaCases across the wall behind our cashiers to show all the color options." ❖