By Karen Appold
At Turpentine Creek Wildlife Rescue in Eureka Springs, Ark., anything bearing the attraction's name sells well, said Laurie Vanderwal, assistant curator and gift shop manager. "I attempt to have as much merchandise as possible with our name on it," she said.
The top-selling category is apparel, which is all name-dropped, followed by souvenir-type items such as keychains, magnets, snow globes, mugs and shots glasses. "Guests want to bring home a memory of their experience with the refuge, so they appreciate products naming our facility. As a non-profit, this also shows their support of our mission."
For Sue Fahje, retail manager and buyer, Omaha's Henry Doorly Zoo and Aquarium, Omaha, Neb., magnets adorned with an animal from the attraction are tops, as is apparel. Furthermore, mugs, hydration bottles and shot glasses are popular because they are functional items that can be used daily, she surmised. The main gift shop boasts 6,075 square feet while the aquarium's gift shop is smaller at 962 square feet.
Similar to others, Denise Lamoureux, director of operations, Southwick's Zoo, Mendon, Mass., reported that sweatshirts, water bottles, mugs, key chains and magnets are best sellers in the name-drop and custom category because they are small enough for travelers to easily pack, and they are relatively inexpensive—making them ideal for a gift for a visitor or someone else back home. She noted that sweatshirts are very popular in New England due to its ever-changing seasons and temperature fluctuations.
Lauren Ogle, supervisor, guest operations, Toronto Zoo, Toronto, Ontario, Canada, said mugs bearing kid's names are popular because they are durable, have a colorful appearance and feature 3D imaging, and are personalized. In addition, the 12-inch plush panda embroidered with "Toronto Zoo" on the foot are a hit at the 3,000-square-foot gift shop. "We had a hang tag created for them which included information on our giant pandas' names, general information about the species and information on how purchases support more than 5,000 zoo animals," she said.
Name-dropped merchandise, such as T-shirts, keychains, postcards and plush that highlight special exhibits and animal births are also best sellers. "These do well because our cubs and calves don't stay small forever, so the items are turned over quickly and become limited editions," Ogle said. "The same applies to special exhibits."
Sustainable products are also a smash. The zoo-based conservation center constantly sources and supplies a number of environmentally sustainable products. A great example is recycled and odorless paper products made from animal poop called poo paper. "We revamped this paper line a few years back by adding our logo and zoo vision statement on the packaging," Ogle said.
In the clothing category, Sarah Wilcox, museum store manager, Virginia Living Museum, Newport News, Va., said baseball caps from Jacobson Hat Company bearing the attraction's embroidered logo are the best seller, followed by a vintage wolf design tee from ACE. Charles Products' brightly colored multi-tool survival kit and its oil and water gravity timer win the prize in the youth category. In the souvenir category, a bamboo pen from Topline and a hand-powered flashlight from Charles Products shine. For plush, the small sea turtle from Wishpets is a perennial best-seller.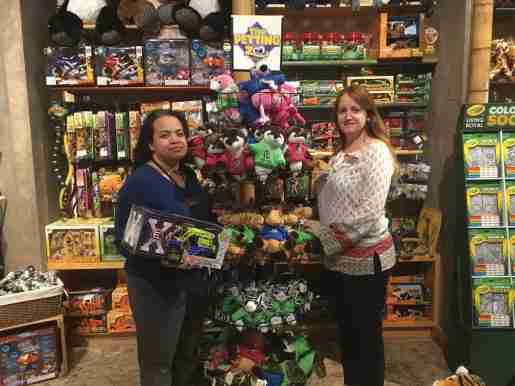 Kevin Kraemer, a store manager at Virginia Aquarium & Marine Science Center, Virginia Beach, Va., said top-selling, name-dropped items include snow globes, key chains, postcards, T-shirts, mugs, magnets and ornaments. "Our name-dropped items sell well because they are reasonable in price, collectable, travel friendly and provide a reminder of the guest's visits to the Virginia Aquarium," he said.
For Rene Wineland, retail buyer, Maui Ocean Center, The Aquarium of Hawaii, Wailuku, Hawaii, top-selling name dropped items include T-shirts, keychains and magnets. A promotional program with T-shirts has been extremely successful. Wineland works with one of the aquarium's top-selling T-shirt vendors on custom designs that mirror the most popular exhibits. By using one and two color designs, costs are kept down and they can offer them at a promotional price. "We then merchandise them in a promotional display, which encourages multiple sales," she said. Annual sales at the 4,500-square-foot store total $3.3 million.
Design Tips
When designing a new custom or name-dropped item, Fahje said it's important to make it unique to your location. For example, use your zoo's animals, not those found on Internet stock photos, on magnets. It also works well to highlight a new attraction or cute new animal addition.
Work with your vendors to assist you with ideas for customizing. You can customize plush with many options such as tags, bows, embroidery, screen prints, T-shirts, hoodies or vests. Also, Fahje advised asking vendors about what styles, designs and colors are trending and using creative fonts to name-drop.
Start with a symbol that is emblematic to your institution, Wilcox recommended. "In our case, river otters are not only a crowd favorite, but they are also part of our logo," she said. Almost every item (other than tees and sweats) has some version of the river otter on it, with great success. Of course, other animals are as beloved as the otters, such as red wolves, bobcats, loggerhead sea turtles and bald eagles. "We use their photographic or artistic image on tees, magnets, keychains, car coasters, mugs and more," she said.
Lamoureux looks at industry trends by visiting other tourism shops, and peruses social media sites and magazines. She also attends trade shows to find the newest products with the best quality and price points. She'll also seek out second opinions from staff members.
Vanderwal aims to not only name-drop items, but to also have them completely customized. "The goal is for guests to not be able to find them elsewhere, so they perceive them as unique and special," she said. Because the attraction has a long name, she requires proofs of everything that will contain a name drop to ensure that the font isn't too small and that the placement looks good.
Include your attraction's city, Vanderwal added. "I've found that guests want this," she said. "I believe this helps a product to serve as a souvenir for an entire trip to the area; not just to our attraction." The gift shop is approximately 900 square feet.
Another piece of advice is to not be afraid to ask for the artwork to be changed until you're completely satisfied. "Make sure it is exactly what you want," Ogle said. "Once you land on the final artwork, have a sample created. Approve this souvenir based on how happy you are with it once it is in your hands."
Kraemer's top tip for a great souvenir is to make it unique to the facility and inexpensive if possible. If the item can be made locally, then customers are will be more willing to buy it.
When designing custom merchandise, Wineland sticks with the aquarium theme and features items with images of sea turtles—the most popular exhibit. The gift shop also features a food pantry because many visitors love to buy food products from Hawaii. "Made in Hawaii is a very strong category," she said. Local plants are a signature brand item as well.
Picking Souvenirs to Name-drop
Understand your guest demographic and try to leverage that into your decisions. For example, with the millennial age group Fahje's attraction did well with cell phone covers and trendy junior cut T-shirts.
"When working the floor, keep a keen eye out for what guests are drawn to," Fahje said. "I learn the most from conversations with guests."
Another tip from Fahje is to make the decision to name drop on categories that already appeal to guests. For example, if you have the strongest sales percent in plush and penguins is your number one animal, start with opportunities there.
Olge agreed, stating that you should consider name-dropping an item that continually does well for you. "Pick an item you are proud to use as a promotional piece for your establishment," she said. Alternatively, choose a new item that you feel strongly about. "For us, we choose items based on upcoming special exhibits," she said. "Ensure that you already have a vision and place for the item."
Southwick's Zoo's gift shop aims to carry something name-dropped for guests of all ages. "If an item is a hot trend, we might create a campaign around it," Lamoureux said. "Sometimes you just have to go with your gut; if you are excited about an item, others will be too. When sales slow, we know it is time to search for a new trend."
It's helpful if a souvenir item is useful, Wilcox said. In the case of a magnet, mug or keychain, purchasers see or use them every day and are reminded of their visit to the museum. The same is true for clothing, pens, bookmarks and car coasters. The 1,400-square-foot gift shop garners approximately $435,000 per year.
Kraemer suggested items that are portable and durable, because many guests are traveling by plane or car. The center's two stores total 2,042 square feet. The total annual figure for the July 1, 2016, to June 30, 2017, fiscal year exceeded $1.6 million.
When choosing items to name-drop, select popular merchandise because name-dropped items require higher minimum prices, Wineland said. Also, have a plan in mind for where the product will be displayed. If an item could be sold at the cash wrap such as keychains, pins or magnets, you could also place it in other areas of the store.