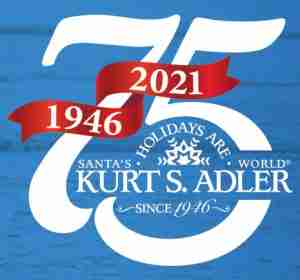 Kurt S. Adler, Inc., has created a virtual showroom for a safe and convenient way for customers to view its 2021 product line. Customers can "walk through" the line from anywhere, at any time.
"It was important for us to create new ways of viewing our line as we knew show attendance would be limited due to COVID-19 rules and regulations. We wanted to offer something immersive, and that was as close to the in-person experience as possible. Our virtual showroom puts you in our New York City headquarters and gives you a 360 degree experience. You can view the complete line including lights, trees, ornaments, tabletop décor, licensed items, and so much more," a press release from the company said.
Kurt Adler is a one-stop shop for retailers' holiday needs. The company invites customers to view its virtual showroom at https://my.matterport.com/show/?m=HEduRZVpVmT. The blue and white circles will take shoppers to the corresponding page on the website and also walk them through each section. The company asks retailers to reach out to their local sales rep, or email info@kurtadler.com for more information or with any questions. For additional information, visit www.kurtadler.com .