Beach shops are flying high with kites, toys, and souvenirs on both the east and west coasts. For this article, a variety of water-adjacent shop owners and staff painted a picture of top-sellers and pandemic changes this holiday season.
At The Kite Connection in Huntington Beach, Calif., Sales Associate Dax Villanueva, speaking for Manager Andrew Martin, described a bevy of top-selling kites, toys, and souvenirs at the ocean-front shop. "Our top-selling kites include The Sting Ray, made of Ripstop fabric, on a fiberglass frame. It's easy to assemble; it has a cool design; and it can withstand wind speeds of 20 miles per hour. We also have Wind Force 3D nylon kites that do very well for us, too. They look like military air craft and pirate ships, and they fly very easily. They're so simple to assemble, because they come in one piece, and they're fun to play with and fly, which makes them very popular." He added that "We fly them outside the store, which really draws people to them. We also have Star Wars kites, which we sell out of pretty fast. We have the X wing and the Millennium Falcon, and BB-8. Those kites are designed for kids to fly, so they are marketed younger." The store is not just a kite shop, however, and in fact the store considers itself to be a "souvenir shop with great kites," according to Villanueva. As far as souvenirs go, he said, "We do great with wind spinners, chimes, name tags and key chains – those all do really well for us, because they are fun and well-priced. In terms of toys, we have a special where people can buy one board game and get a second for 50% off, and that's been very positive for sales. The Gobbling Gobblers game, which is somewhat Tic-Tac-Toe-like is doing very well. It's an easy, fun game where you can take over other players, it's very interactive, which people like."
The store has made a variety of changes during the pandemic. "We have instituted massive plexiglass sheets in front of the register, we sell lots of hand sanitizer now, and we also offer it and masks free to shoppers who come inside without their own. Naturally, we require masks inside by law, but we will try to accommodate anyone who doesn't want to wear one by helping them outside the store, shopping for them and bringing the items outside. We clean regularly, and if we allow someone to touch an item, we ask them to use hand sanitizer first, and we also sanitize the item after it is touched. We are heavily cleaning." What will last beyond the pandemic it is too early to tell.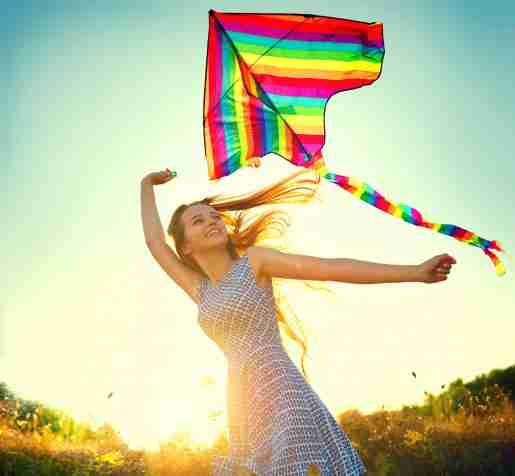 Heading north to Capitola, Calif., Babette Fenton, owner of Rainbow City Limits said that with kites, basic types do best at her store. "People come in all the time looking for something simple, because they have kids, and we're on the beach, and they want to get something the kids can play with right away. But all our kites are high quality, they aren't throw-away plastic junk. Our parafoils are super popular, because there are no sticks involved. The style is similar to a parachute, the idea being that the chambers fill up with air, and there's nothing to break when they crash. We also sell a wide range of stunt kites that are two-string trick kites. Those are super popular with the bigger kids and adults." When it comes to toys, the most popular items are active such as Aaron's Thinking Putty, as well as coloring and painting sets. "Families want more activities for the kids, although TY Beanie Babies and standard beach toys are also great sellers too," she reported, because of their classic appeal.
Crossing the line from toys to souvenirs, Fenton said, "We sell a lot of locally-made, artist- designed stickers that are name dropped for Santa Cruz and Capitola. The same artist also makes our key rings and pins; and we have lots of other handmade items that are locally-made such as crocheted mermaid dolls and dinosaurs. And we are known as a big seller of Beatles merchandise." She added that a long-term best-seller for the store in the souvenir category is a fabric and ribbon rainbow cloud. The charming clouds have been created by local artist Heidi Merry for the store since 1976, Fenton reported.
As to pandemic-made changes in the 700-square-foot store, Fenton has focused on safety features that she hopes will not be permanent. "We are currently limiting the number of people in the shop, emphasizing hand sanitizing, and requiring mask-wearing. We have plexi-glass shields in place between the staff and customers, and a lot more ventilation. For example, we keep our doors open for better air-flow."
At the 2,000-square-foot Twirl Toy Shop in Pennington, N.J., Owner Lindsey Petropoulos sells pinwheels instead of kites. While those items are popular, they are not a top seller: the store focuses on high quality specialty toys and some items for adults. "We have the kinds of toys you can't find other places, things that are not made of plastic but are crafted wooden toys, or cool science and STEM-type toys. We go for the more long-lasting, educational type of toy that kids won't grow out of very quickly. For adults, we have things like a Specs magnet set for desks, and fidget spinners." While Petropoulos has made many pandemic-related changes to the store's operation, these will be permanent: "Curbside pick-up, and over-the-phone ordering will be permanent. We are also building our website to feature our top two-hundred items for the holiday season, and I'm certain that will also be permanent."
In Rehoboth Beach, Del., at the Rehoboth Toy & Kite Co., store Co-Owner Rachel Webster laughed that "Everything does well at our store." She's delighted to note that among the very best-sellers are kites such as the Delta Kite. "It sells the best because it is unique and it flies really well. It's triangular in shape, and it's made to look like an airplane. It doesn't take a lot of wind, and it's very easy to fly." While that is a best-seller, she noted that her store also carries many regular single-line Diamond Kites and parafoils, as well as stunt sport kites with two lines. "For toys, being near the beach, we carry lots of outdoor toys. We try in general not to have anything electronic, but rather to carry outdoor fun games like juggling sticks, diablos, footballs, and Frisbees that people can play with on the sand. We also carry many different wiffle ball and paddle ball sets, and all sorts of variations on that." For souvenirs, name-dropped items do best. "We have tons of name-dropped photo frames, magnet holders, surfboard keychains, and Christmas ornaments. We also have wine openers, stickers, and small surfboards to hang on the wall. They all do well for us."
Operating in two locations, at both the 3,800-square-foot beach boardwalk store and the 1,800-square-foot location in the center of the town, Rehoboth Toy & Kite Company requires patrons and staff to wear masks in the store. "We also changed our aisle space to make things a little more friendly with the Covid-19 restrictions," Webster explained. "We will very likely keep that nice aisle flow after the pandemic ends."
At Flamingo Jim's in Cannon Beach, Ore., floor Manager Rob Mercer said the store does well with a variety of kites. "The kites are a good seller because of our location near the beach, and we have both stunt kites and one-line kites for the more experienced and the novice." The store's popular toy selection features stuffed animals, toy cars, and pirate-themed items, as well as model boats. "Our souvenirs include magnets, bottle openers, key chains, and shirts – we have a lot of name-dropped clothing and sandals." Hats are another popular souvenir item, he said. "We have a huge selection of those."
The store has made many changes due to the pandemic, including plexiglass by the counters between customers and staff, mask requirements, and an electronic hand sanitizer that customers utilize before the enter the store. "We don't know what the future might bring in terms of keeping any pandemic changes," Mercer related. "We have distancing tapes on the floor and all of that, but we don't want this to be permanent. We have to watch and see what happens." While currently the store monitors how many people come into the store and social distancing, he said everyone working there always "goes out of our way to please everyone, we greet everyone, and we want to make sure they have a fun time while they are here."
From kites to toys to souvenirs, beach shop locations are enjoying robust sales despite the pandemic in 2020.
---
---
Top Tips for Putting the Customers First
Across the United States, beach store owners and staff for this article offered their tips for the best in customer service.
At The Kite Connection in Huntington Beach, Calif., Sales Associate Dax Villenueva, speaking for Manager Andrew Martin, said, "We focus on greeting and welcoming our customers, always. And we're right there, available to answer questions about any products. While we can't offer hands-on assistance like demonstrating games or flying kites because of COVID-19, we are very accessible, and we have specials such as our current 50%-off on games for our customers."
Heading north to Capitola, Calif., Babette Fenton, owner of Rainbow City Limits, said, "We always offer free gift-wrap, and we're here for assistance with any questions or to help people find things in the store. We also have a very generous return policy – whatever the customer wants, we will abide by, basically." Giving the customer what they want is always a top tip.
At the Twirl Toy Shop in Pennington, N.J., Owner Lindsey Petropoulos related that complimentary gift wrapping is also among her top customer service tips. "We offer this for birthdays as well as for holidays. We also have a VIP loyalty card, which allows regular customers to get a $25 gift card after they have made a number of purchases. And we offer gift delivery locally."
In Rehoboth Beach, Del., at the Rehoboth Toy & Kite Co., store Co-Owner Rachel Webster said the shop, which has been in business 28 years at two locations, has always focused on personal service in terms of customer service appeal. "Whether people call us on the phone or they come in, we try to make our customers feel important. We spend time talking to them. This isn't like going into a Walmart or a Home Depot. We really engage with our customers, and we help people; we engage. Engaging with our customers is really our number one customer service tip."