Juliana's Jammin' Inspirational Art & Rock Shop is a made-in-Montana gift shop that Juliana Stevens began almost seven years ago in Columbus. The low, log-style building may seem pretty humble looking on the outside, but inside the shop is a hub for healing.
"As a lapidary jewelry artist since 2005," said Stevens, "I primarily create wearable art by wire-wrapping stones and crystals."
For years, Stevens participated in art and craft shows throughout the Big Sky region. She eventually found her way back to the art of rocks and an unexpected 17-year career hiatus due to medical complications. This prompted Stevens to research the healing properties of crystals and stones. "Shortly after," she said, "I began making mosaics and jewelry. Thus my motto: 'When I'm not jammin', I'm rockin'."
For Stevens, hunkering down in this country-style shop became a great way to lessen the burden of traveling to shows. "I met with art colleagues and began to build an art and handmade consignment retail space," she said. "The art and rocks supplement and complement each other very well. At this time, I have over 80 artists."
Stevens said that over the years selling inspirational gifts and gems, she's learned how her store can inspire people to get more in touch with their own bodies, souls and talents.
"The inspiration that spread throughout the community broadened beyond borders to include artists county and statewide," explained Stevens. "Shoppers who stop in tend to say they only have a few minutes, but generally find they stay for an hour, sometimes saying, 'I don't know why, but I just can't leave.' They are immersed in the joy that the shop was designed to provide."
She said the works featured by many local artists has a lot to do with the appeal. "This is also the store's inspiration," said Stevens, "a feeling of illumination within the soul. It comes from a space deep within that has been uplifted, if only for a moment in their day. This is a destination."
Stevens said she considers the "spirit of the creator" when she's deciding what items to carry in the shop. "Often the energy that the artist exudes is felt through their creation," she said. "It can encompass joy and sadness, or both, but that is what draws the right person to the right piece."
She said a customer's personal connection to something like a crystal is a big part of what sells it. She said most of the people who visit believe in mystical powers, and she likes to be able to fulfill the needs they are seeking by offering a range of products that are connected to a deeper, more spiritual place.
"As a Crystal Energy Therapist," said Stevens, "my work allows me to bring the deeper meaning of the stones to my clients and customers. There is a definite joy the stones provide as I hear a little giggle in my ear or a sense of calmness when someone is looking for peace of mind when experiencing anxiousness."
Offering therapeutic services has helped newbies negotiate this more mystical path, but it's also become an important service for longtime believers.
Steven said, "I work intuitively matching the stone to the person. So depending on the individual, angelite might aid in one person's anxiety and green aventurine or citrine may be what helps another. As with the art, the stones, through the creator, can also transmit and transmute energy to help uplift and illuminate the soul."
Being a believer in the power of the gemstones has helped Steven's set her destination apart from many others. She is not simply a proprietor of a New Age shop. She is a believer in the powers of natural remedies in earthen materials. And she spends a lot of her time sharing the ins and outs of these beliefs with her customers.
She said gems and rocks, as a result, sell very well. "Whether wire-wrapped or strung for chakra and metaphysical healing," explained Stevens, "or as a little gift bag for the pocket, people of all ages love rocks." The shop carries a range of rock styles, everything from slabs and cabs to rough, raw, polished, tumbled, clustered and pointed.
Another best-selling jewelry item is the hammered, forged and electro-formed copper jewelry in different patinas. "These are a newer addition to the store," said Stevens, "and designed by a family of artists working together to create Montana-inspired art as a collaboration."
Other jewelry in the shop includes leather and arrowhead pieces, seed-bead weavings, beaded necklaces and earrings, sandstone art, settings with hand-polished cabachons, hand-wired pieces and silver Wind River petroglyphs pendants made in Billings.
Made-in-Montana items tend to appeal to customers most, basically anything that says or is designed with the state of Montana. "We have local companies with shirts, hats and steel mugs," said Stevens," as well as "jams and jellies, barbed wire and wall art, signs, leather zippered wallets, key chains, ornaments, rings, copper pendants and earrings, maps, books and so on."
Stevens also carries notecards designed to be used as small, affordable and frameable art. She also has a selection of wall art including photography, watercolors, oils and quilted designs. A few of the scrapbooking cards by a local calligraphy artist are also used as small inspirational signs.
A few of the signs that can be found here tend to feature family and scriptural sayings. Pet signs are also quite popular, she added, like, "My windows aren't dirty, that's my doggie's nose art."
A Holistic Approach
At Leapin' Lizards Gift and Holistic Centers (with two locations in Freeport and Portland, Maine) Melissa Ellsworth is always looking for new ways to reach customers with meaningful merchandise. The family-owned business, which opened its doors about a month before the tragic events of Sept. 11, has become what Ellsworth described as "an oasis for healing and serenity."
Leapin' Lizards not only offers a wide range of holistic merchandise designed to bring peace and comfort to customers, the two locations also host classes, workshops, psychic readings and healing sessions throughout the year. These diverse special events have introduced many new customers into the fold and created a sense of community among seekers of spiritual comfort. The flagship shop was so successful, in fact, that opening a second location was a no brainer for Ellsworth, who even created a frequent buyer program that rewards loyal customers with great incentives.
The original mission statement, which is focused on helping people "find their path to growth, enlightenment and joy" is reflected in tangible ways through both stores. Ellsworth said that from the beginning her goal was to create "a positive, compassionate and fun environment" for people. Selecting the most authentic merchandise to help make this happen is an important part of the experience.
"We sell lots of gemstone necklaces and bracelets," said Ellsworth. Jewelry from brands like Seeds of Light, Zorbitz and Milk and Honey are among the top vendors at the shop overall, while Silver Forest is the best-selling earring brand.
"Each gemstone has its own properties and meanings," explained Ellsworth. "Some of the top gemstones are amethyst, called the stone of peace, because it brings peace and calming, as well as physical healing. Rose quartz is for self-love and self-forgiveness. Rainbow moonstone is for feminine power and also balances mood. Another top stone is labradorite, which is for protection and also increasing intuition."
Much thought goes into which gemstones are stocked and how they are displayed. Ellsworth also spends a lot of time educating customers about the meaning behind these items. It's not unusual for her to field questions from people looking for something meaningful to wear, display or have on his/her person.
Ganz, for example, carries inspirational signs and tokens. "We sell an amazing amount of pocket tokens," sells Ellsworth. "They make great gifts and perfect to keep in your pocket for inspiration."
Ellsworth said trying to create an oasis in her stores is an ongoing experiment. She sees both locations as "places where people can leave their stress behind and just feel better. I am very conscious of the products that I carry at the store," she said. "I want products that will help people find joy, inspiration and guidance."
Over these 17 years Ellsworth said she has really developed a strong community among customers. Some of the biggest draws have been the events at the holistic center itself, she said, particularly reiki and psychic readings which tend to attract a lot of new faces each week.
Gifts Made by Local Artists and Women
At OptiMysm in Taos, N.M., Owner Nyna Matysiak is getting ready to celebrate the shop's seventh anniversary. What has really set her independent brick and mortar apart from others in the Southwest, where metaphysical and inspirational stores have found a very successful niche, is that she likes to feature a lot of gifts handcrafted by local artists.
Matysiak said that the shop currently supports more than 40 different artists. And inventory that's not handmade locally tends to be sourced from companies that share her philosophy. Many of her retail partners are smaller independent purveyors, often family or women-owned, that focus on putting "positive energy," she said, into their products.
When Matysiak first moved to Taos 11 years ago, she wasn't new to operating an inspirational shop. She had already operated a similar shop that had won accolades and customer loyalty. It's what inspired her to open OptiMysm in 2011 when she identified "a need for a spiritual shop." Matysiak said her goal was to focus on women-made products from suppliers specifically owned by women.
Today, the shop carries a wide range of items from divination tools and greeting cards to books, candles, jewelry, soaps, crystals and apparel. Jewelry has become an important product line, particularly pieces with semi-precious and tumbled stones.
"I sell items with sacred symbols," said Matysiak, "pendants and bracelets of stone which have healing and supportive properties." Lately, she's also been investing more in stones that are hand-wrapped by local artists. "Orgonite is currently a popular choice," she said. "This assists in minimizing the affects of electromagnetic frequencies to the body and the surroundings."
Finding new and meaningful ways to inspire customers has long been an interest of Matysiak. As such, she carries quite a few items that feature inspirational sayings, like Amber Lotus cards, which she said people tend to buy just for the sayings.
The shop also features Deva Designs charms, including tree of life, wisdom and goddess charms, as well as animal speaks and sisterhood charms. "There is a design on one side with an inspirational quote on the other," she explained. "I also carry word stones and word chips." These are round, palm-sized semi-precious healing stones with a single inspirational word on them. "The word chips are made here in Taos," said Matysiak. "One side either has a heart or a zia symbol, and the other has an inspirational word."
Ultimately, Matysiak seeks to inspire and connect with her customers in a deeper way. "At OptiMysm," she explained, "I desire for anyone who visits the shop to have a meaningful, uplifting, low-pressure experience, with information about all the different products that are offered."
It's not unusual for Matysiak to get to know customers personally and to take time to answer questions about the inventory and to help guide people into making purchases that make sense for their individual needs.
She also uses point-of-sale signs and informational handouts to share great information about where products are made and what they seek to achieve. She said these methods really inspire customers to look deeper at a product, and to consider how it would fit into their own lives.
"Taos has a very spiritual community," said Matysiak, "so I focus on our local community to offer items that they would appreciate and that would assist them in their healing soul journey. Taos is also a place that has a very high rate of tourists from all over the country and the world, so I offer items that are not only available through the traditional metaphysical vendors, but I offer anything of a spiritual/metaphysical nature that is created by local artisans and crafts people when available."
Matysiak likes to sources her inventory locally whenever possible. "A policy where items created by small families and/or women-owned businesses is also something considered when looking for items to carry," she said. The meaning of items is also important to Matysiak.
For example, she spends a lot of time educating people about gemstones using signage throughout the shop, like special properties that each stone is believed to possess. "Shoppers are offered handouts with the properties that they can take with them, so they can be reminded of those properties," she said. The displays for these semi-precious stones also feature little handouts. "Some of the jewelry that we carry has stones as well as symbols," she said, "so we are up to date on describing the symbols as well as the properties of the stones."
A Family Affair
When Michael and Amy Erwin took over the operations of Fantasia Crystals in Phoenix, Ariz., from Amy's parents, the couple wanted to carry on the legacy of creating beautiful jewelry made from local minerals. Continuing the tradition, Amy attended many craft and gem fairs around the state, and shipped custom pieces worldwide.
By the time the business moved into the store's current location on Seventh Street, the shop had become known for offering a wide variety of crystals, as well as metaphysical and occult goods, books and jewelry. The shop has also become very well known for offering free classes and workshops each week.
The business took the family affair a step further, said Amy, when Mike moved his music shop into the Fantastia storefront, allowing the business to stretch into a new realm focused on pagan music traditions that was a natural fit. He, too, launched many new classes and meet-ups for customers. By 2014, the business was flourishing and became the retail venture it is today thanks to a lot of hard work and family support.
In more recent years, Amy said that Fantasia Crystals has really focused on increasing the inventory, and to ultimately represent many different spiritual paths. The couple also extended store hours and hired more staff, a sign that they are doing well in a challenging economy for independent retailers.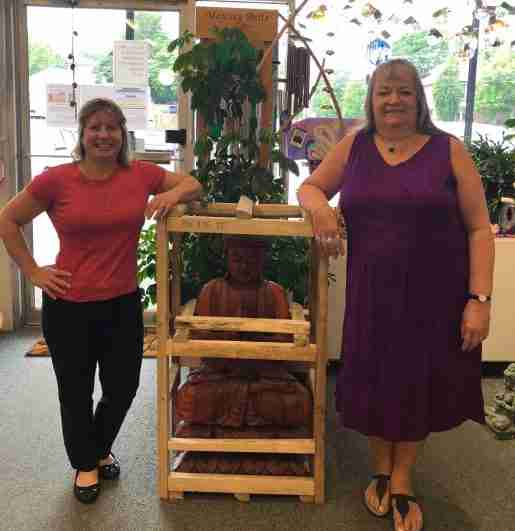 "It was an exciting and busy transition," said Amy, whose mother still pitches in to help make the rolling candles, and essential oil and chakra kits for which the shop's best known.
Erik, Mike and Amy's son, is also the third generation of employees working at this family business. These days he can be found learning to make the shop's "magickal" products by hand. The newest products include beeswax reversible candles and essential oil bath bombs.
"Fantasia Crystals continues to add to the shop's inventory," said Amy, "to search for the lowest prices, to uphold important values, to be of service to the community, and continue to offer a wide variety of merchandise, classes, readings and more for the diverse spiritual community in the Phoenix area."
She said the retail philosophy at Fantasia flows from the idea of "positive spirituality," and that each customer is on a fantastic journey. Amy and Michael say they like to let love and compassion drive the business.
"We sell silver, bronze and a bit of gold jewelry," said Amy, "symbols as well as an amazing selection of gemstone jewelry in pendant and bracelets." She says the shop also sells a selection of greeting cards, stickers and magnets with various inspirational sayings.
"We offer whatever we think our community may desire," explained Michael, who tends to focus on culture, religious and spiritual goods, along with crystals and minerals. "We offer awesome customer service," he said, "so we love to engage with our clients and help in any way we can."
Over the years the couple has gotten to know longtime customers well. Developing great relationships means they have an innate sense of what people are looking for in terms of merchandise and guidance. For the shop to ultimately be a success, it needs to mesh the mystical with the practical, that is, offering a selection of products that customers seek in their own spiritual lives along with items that have broad appeal. It's about a lot more than simply keeping products restocked. It's a lifestyle for the owners as well as the customers.
The most popular rock or crystal being sold these days is the clear quartz, which Amy says can be programmed with a specific intention. She also said rose quartz (which symbolizes unconditional love of the self) and amethyst (which is good for working through fear, balancing emotions and aligning energy centers) are also top sellers. "We also sell high vibrational crystals," she said, "and minerals like moldavite," which is tied to spiritual transformation.
The shop also has a large selection of sterling silver, pewter and crystal jewelry, as well as herbs, statuaries, essential, magical and perfume oils, tarot and oracle cards, runes, candles, singing bowls, bells, incense, angels, fairies and dragons.
"Psychics are available in the store every day," said Michael. "Our employees are very knowledgeable and helpful with many years of experience in various spiritual, religious and cultural paths."