As Americans have flocked in record numbers to national parks, demand for souvenir apparel has reached new heights. "Site specific clothing has become its own sort of fashion statement as people travel around the parks," observed Matthew White, retail operations manager for Black Hills Parks & Forests Association, which partners with seven national parks, monuments and forests.
"I would say 75 percent of our visitors wear apparel from other parks. It's something simple to remember where you've been, and other people will ask you about it, which helps more people learn about our parks. So it really is a win for everybody, especially the smaller locations, like Agate Fossil Beds National Monument."
Best-sellers across the 16 Black Hills partner stores, which average 300 to 600 square feet, include name-dropped T-shirts and hoodies. Many, like a top selling shirt featuring bison graphics, are from the Wild Tribute brand. "People really like their styles, and they're popular throughout the public lands stores," said White. Another customer favorite is a line of shirts made in the USA from recycled materials — so-called "cause marketing," White explained, that resonates with socially conscious consumers.
At the Lewis and Clark National Park Association, Executive Director Cynthia Thompson's number one tip for selling apparel is intuitive: "Pick images that resonate with what people are actually seeing in your park." Best-sellers at the 700-square-foot Fort Clatsop bookstore in Astoria, Ore., are tees and sweats featuring park landscapes: huge trees, the Pacific coastline and the store's namesake fort. "People look at them and say, I saw that on my visit there!" observed Thompson, explaining that the shirts become a conversation piece. "We specialize in super duper local graphics."
"Site specific clothing has become its own sort of fashion statement as people travel around the parks."
– Matthew White, retail operations manager, Black Hills Parks & Forests Association
In addition to T-shirts in both short and long sleeves styles, Lewis and Clark has done well with hooded, fleece and quarter zip pullover styles. Best-selling colors vary by season — blue tones in winter and warmer, sunnier designs in the summer months.
Wildlife and landscape graphics are also featured on the popular shirts, caps and socks sold by Badlands Natural History Association in Interior, S.D. Socks are a best-seller: "People pull up their pants a little, and you see our logo and a bison," said Executive Director Katie Johnston. "It's something you can show off at work, but it's also functional in the park." Johnston said the shop's logo socks high quality and comfortable, equally wearable with business shoes or hiking boots. Scarves, similarly versatile, are another favorite accessory.
This year's top-selling unisex T-shirt was heather gray with a vintage style graphic featuring a vibrant turquoise and orange sunset over the Badlands landscape. "That tee outsold any of our others this year, and that image was popular anywhere we printed it," Johnston noted.
It was a great sales year at the three visitor center retail outlets of Glacier Park Conservancy, based in Columbia Falls, Mont., and Director of Park Stores Julie Dougherty expects 2022 to be another record season. Her winning apparel formula involves basic unisex styles, evocative park imagery, comfortable cotton or blends, and a modest price point. "We've got all kinds of people who come into the store, and we want to have something for everyone," Dougherty said.
The stores' popular socks are designed with local wildlife or scenery — grizzlies, mountain goats, the park's red busses. "It's a gift they can bring back that's practical but also has pictures of things they've seen here," the retailer said.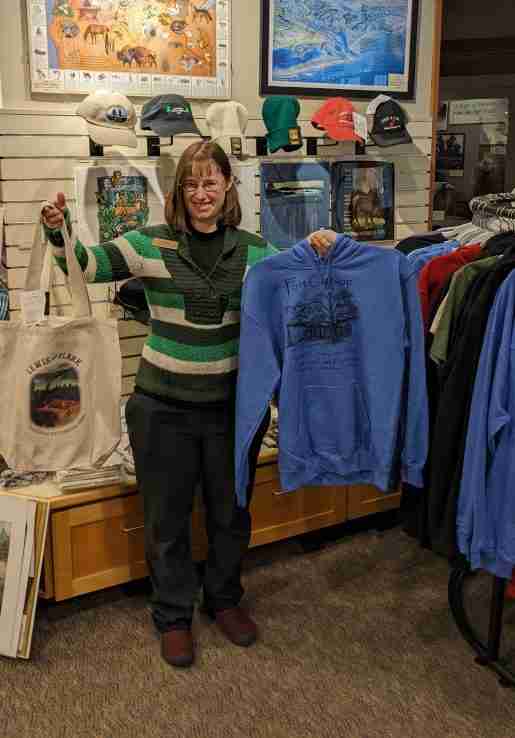 T-shirts are a perennial best-seller; each year, a new style features a different Glacier park animal, such as a wolf. "T-shirts truly are a souvenir," Doughtery noted. Sweatshirts, outwear, ball caps and beanies also sell well, especially to underdressed summer tourists.
This season, Dougherty is debuting simple, unisex name-dropped sweatpants. "We don't normally carry those, but it's often cold up at the mountain pass," she noted. "So I think they'll do well."
In Peninsula, Ohio, Retail Manager Tracy Christoff has found success by keeping inventory local at the three outlets operated by the Conservancy for Cuyahoga Valley National Park. "We always look for merchandise designed by local artisans," Christoff explained. Best-selling hoodies, for instance, are custom designed and printed by the Cleveland Clothing Company. Another local outfit is responsible for the shop's logo cycling jerseys.
Christoff oversees a 1,000-square-foot store in Peninsula, as well as a seasonal shop in the park and a small retail outlet in the park visitor center. All feature regional art, as well as graphic tees featuring the Cuyahoga logo and other nature themes.