By Elizabeth Wickham
What do pharmacies, florists and hardware stores have in common? Many offer a variety of gifts in addition to their primary businesses of filling prescriptions, arranging flowers or selling tools and garden supplies. For this article, five store officials shared which items are the most popular and offered their top tips to sell more gifts.
"The key to selling in brick and mortar stores is the experience," said Kara Charbonneau, inventory and pricing manager for Henkle's Ace Hardware in Webb City, Mo. Her top tip for selling more gifts is "People need an experience. Most people shop on the internet. Amazon for the fourth quarter last year did more than $4 billion in sales. In order to sell in a store, it has to be more than just the product itself."
In the 12,000-square-foot store, the gifts take up 5 percent of the total space, and they make the most out of it. "We put down an area rug, antique furniture, antique light fixtures and nice wood backers to the shelves. It looks like a boutique. Our products are mostly made in the United States and the makers all have a story. We print out their story on a small card, laminate it and put the cards next to products so people can connect with them. They'll say, 'What a neat story. This guy's a veteran and he made these leather koozies because he had a problem and it was a family thing.' People really connect to those real details. It makes the gift all that more personal. When they give the gift they can say 'The person who developed that is a veteran.' It's a find for people."
The store's top selling gift items come from The Grommet, Charbonneau said. The Grommet is a website owned by ACE Hardware that helps makers market their products throughout the network of more than 5,000 ACE hardware stores. "Some of our best-sellers are Pudus woolen socks, Humboldt Hands, a hand soap and Steady Pedi, a pedicure kit that fits under a sofa cushion so you can work on your toes comfortably at home," she said. "Our busiest time for gifts is the last six weeks of the year."
The Lula Pharmacy and Foothills Gift Shop, located in Lula, Ga., revamped their gift section in July. Although the front end of the pharmacy is 2,600 square feet, the gift department utilizes about 300 square feet. Since the remodel that included new fixtures, displays and merchandise, the sales are doing much better, said Cortni Conner, front end manager. Owners Amy Miller and Karen Bowling have a unique store that includes a Fudge Factory and Candy Shoppe. They purchased the pharmacy in 2008 with the goal to have an old-fashioned, small town pharmacy.
"Jewelry sells the most," Conner said. "We have brass and silver cuffs, tassel necklaces, bangles, pearl earrings and bracelets." She said that "because our jewelry looks higher end but is less expensive than other places, our jewelry is our top selling item. The remodel makes the gift area look more chic, updated and modern. We now carry more trendy stuff." Her tip for increasing sales is to engage with customers. The busiest time of year for Lula Pharmacy is December. "We have the fudge and gift shop and people like buying fudge for their families for the holidays. We also have a wide assortment of gifts and offer free gift wrapping," she said.
Eric Readinger, general manager of Dutch Country Ace Hardware in Myerstown, Pa., said his best-selling gifts are YETI products. YETI began in 2006 with durable coolers for outdoor enthusiasts and now includes drinkware, bags, outdoor chairs and dog beds. "I think part of why it's a best-seller is the name recognition. They are a quality product that people see online and in magazines. YETI products seem to sell themselves," he said.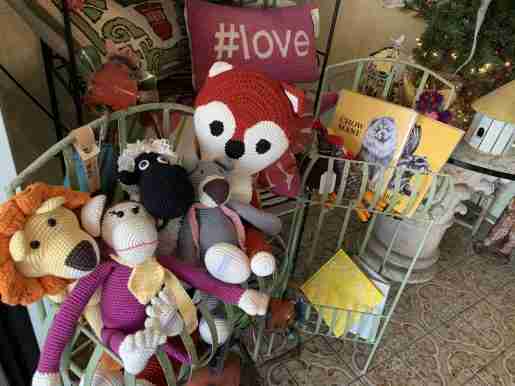 "The presentation is key in selling gifts and making sure gifts are up front for the customers to see," Readinger explained as his top strategy for selling gifts. "With the Yeti products, it's having color in front of the customers. The more color there is the better it sells."
In the 17,000-square-foot store, Readinger has a large section of 28-linear-feet plus an end cabinet for YETI. "Yeti represents a $50,000 to $60,000 category for me but it's not a big percentage of our overall sales," Readinger said. "The home and garden department is the biggest with the busiest time in the spring. But November and December are busy for Christmas gifts."
My Little Flower Shop began nine years ago on the main street of Palm Springs, Calif. by partners and Owners Gregory Goodman and Alan Kelly. As a popular florist for both tourists and locals, they offer a wide variety of gift items as well as floral arrangements. "Top sellers are candles, cards, purses, little tchotchkes like that," Goodman said. "Candles and diffusers sell well. Truthfully, we have these itty bitty purses that are fun. If you're going to a tea, you can give one to each person at your table. We offer unusual things, lots of earthy things that we make arrangements with and fun fans, a little bit for pretty much everyone."
Gifts comprise 30 percent of the 2,300-square-foot store and their bridal boutique, My Little Wedding Shop, is next door. "I believe in building our brand to Palm Springs people first, it's a lot smarter. October is very busy for weddings and parties. Our whole season lasts from October through May. The weddings in October are mostly visitors but we do a lot of local ones, too," Goodman said.
Tim's Pharmacy & Gift Shop has been serving the Yelm, Wash., area for 100 years. The 7,500-square-foot pharmacy and gift shop is owned by Will and Courtney Quinby, who met in pharmacy school.
"Although our primary focus is pharmacy, we pride ourselves on our premium gift shop and were just awarded locally the Best of Nisqually 2019 Best Gift Shop & Best Jewelry, along with Best Pharmacy," said Courtney Quinby. Quinby compliments her Retail Gift Manager Stacy Dragt for the gift shop's success and calls her their "gift displayer extraordinaire."
"Our gift best-seller is our western home décor," Quinby said. "We believe that is because we are in a more rural area with lots of equestrian and outdoor activities with the backdrop of Mount Rainier. Our specialty chocolate truffles are also best-sellers. They are in a prime location at the front of the store, are beautifully decorated and have an assortment of flavors. The motto applies to our store, 'A spoonful of sugar helps the medicine go down.' "
Making customer service a priority is Quinby's top tip to increasing sales. "Interacting with customers and building those relationships drive loyalty and repeat business to support us into the future." She said that the busiest and largest sales for the year are in the fourth quarter. "The holiday season with everyone out to find the right gift for everyone on their list drives sales."