At discount and variety stores, jewelry and hair accessories are business staples. Top selling items in both categories vary greatly, as do display techniques, but both are strong sellers for shops. From eclectic city variety stores to small town discount stores, there is plenty of "variety" when it comes to these items and their display. Store staff members and owners explained.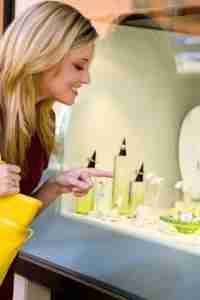 At Cliff's Variety in San Francisco, Calif., Buyer Machaelle Pietrzak said her top selling jewelry items come from the Kitsch brand. "Earring and necklaces sets is what they do, in silver and 14-carat gold. Those sell well for us because it's a complete gift item, which makes it easy to buy, and they do their own attractive photos for inside the box which sell the look." While Cliff's does not carry a lot of hair accessory items, Kitsch also makes hair bands in a range of styles which do well for the store.
"They come in different styles, Bohemian, ballerina, and others, and are made with different kinds of materials such as sparkle elastic and neoprene. They can also be worn as bracelets," Pietrzak related. Her displays tend to be simple and easy to see. "We have a jewelry case at the front of the store, and everything is displayed with the boxes facing out so you can see the different patterns. Along with Kitsch, another popular brand that we keep in the case is Roost. We make sure that the case is easy for our sales associates to access as well, so that customers can try on the jewelry. The hair elastics are kept in a bath and personal care area with soaps and lotions and other small personal items," she explainrf. "We try to frequently rotate both jewelry and accessory items in to our window display. Placing them in the window really helps to draw attention to the items and sell them."
In Tigard, Ore., at Eagle Bargain Outlets, Assistant Manager Kelly Mahaffy noted that because bargain items change frequently, it's difficult to assess which items are top sellers. "We get the bulk of our stock from wholesalers, and we have different hair accessories, different jewelry items every week." Eagle Bargain Outlets carries everything from name brand home decor to clothing and electronics, and the store's jewelry items and accessories are also name brand, quality items.
At King's of Burns discount variety, Manager Hazel Hyder agreed that jewelry and hair accessory items change often. "Our merchandise mix changes frequently when it comes to jewelry. Right now I have a lot of Charlotte Daniels earrings in and those do sell well. With hair accessories we offer a lot of different kinds, from clips and pins to ties. We carry a lot of Vidan Sassoon and Revlon brands." To display both types of items, Hyder primarily groups them together. "Our hair accessories come with a layout sent to us from our corporate offices. They hang on racks in one aisle; we use hooks instead of shelves. Jewelry we keep close to the health and beauty section." She said that while the store occasionally does seasonal displays, she is not using any at present. A family run business since 1915, King's of Burns is one of a chain of discount variety stores in the Northwest, offering everything from housewares to candy to pet supplies.
Michel Adolphsen, owner of Bay Variety Store in Port Angeles, Wash., described earrings as her top seller. "Hoops, studs, it all depends on what I find at retail shows," she noted. Her hair accessories are primarily Goode brand basic pony tail holders, she said. Adophsen displays jewelry and hair accessories primarily by grouping like-items together and using racks rather than shelves. "It's an old-fashioned variety store," she explained. "And our displays reflect that." The locally owned shop has been in business since 1949, and has plenty of nostalgic appeal.
In Los Angeles, Calif., Soap Plant/Wacko, a large, eclectic purveyor of novelties, housewares, gifts, and pop-culture, reflects its neighborhood, the trendy yet homey Los Feliz area. Carrying everything from school and office supplies to housewares, electronics, candy, and books, the shop thrives on keeping a varied selection. Sales Associate Tara Raymond, speaking for owner Billy Shire, described her most popular jewelry and hair items. "We have lots of little Afghani rings that are really popular and pretty inexpensive at $7 each. Some are plain, some come with small bells on them. We also have a lot of consignment jewelry brought to us by Gretchen Victor, a local designer. She brings in random antique items such as pendants with lots of silver, and Indian-style bracelets. The items change monthly. We also have a lot of blinged-out rings and draggy earrings with a lot of rhinestones, and carry jewelry from local makers such as Classic Hardware and Mama's Little Pils." While the shop doesn't carry a great many hair accessories, she noted that designer Victor will often make hair clips with fake flowers, and that those items sell well.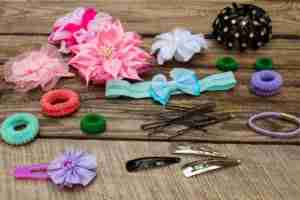 "We display our jewelry in glass cases. You can see inside the cases very easily. On top of the cases we keep small velvet jewelry busts with necklaces and earrings draped on them. People can look at them and see how items will work together. Both on the busts and in the cases we tend to group by style and color such as turquoise or silver, or by religious-themed items," Raymond attested.
At Grass Roots Fair Trade in Anchorage, Alaska, the variety and gift shop features a wide selection of fair trade items, according to Manager Liz Bean. From accessories to toys, clothing, food, kitchen, and gardening supplies, the store offers a range of items created by disadvantaged artisans and farmers to help them shelter and educate their families through sustainable development. This is a variety store with a cause.
"Among our top jewelry sellers are earrings and necklaces made from beautiful, iridescent beetle wings," she noted. "We also have real natural hard wood jewelry, recycled brass, and lots of shell jewelry such as oyster shell pieces from the Philippines. The Capiz brand of jewelry is very popular," she added. "When it comes to hair accessories we do well with hair bands and bandanas. We have many different types, they come in cotton, and some are made from recycled saris from India which are very bright and beautiful."