Waterparks aren't all about the slides, waves, and splash zones – although guests definitely do enjoy getting wet, they also love to shop for souvenirs and jewelry items. With children as the main focus at many waterparks, it's only natural that gift shops look to stock items that kids are sure to enjoy. For this article, waterpark staff members nationwide offered their advice on getting a big splash in sales success with children's jewelry and souvenirs.
At the seasonal waterpark Hawaiian Falls in Roanoke, Texas, Food and Beverage Supervisor Morgan Waters makes sure kids of all ages are well-served in the attraction's gift shop. "Our top sellers in souvenirs would be fun, waterproof cell phone cases, T-shirts, tank tops, and of course children are also drawn to candy items," she attested. "We did well with shark's tooth necklaces in the jewelry category last year, but we have a different shop provider this season, and we do not have them in stock at the moment." To sell more children's souvenirs, Waters combines accessible display techniques with one-on-one conversation. "We're a small shop, so guests who come in have automatic contact with our staff. Interaction is high on our list to improve sales, it's a benefit of being small," she laughed. "We also have easily visible displays in built-in shelves and on spinners. We place our displays where children can see them."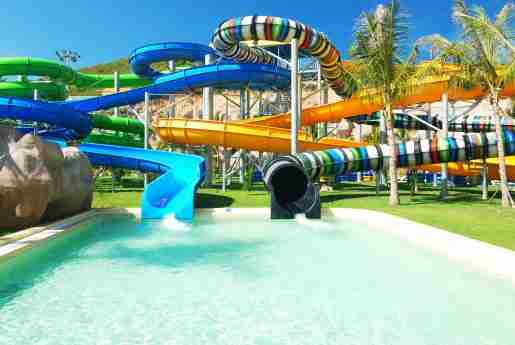 At Wild Island in Sparks, Nev., Administrative Coordinator Kim Brown said that her best-selling jewelry items are bundled specials. "We've noticed that the trend is all about layering items together, so this year we're trying to mix and match pieces into bundles to sell," she explained. Mixing and matching is a great way to appeal to more people and improve sales of these items, too. Brown said that creating the bundles has definitely increased buyer interest in selecting them as souvenirs. "Since we know not everyone has the same taste, we try to do multiple options, be it different colors and patterns, or bracelet/necklace combos. We've even thrown a few rings into the mix," Brown noted. "People feel like they are getting more bang for their buck since they are receiving so many items." And naturally, a fun bargain brings shoppers to the register.
At Lagoon Park in Farmington, Utah, Retail Manager Jennifer Fishburn described her top sellers. "We sell a lot of mood jewelry in the children's jewelry category," she said. "When it comes to children's souvenirs, novelties do very well for us, and they are not necessarily oriented to the park. They're items such as little tractors or toy farm equipment, or cars, things like that." One way to sell more jewelry and souvenir items is to keep the price points reasonable, she suggested. "We sell mostly inexpensive jewelry priced at $6.99 or less. We sell a ton of it, and honestly it doesn't even matter what it is. We do sell a lot of beach-oriented items, but we also do well with butterflies, giraffes, owls, and crystal necklaces. There are so many different types of fun jewelry, and all of it sells."
To enhance sales further, having strong, well-placed displays is key for Fishburn. "What helps us move these items is keeping our displays fully stocked," she asserted. The position of displays within the five stores Fishburn manages in the park is also important. She said that having displays in areas children can see them, and at levels where children can reach the items is key for sales success. "The displays need to be accessible so that children can actually pick up items and look at them and then say 'Oh Mom, I want this.' "
In Draper, Utah, Gracie Enniss, guest service associate for the busy Cowabunga Bay waterpark, said her gift shop's top souvenir sellers are "Babiators – baby aviator – sunglasses, spinners which are of course popular everywhere, and candy. We also do well with waterpark toys such as foam torpedos. Stuffed animals are also very popular," she noted. Located at the front of the park, children's jewelry is not an item that the small shop currently carries, Ennis explained, although she's had requests for mood rings which may be a future souvenir item. And when it comes to selling more children's souvenir merchandise, Enniss agreed with Fishburn, saying that placement of displays within the shop is vital. "A lot of times parents come in to our shop to purchase sunscreen and other essential items, and the children are often with them. So, we make sure that we place our children's toys at eye level, where they can see the items we carry and touch them. We also keep a large rack very prominently displayed with stuffed animals on it."
And in Destin, Fla., Bob Cordier, general manager for Big Kahuna's waterpark, said his top souvenirs for children are Sure Shot water guns and Big Eyes stuffed animals, a popular style of stuffed toy that children find appealing. His largest sales come from souvenir items not necessarily geared for children, water pockets for smart phones and the towels that the shop carries. And when it comes to jewelry, the Charming Shark brand takes top honors for Cordier. "The jewelry is very cute; the pieces include little surfboards and other figures, and children really like that." The Florida-based jewelry company creates casual quality jewelry of all types, including necklaces, bracelets, and anklets. The pieces feature shark teeth, bone infused wood and shells, and come on a stainless-steel cord.
Displays are the best way Cordier has found to improve sales of souvenir and jewelry items. "More than anything else, displays attract customers," he explained. "We're actually revamping our retail area right now to improve our ability to display souvenir items. We'll be expanding our space and putting more items for sale in the walkway area as people are leaving. We get our sunblock and towels and those types of sales during the day, but we're missing the market of people grabbing last minute souvenir purchases as they are leaving. We think the solution is to put in retail areas that are essentially the last areas in the park. That way we can entice people to buy before they leave. We think that with that change we can do better with T-shirts and toys and other souvenir items. Destin is a huge tourist area, and our visitors want to bring home souvenirs. We believe catching them on their way out of the park is definitely a good idea." Currently, Cordier's store is 300 feet, and with his planned addition, he'll be doubling his retail space in size.
Overall, children's souvenirs, including jewelry, are "splashy" additions to waterpark gift shop sales, with a wide variety of items that appeal to guests everywhere.