By Karen Appold –
Tie-dyed apparel continues to be all the rage at some water and theme park gift shops.
In particular, James Mayall, director of games and merchandise at DelGrosso's Park & Laguna Splash in Tipton, Pa., said the tie-dye aquariums blue and tie-dye rainbow color tone youth T-shirt with an urban print is the best-seller in this category. "Tie-dye has been very popular and a top seller over the past five years," he said. "The shirt's urban print works well with guests of any age."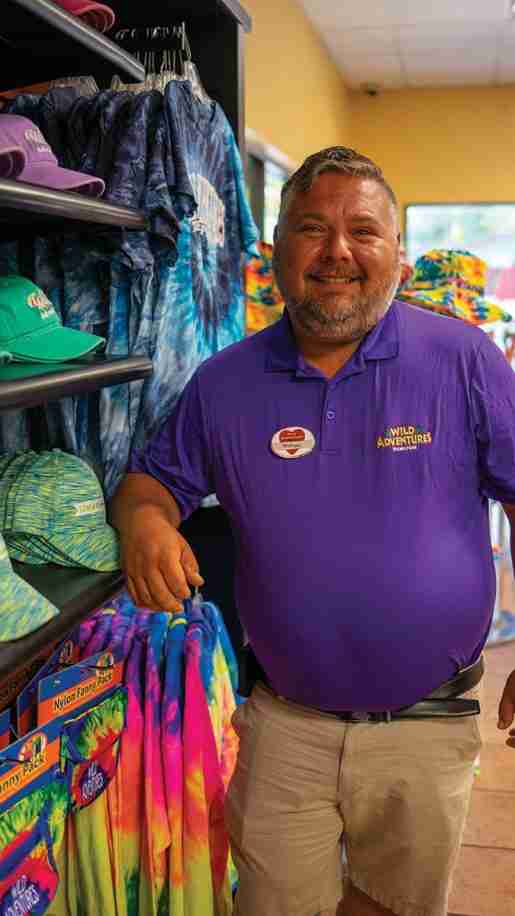 Tie-dyed name-dropped T-shirts sell especially well for Michael Cordani, merchandise manager at Wild Adventures in Valdosta, Ga. In fact, he said any clothing items that are tie-dyed are hot items, including tanks and shorts.
Tie-dye tees and hoods are popular for Nikki Coyle, corporate retail director at Kalahari Resorts in Pocono Manor, Pa., which has an indoor waterpark. "Tie-dye made a comeback several years ago and is still on trend for all ages," she said. Its eight shops, which range from 150 to 6,200 square feet, carry eight colors in both youth and adult sizes. The shops have also had success selling tie-dye clothing for toddlers and infants.
Another popular seller for Mayall is the Adult Sports Seal Live in Tell T-shirt in three different colors including sangria, ice, and sage with a white faded print. "They are popular because of the collegiate design, which is found on a lot of college-branded apparel," he said. This particular apparel also incorporates the park's 75th anniversary in the design, which helped to make it one of the top three sellers of apparel for 2022.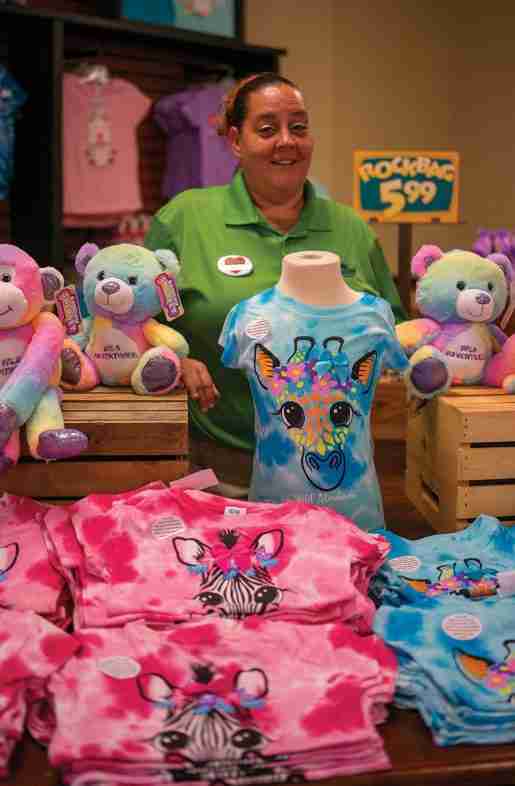 The adult Park Grove Cromer Sweatshirt with a hood in navy with a white print and a white sweatshirt with a hood featuring a navy print is also a good seller for Mayall. "Similar to the T-shirts, the sweatshirts are popular because of the collegiate design which is found on most college-branded apparel," he said. Also, because the park is situated only 30 minutes south of Penn State University's main campus, using blue and white in the design increases the apparel's demand.
Name-dropped promo tees from Prairie Mountain also take the cake at Wild Adventures' seven shops. "These do well because of the sheer cost of the item," Cordani said. "We have to purchase a large quantity in order to get the right pricing." He charges $30 for two or $19.99 for one.
Swimwear is another good seller for Cordani. "You would be surprised at how many guests come here who need swim suits," he said.
A top-seller for Coyle is the Adult Popularity crew neck sweatshirt. "Crew neck sweatshirts are back and this embroidered one is unisex and has great crossover appeal for all ages," she said.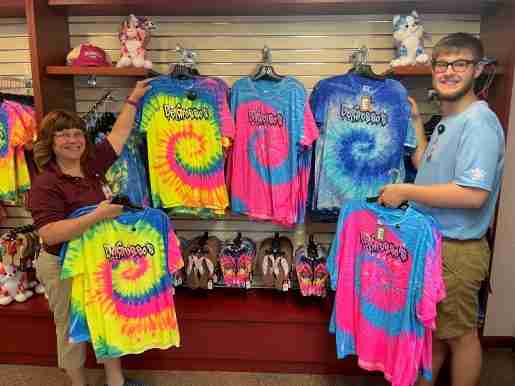 Stocking New Items
If something is a good seller, Mayall recommended keeping it for at least a few seasons. "If it continues to be a best-seller, why change it?" he said.
When looking for new apparel to stock, consider using programs. "A strong program could include multiple pieces of apparel and accessories such as hats and bags," Mayall said. "This appeals to guests, especially teenagers who tend to purchase shirts and matching shorts."
In order to stay abreast of trends and to see what's up and coming, Mayall suggested visiting local malls and apparel stores. Share mock-ups of apparel designs with people you know. "Find out what people like by asking co-workers, friends, and focus groups," he said. "These people are your shoppers."
Cordani said it's important to know who your customer is and what they need and like. "Ask where they're from, what they're celebrating, and who they're with," he said. "When a customer feels comfortable where they're shopping, they're more likely to open up their purse strings! "
Train your team to listen to what customers want," Cordani said. "Any feedback is good feedback. Take it, evaluate it, and make it happen!"
When looking for new items to stock, Jared Sorensen, chief visionary officer at Majestic Caverns in Childersburg, Ala., follows trends on social media and observes what guests wear to his attraction—which has a cave as well as amusement rides. "Always make sure to have a variety of cuts that would interest any demographic and a range of seasonal styles for different climates," he said.
Coyle is sure to pick a soft and comfortable material for apparel. Furthermore, she aims to choose universal colors or colors that everyone likes. "This is important to bring more options to different people," she said.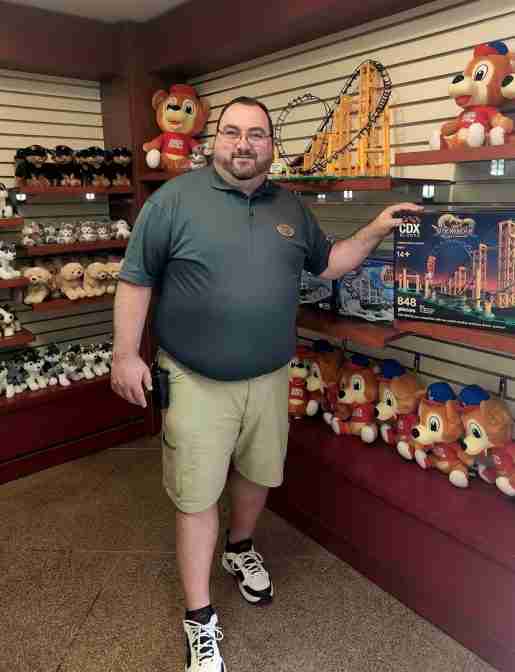 Popular Trends
For Mayall, in addition to tie-dye, navy T-shirts and sweatshirts sell well at his two shops, which boast 2,400 and 1,200 square feet. "Navy apparel has always been a staple in our gift shops," Mayall said. "It works well with simple designs as well as more custom designs."
Neon colors are also still popular with T-shirts in adult and children sizes. "We sell a lot of neon T-shirts, crop tops, hats, and shorts," Mayall said. "This year, we did a summer vibes program that included shorts, sweatshirts, and T-shirts and they sell very well."
Sorensen has found that earth tones and neutral colors move much quicker with older generations compared to striking, bright colors which typically draw children. "We're putting reorders through weekly due to the trending comeback of snapback hats, which are now accompanied with leather engraved logos," he said.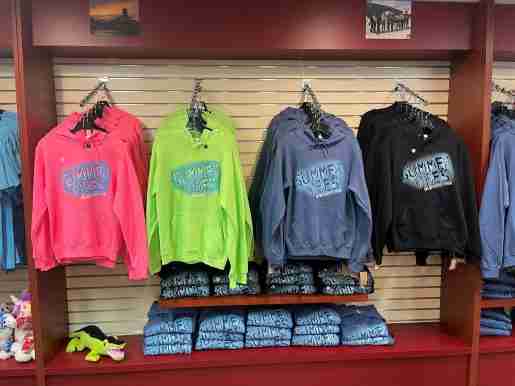 How Staff Can Boost Sales
In order for a customer service team to increase sales, Mayall said you need to give your team the tools to do the job. "Make sure your team is knowledgeable about the apparel you're selling," Mayall said. "T-shirts and sweatshirts come in a variety of weights and textures. This is important for your team to know so they can make recommendations to guests who may have a specific need."
Furthermore, Mayall advised informing team members about the specifics or story behind your designs. "This could be your park's opening year, past or present attractions in a design, or even a milestone anniversary," Mayall said.
Rather than having staff stay behind a counter or register, Sorensen said it's important to encourage staff to get onto the shop floor. "While organizing and maintaining displays, they can relate to guests and see if they can help them find what they're looking for and make recommendations," he said.
Coyle likes to merchandise items in collections to ensure that guests can see all like items, which can lead to a quick add-on to a purchase. "If someone buys a tie-dye hoodie, a matching tee is folded nearby," she said. Associates wear the shops' apparel and can explain the fit and feel of the garment.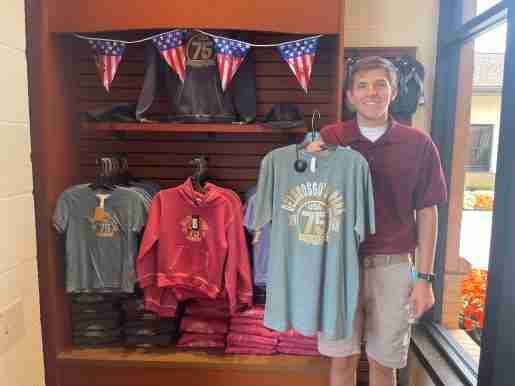 Apparel Displays
Attracting attention to clothing is another way to boost sales. Mayall's shops display apparel on wall units and four-way units. "When guests enter a store, they are greeted with a vibrant splash of colors on the seven-foot wall units and the four ways are portable so we can place them close to the doors so guests see the apparel when coming inside," he said.
For Sorensen, it's important to use a variety of shapes and dynamic heights for visitors to peer around the 3,600-square-foot shop. He recommended using circular tables as a base so guests can ideally flow and minimize bumping into corners. Stacking rectangular chests and square crates creates intrigue for the base of a display.
Sorensen said the game-changer for any visual display is to tell a story. "In order to do that, you need to find the right balance of lighting, shadows, and color to create a scene," he said. "It's important to highlight a particular item by creating surrounding dark, cool lighting with ambient light to create shadows. It's exponentially more effective if you have atmospheric music to settle guests into any story-based experience, especially by creating a relaxing environment surrounding a financial transaction."
Coyle likes placing new items front and forward and moves items around daily to ensure that everything looks new and fresh. She merchandises apparel with other souvenir items such as mugs and keychains to show that they can add lots of great items to a purchase.