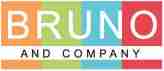 Bruno and Company will be hosting a month-long trade show days, nights and weekends in its 4,000-square-foot showroom at the New Jersey shore in Wildwood, N.J., October 1 through October 30.
Please RSVP with your local rep to the company's office by September 15, 2020, 856-784-6845, office@brunoandcompany.com.
Bruno and Company realized after the Atlanta Mart was postponed and all other third quarter trade shows were cancelled, that they better figure this out, and in the meantime, they needed to get moving!
If you are unfamiliar with Bruno and Company or never had the pleasure of visiting the company's showroom, follow them on Instagram @brunoandcompany for exclusive content.
Please let the company know if you would like help planning your accommodations at the four-star ICONA Diamond Beach Resort.