By Natalie Hope McDonald
Shofuso House is a hidden gem in Philadelphia's Fairmount Park. Built in Japan in 1953, it was first shipped to New York and exhibited at the Museum of Modern Art before moving to its present location just five years later. After making its international journey, the structure, which was built using traditional materials and techniques, has become a popular yet always serene attraction thanks to its traditional tea house, pond garden and tiered waterfall island.
After reopening post-COVID, the venue is enjoying ongoing maintenance under the tutelage of Dr. Tomoki Kato, an eighth generation Japanese landscape architect, historian and horticulturalist. During which time, visitors are once again welcome to explore the house and garden, and to attend traditional tea service and other special events and classes.
Christina Schank, Shofuso House Site Manager of the Japanese House and Garden, explained that there have been a few changes because of the pandemic.
For example, the gift shop began to sell powdered green tea, or matcha prior to COVID. "A lot of people are unfamiliar with how this tea looks compared to leaf teas, so we at one point decided to display an example that visitors could open in order to see the difference," she said. "However, after COVID, we have decided to no longer put out an open container for people to pick up and observe, in order to minimize person to person interaction with our gift shop items. We have also begun to store more items inside of the ticket window for purchase, instead of having them displayed outside all day. These will both be permanent changes moving forward."
The venue is also enforcing guidelines put in place by the City of Philadelphia which, to date, requires masking indoors.
At Shofuso, the gift shop is quite small and located outdoors within the venue's grounds. But the few items it does showcase celebrates Japanese culture authentically.
Schank said that the 36-inch Koi nobori, or Koi windsocks, are particularly popular each season. "Koi nobori are brightly colored with beautiful designs," she explained, "that are mesmerizing to watch as they blow in the breeze. We even sell a small version attached to a wand for kids to fly around by hand, which are just as popular as our larger version."
Interestingly, these decorations have a specific affiliation with a Japanese holiday, Children's Day, which celebrates children in Japan, and aims to wish them a long and healthy life like that of a koi fish. "Every May," said Schank, "families will hang Koi nobori of all different shapes and sizes around their homes to represent the different members of their family."
Traditions like these play an important role in what types of gifts are sold at the intimate little shop. While they come from a variety of sources, the biggest suppliers are Miya Company and Shoyeido, which provide ceramic items, such as tea sets, sake sets and tea cups and a large and high quality selection of ceramic incense holders and long stick incense, respectively.
"When people visit Shofuso," said Schank, "they want to buy something that they can take home that continues to remind them of their experience with Japanese culture. Therefore, our choice to use these suppliers helps us to keep our visitors connected and to enhance their experience, even after they have left our house and gardens."
A new item that the shop is introducing this season is noren, Japanese room separating apparatuses that are made of cloth, and adorned with beautiful designs of Japanese scenery and art.
"We have one prominently displayed in our ticket window area, which does a great job of separating our front window from our break room, and visitors are in awe of the quality of light that they provide through the cloth. Miya Company sells these as well, so I have been looking diligently into which designs I think will be of most interest to our guests."
Bird Is the Word
At the National Aviary in Pittsburgh, Pa., the gift shop reopened with all the usual best-sellers this season, including magnets, snow globes, keychains and stuffed animals. According to Kate Campbell, the aviary's Senior Manager of Guest Operations, the most popular toys tend to reflect the venue's residents, like penguins, sloths and flamingos.
"For many people," Campbell explained, "magnets and snow globes are collectables, and for others, these are small ways to remember an amazing visit. During the pandemic, many people have turned to activities like doing puzzles for comfort and entertainment."
As the only independent indoor nonprofit aviary in the country, the National Aviary is a unique place to see free-flying bird habitats and learn more about signature species being housed here. With a focus on conservation, many items in the gift shop serve to raise funds for the care of the birds and also to teach people about their characteristics and history. Guests, for example, can book a time to meet the African Penguin while learning all about this species in the shop.
Campbell stocked up on quite a few bird-related items this season, including stuffed budgies that she said "fly" off the shelves every year. "They are adorable, very soft and huggable, and people of all ages are buying them. With more people traveling and taking day trips to Pittsburgh, we've made sure to have plenty of items like magnets and snow globes on hand. These items make excellent souvenirs and a great way to remember your visit."
Even though the pandemic shut down much of the activity at aviaries like this one, Campbell said it inspired them to launch an online gift shop for the first time. She said it became "a vital source of revenue when we were closed in accordance with statewide guidance to help stop the spread of COVID-19. National Aviary fans from near and far have loved the option to shop online for some of our most popular products."
Back in the brick and mortar, however, keeping things fresh has been a big part of the reopening. "We make it a point to change our displays frequently and find fun, thematic ways to group items. People love being able to browse by specific animals, so we might group all of our sloth items, like T-shirts, puzzles, books, mugs, games, together in one area."
Overall, she said the shop seeks to create a friendly and customer-oriented environment by treating each guest with kindness. "We have also learned," she added, "that parents appreciate having the tags on stuffed animals removed before they are given back to their child."
Outdoor-Only Shopping
Tucked into the U.C. Santa Cruz Arboretum and Botanic Garden is Norrie Gift and Garden Shop, a
botanical lover's dream since 1994 when the shop was first built with donations from a local supporter. Named after the woman's daughter, Norrie's has become a must-see for garden enthusiasts throughout Northern California.
Nursery Manager and Propagator Linda McNally said that these days succulent wreaths are very popular at the shop. "The succulent wreaths are made by volunteers here in our nursery," she explained, "and they can be used as a hanging decoration or a table centerpiece."
In addition to a selection of household items, jewelry and gifts, Norrie's has also stocked up on a selection of plants that thrive in the region's dry summers, plants that are sourced from the Mediterranean climates around the world, both local to California, but also as far as Australia, New Zealand and South Africa. Both salvias and succulents are especially popular.
The inventory, though limited, is very specific since the shop is outdoor only. And since reopening after the pandemic, Norrie's follows the guidelines set by the University of California, which are applied to all students, staff and visitors.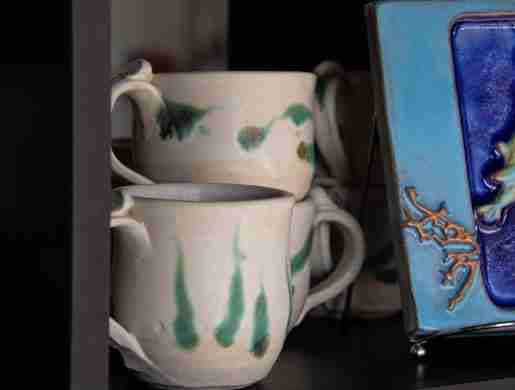 Book Club-Approved
A 400-acre native garden in Tuckahoe State Park in Maryland, Adkins Arboretum features five miles of paths through meadows and native plant gardens on the beautiful Eastern Shore. As a model for land management and conservation, the arboretum offers a range of educational and recreational events throughout the year. And in addition to the gift shop, the venue also hosts semiannual Native Plant Sales (April and September) where gardeners find the largest selection of ornamental native plants in the region.
The focus on nature continues at the gift shop located inside the visitor center lobby which underwent a transformation prior to the pandemic. Here, guests find a selection of gifts like jewelry, clothing, book and nature-inspired decor.
According to Michelle Draper, manager of Visitor Services, Adkins Arboretum logo T-shirts and hats, stuffed Audubon birds and wildlife finger puppets, beeswax wrap and books are the most popular items in the shop.
"They provide a sense of fun and an opportunity to remember their day at the Arboretum," she explained. "Often, our visitors are grandparents shopping for their grandchildren."
Each season, the shop refreshes its book collection, which is endorsed by the
Arboretum Book Club, a group that helps promote the mission through a monthly book discussion related to conservation issues. The shop also has a growing list of recommended books for gardeners that has become a popular feature for both green thumbs and fledgling botanical enthusiasts.
"We've also begun to sell Arboretum bucket hats; they're popular with teens and tweens," said Draper, who is always looking for new ways to reach a wider demographic.
Since COVID, other changes are afoot at the venue. For starters, Draper said, "We've opened up our floor space to allow for more social distancing and improved air flow." The restrooms were also recently updated with better ventilation and touchless fixtures.
"As much as possible," she said, "we continue to hold programs outdoors and limit class size. Complimentary masks and hand sanitizer are also available at the front desk."