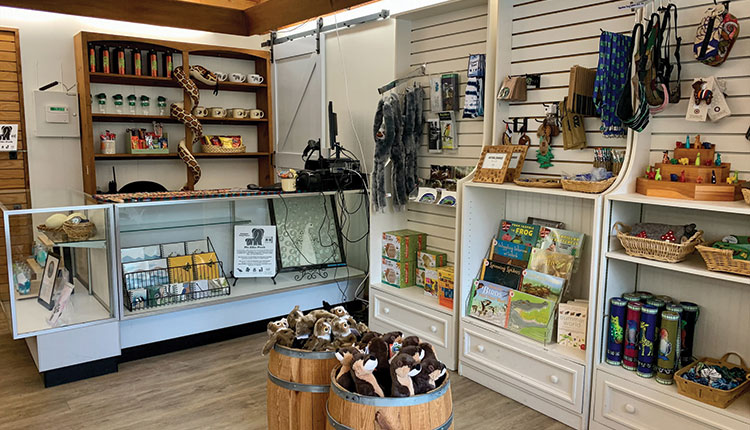 Maryland's Salisbury Zoo has reopened its gift shop, The Ocelot Spot, after a renovation. The newly renovated space opened for the season on April 2.
The renovation of the Ocelot Spot gift shop completely refreshed the space, showcasing the items for sale with an open floor plan. Renovations included ceiling repair, painting, rewiring for data cables, floor repairs and new shelving. The storage and office spaces were also expanded.
The renovation is part of a rebranding of the zoo, which launched on earth day April 22. The complete rebranding includes a new logo and slogan. The new logo depicts silhouettes of two of the Salisbury Zoo's signature animals — an Andean Bear and a North American Bison. As of May 2023, the Salisbury Zoo is home to four Andean bears, Chaska, Pinocchio, and two cubs, Raymi and Inti, and two bison, Opal Lee and Ruby Jean.
The Salisbury Zoo's new slogan, "A World of Wild on the Eastern Shore," highlights the Zoo's geographic location in Maryland and its diversity of species, which come from three continents and include reptiles and amphibians, mammals, birds, and an array of ambassador animals. The new slogan will be used in promotional materials, online advertising and marketing, and on signage throughout the zoo.
"With the launch of the Salisbury Zoo rebrand, we wanted to highlight the newly branded merchandise," says Vanessa Junkin, marketing and outreach manager, arts, business and culture department, city of Salisbury. "With the bright, airy feel, now the merchandise pops off the wall. More people are able to be in the shop at once and can easily see what the Ocelot Spot has to offer. The renovation also allowed us to better use the space."
Junkin adds that there was no addition to the store space. "We were able to make use of the existing space to offer a better experience for both shoppers and team members."
In addition to existing items such as plush animals and fair-trade items, customers can now shop for shirts featuring new Salisbury Zoo branding, along with bubbles for kids, lip balm, bamboo utensils, pens and pencils. Junkin says, "We're planning to offer additional items soon."
Established in 1954, the Salisbury Zoo has cemented itself as a city of Salisbury mainstay, with over 100 animals in its nearly 13-acre facility, offering free admission to hundreds of thousands of visitors annually. The Salisbury Zoo emphasizes conservation and education.