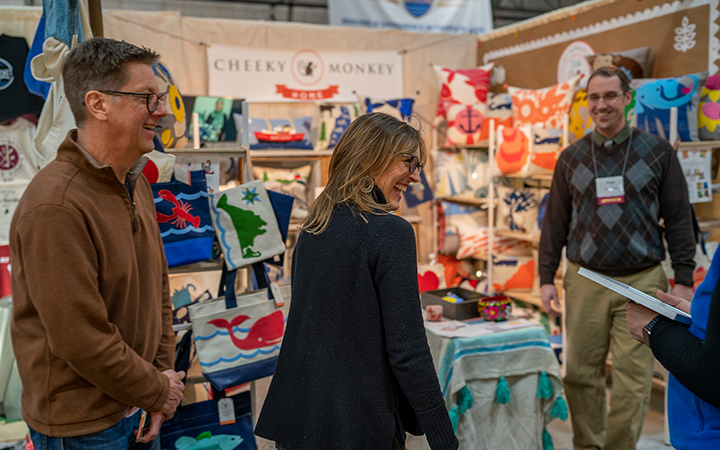 The 39th annual New England Made Giftware and Specialty Food Show in Portland, Maine, March 11-13 showcased the best of locally made products from across the region for retailers. The event brought together over 300 vendors and visitors from more than 20 states, highlighting the unique and high-quality products that New England has to offer.
The show featured a wide range of products including giftware, specialty foods and artisanal goods. With more than 70 new exhibitors, retail buyers were eager to discover up-and-coming new products and were not disappointed.
Gracie Evans from Gracie's Village Shops in Wilson, North Carolina, said, "We really enjoyed the show. Everyone there made us feel very welcome. We are very happy with our purchases."
Evans said she placed orders with some 14 new vendors.
"There may be a few more when we move out some of our products and get room," she continued. "It was well worth the money spent to travel from North Carolina."
Vendors, similarly came away with some new accounts. Long time exhibitor Patsy Kane, a Marblehead, Massachusetts-based company that makes nautical jewelry.
"The show was great for me. I met with some of my current retailers and got some great new accounts. I had the best show ever in terms of sales dollars," says Owner Patsy Kane. "I have the impression that the show drew more buyers from outside New England. One of my new shops is from North Carolina. Also, folks were spending. They came in and wrote orders. There were lots of buyers on the floor. "
One of the highlights of the show was the Best New Product competition, which featured a variety of innovative and creative products. This year's top winners in Giftware were specialty door knobs by CHART Metalworks and for Specialty Food, Hot Dates from, Hot Date Kitchen. Top winners for the Best Booth competition were Cheeky Monkey Home (Veteran Exhibitor) and Shawn Braley Illustrations (New Exhibitor).
Organizer Giraffe Events reports the show was a great success, showcasing the unique creativity, talent, and entrepreneurial spirit of New England's local businesses.