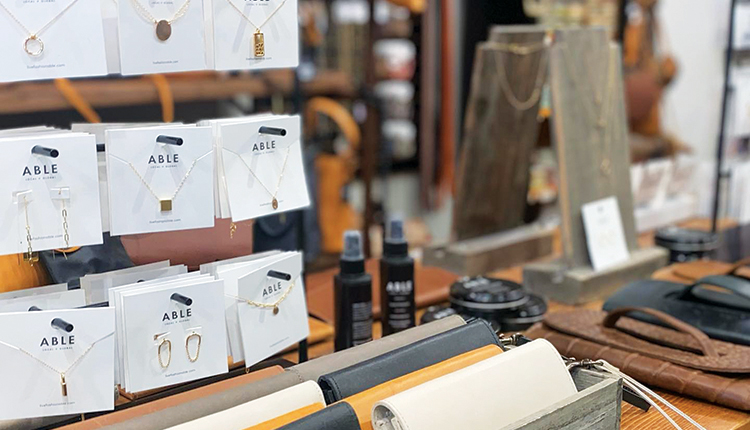 Jewelry plays a major role in the looks customers at boutiques across the country are trying to create. April Hicks, owner of April Blooms Boutique in Pasadena, California, says her customers are usually eager to com plete their outfit by adding accessories.
Hicks opened up April Blooms six years ago. Her original calling was as a hair stylist, which she's been doing for the last 29 years, including operationg a salon.

The store's story started with Hicks lending a small area of her salon to a client to sell T-shirts and jewelry. When the space for a store opened up nearby, April Blooms was founded. "It's definitely been a challenge, but we're still here," she says.

Her experience, means she is all too familiar with completing a look, whether it's hair, which she still does every day, or jewelry for customers who want that special accessory to go with the cute ruffle dress or wrap dress they just found.
Jewelry is displayed at eye level in the store. In addition, there is placement next to an outfit that's displayed to show a complete look, whether on a dress form or table display, she says.


Completing the look
Hicks finds that displays in a designated area, and the cash wrap are the best choices. Arrangements using materials that suit the style of the store work best. The shop is 750 square feet, and there are two designated shelving displays for accessories as well as the cash wrap.
As far as jewelry trends, Hicks says she is seeing more pearls, gold chunky necklaces, some with name plates, and that she is starting to see some edgy silver pieces coming back.

"We try to incorporate some of the trends but keep a lot of simple pieces and hoops, which are always our customers' favorites," she says. Earrings are the best-selling jewelry pieces, with basic hoops and big hoops standouts in terms of popularity. April Blooms sells a lot of brass, silver and natural stone jewelry. Among the popular designers the store carries are Ink + Alloy and Scout.

Hicks has resumed offering in-store events, which were shut down during the height of the COVID pandemic. She's has had two gatherings but observes, "People are still a little shy about coming out."

There are also a lot of opportunities for pop-ups in the community, and Hicks has participated in fundraisers for local charities and nonprofits for such causes as cancer and the Pasadena Symphony, with a portion of her sales going back to the charities.


Collections that dazzle
Judy L. Goldie, owner of the ladies' boutiques Trendy Pieces and Bella's Boutique as well as The Marketplace home and gift in historic downtown Murfreesboro, Tennessee, says the stores stock several amazing jewelry lines.

The stores use social media platforms to attract shoppers to the three stores, which are connected and open to each other. The sales floor space for the three combined shops is over 5,000 square feet. In designing the retail spaces, the owners kept much of the old and added the new.

The three best selling jewelry lines are Enewton, Kendra Scott and ABLE. According to Goldie, Enewton and ABLE perform well for the shops because customers like that they are gold filled and can be worn in the shower, pool etc., and they keep their beautiful shine. The stores also offers the works of two local jewelry artists, Darby Drake and Cross the Line.
The stores all merchandise and group jewelry lines together. Goldie says having a full display to showcase a line is important. Customers typically come in to see the jewelry and are asked questions on the style they are looking for. It is fun to show them all collections when they need jewelry for themselves or for a gift, she says.


Dressing things up
At Sierra Bell, a 1,350-square-foot store in Reno, Nevada, the best-selling jewelry item tends to be classic gold layered chain necklaces, according to Owner Hope Triplett. She explains that gold chain necklace can be a staple piece to any wardrobe and can easily dress up any outfit. Layered necklaces especially are a best-seller as the simplicity of purchasing an already layered necklace set takes the hassle out of trying to match and layer multiple necklaces, she adds.

Triplett says it is extremely important to place complementary pieces of jewelry next to each other to allow customers to easily see what pieces work well when worn together.

"We use many neck and head displays to show a necklace paired with earrings, as well as placing jewelry on our mannequins throughout the store to easily display which pieces look the best with different outfits. Natural light as well as glass displays provide a beautiful display to easily see the shine of different metals and stones," she says.
To garner attention for jewelry, Triplett places jewelry on a front display, allowing for immediate interest when customers walk into the store. Also placing jewelry throughout the store and near the register allows the customer to be continually reminded of jewelry throughout their shopping experience.

The store is currently working on rebranding, and the new logo will be pink. For the remodel, Triplett plans to paint the walls pink, as well as replace large wood fixtures with glass shelving to provide more light in the store. She is currently making small changes to match the new aesthetic of the brand image. "We are so excited to share the new logo publicly," she says.

Like Hicks, Triplett also participates in pop-ups and events to get out into the community, as well as using social media platforms such as Facebook and Instagram to stay engaged with the customers. "We love when we see our customers wearing pieces from Sierra Belle out in the community," she says.