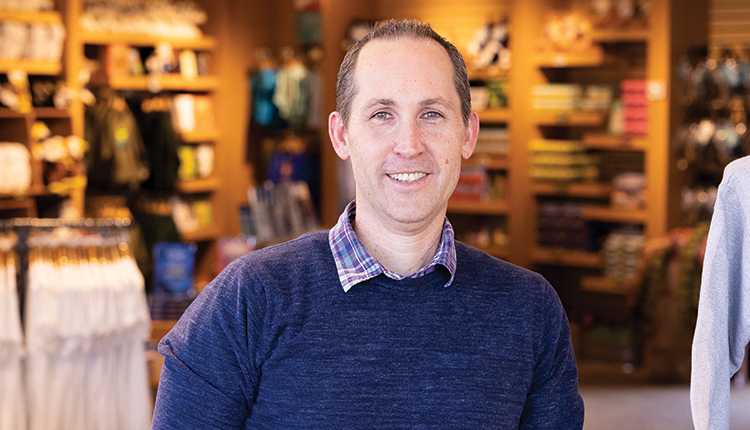 When Scott Quine was looking for a new career opportunity in retail, he noticed a store director opening at a Colorado national natural landmark where he and his family routinely hiked. Quine has a broad background in retail and has worked for Old Navy, Barnes & Noble, King Soopers, Fossil Watches and others. He was intrigued by the possibility of working at Garden of the Gods Visitor and Nature Center in Colorado Springs, Colorado, so he decided to apply. It's a decision he hasn't regretted.
"It has been a wonderful three years since I joined the store, and I'm truly honored to be able to work at this location," Quine says of his job as store director at the Garden of the Gods Visitor and Nature Center.
While many locations have seen wild fluctuations since 2020, this free park and national landmark has experienced steady visitation. "Our location is the main tourist destination in the state of Colorado and regardless of conditions, our guests have shown a continued interest in visiting us. There have been numerous traffic improvements as well, that when finished, will further assist in our visitors having a much more streamlined experience here," Quine says.

The Garden of the Gods retail operation sees itself as an extension of guests' experiences in the park, he says. "We're here to provide more information or help create a memory of their visit. The Garden of the Gods is a place for people to experience nature and spend time in one of the most beautiful places on Earth. We hope to give guests a way to take a piece of that experience home with them. It's important that the guests feel everything is working together in harmony. While every aspect of the visitors' center works independently, we all strive to build a team that gives the guests the feeling that it's one seamless experience," he says.
Sales from the 3,000-square-foot store go back to the visitors' center, which in turn help in the operation of the park. "We also do donation roundups for every customer," notes Quine.
The retail operation at the Garden of the Gods Visitor & Nature Center, through the Garden of the Gods Foundation, has donated over $5.3 million dollars to the city of Colorado Springs. The sum represents contributions of a portion of every sale over the past 27 years, and has been used for the preservation and maintenance of the Garden of the Gods Park.


Ancient beginnings
Guests come from all corners of the globe and every U.S. state to see the stunning geological features of the park. Massive sedimentary rock formations date to the Pleistocene Ice Age and are among the outstanding features of the location. The park's name dates to 1859 when it is said a pair of surveyors came upon the area. One of them said it was a place for the gods to assemble, and named it the Garden of the Gods, the park's website notes.
Donated to the city of Colorado Springs in 1909 as a 480-acre parcel by the children of Charles Elliott Perkins, the park was designated a National Natural Landmark in 1971. Perkins had acquired the land for a summer home that was never built, as he instead opened the area to the public.
Today, the park encompasses 1,320 acres with 15 miles of trails for hiking, biking and horseback riding. In addition to the souvenir and gift store, The Visitor and Nature Center serves all guests with free trail maps, water bottle refill stations, the GeoTrekker Theater, exhibits and galleries and a cafe.


The retail details
Display is an important part of the retail experience at the store, and the impact of the merchandise arrangements is enhanced by a huge panoramic window with the Garden of the Gods Park on display right outside.

"It's like having a billboard right outside our store, and the merchandising needs to reflect that immediacy when guests look out at that beautiful and majestic park," Quine says.
He describes the store as being integrated seamlessly into the visitors' center and the Garden of the Gods experience, and that it tells stories with its merchandise. "We want that feeling you have outdoors to be echoed in the store," he says. "We do that by making every display and table feel like it could be out there. There's a natural way in which our store flows and is merchandised that fits seamlessly into the park."
The store uses spotlights that are adjusted to highlight specific areas of a fixture. The shop was remodeled in 2022 to "help the customer not only make their way through every space available to them, but to also give them more opportunities to find the perfect items for their visit," he says.

"We extended our queue line and moved our registers to a different space closer to the front of the store. We also remerchandised the store to better reflect the space we have and to give the customers a more personal store. It really made a huge difference towards that experience I keep talking about," Quine explains.

Guests may only visit the store once in their lifetime, and the store answers the question of how it can maximize that time for the guest. "These improvements have done that and so much more," he says of the remodel.
The layout of the store is a long oval shape, and the remodel helped make the store flow even better, according to Quine. "And now, I think our store is in the best place it's ever been visually and for the customer experience. Customers can easily move throughout the store and find everything they need to remember their time here."
As to the future, he says changes are currently all "based around how to keep improving our assortment to find that perfect balance for the business and guest. We are always striving to find new and exciting items to further help in improving the guest's memory of visiting here."


Merchandise for the masses
Quine says that store staff interact with guests every day who have made a stop at the gift shop a part of their long journey. "We interact with every guest we can and help in every way we can. Whether it's how to get something back to the country they're visiting from or helping them find some local places to eat along their way," he says. "We also have plenty of suggestions for those guests looking to further their experience after the park here in Colorado Springs."
The park's retail operation carries an assortment of apparel, souvenirs, jewelry and snacks. "We have a very thorough buying team that works tirelessly to find the most unique and customer friendly items they can get for us," Quine says. "They are constantly looking for ways to create the perfect assortment for our guests."

Top selling souvenirs in the store's merchandise mix include stickers, postcards and magnets. "While each guest is looking for something truly unique that speaks to them and their experience here, overall, every guest is looking for something that will have them remember their visit, whether it be on their water bottle or while opening their fridge. Guests leave here with a true connection to the park and visitors' center. It's something they can reflect on for the rest of their lives, and a small item like a sticker helps them do that," Quine says.

Apparel and souvenirs are the top sellers. "Guests really want something tangible to help them connect to their time here," Quine says. "We do everything we can to help them find that. Whether it be a shirt they wear week to week or a coffee cup they go to every morning. These are our biggest sellers — anything to help them connect back to their experience here."

Reusable bags are another popular item for the store. They're also made from recycled water bottles. So, it's a great way for customers to feel that connection "but also that they're a part of keeping our park clean for future visitors," Quine says.


Counting on kids
To appeal to children, the store offers toys and "great" shirts, Quine says. The biggest help in making kids' visits memorable is the Junior Rangers Program. As part of the program, guests purchase a $2 activity book for youngsters to use to complete activities at the park.


Practicing his philosophy
Quine puts his business philosophy into action at Garden of the Gods Visitor and Nature Center: "I was told a long time ago that retail management is simple: Put your product where it's supposed to go, open the doors, and be nice. Everything we do, down to the last detail, can be filtered through one of those three things."
Put your product where it is supposed to go – Guests are provided with a seamless experience as they traverse the park and through the visitors' center, according to Quine. "We make the store visually appealing while also blending into the view of the park in the background."
Open the doors – Quine says, "We understand visitors have planned their trips, sometimes years in advance. It's important that we are ready to be open on time every single day, with a team that is ready to do everything it can to run the store efficiently and be visually enticing.
Be nice – He and Assistant Store Director Andrea Landerl strive to make the team feel like a family, saying it is not uncommon to hear laughter from them on the sales floor or in the office. "This is a huge part of our success here at the visitors' center, and the customers pick up on that every day," he says. "We all love being here, working with each other and helping our guests feel like they are getting a truly unique experience."


A winning team
Members of the team are hired based on personality and not skill, Quine says. "We can train someone to work on the register. We can't train someone to be pleasant, helpful and energetic," he explains. "Those come naturally, and it's the most important thing anyone on our team showcases. The guests are here to experience something they never have before, and our team does everything we can to make it happen."
Quine adds that the skillset for his team needs to be varied. "It's important for the team to be experts in the product we carry, but they need to be experts in the amazing experiences available to guests during their visit — from Segway tours to rock climbing. It also helps that the team can recommend favorite things to do in the park and be familiar with the Colorado Springs area," he says.

Guests are already in a great mood when they arrive and the store's role is, "How can we help that continue?" They do it by showing visitors "you're glad they're here and help them have a wonderful time in our store. Help them find that special item to remember their time here. When they walk in the store, it should match the feeling they get when they go to the park," he says.
Quine describes his team as "amazing." "First and foremost is my Assistant Store Director Andrea Landerl. She accepted the position over a year ago and has truly done an amazing job growing in her role. She strives every single shift to make all our visitors and staff feel welcomed," he says.
The rest of the team, too, has made the location a great success, "and without them, it would not have been possible," according to Quine.
The staff, Melissa Brown, Sarah Bryer, Joan Ernst, Hannah Lawrence, Terry McDonald, Donald Metz, Sherri Myers, Lily Neville, Meggan Norman, Faye Olsgard, Raychel Smith and Simone Soerensen, handle everything from cash registers, restocking, merchandising, customer service and recovery.

"I am truly grateful to have each and every one of these people in my life and working here with me. They show up for every shift with a smiling face, wonderful demeanor and willingness to do whatever it takes to help our visitors have an amazing visit." Quine says.