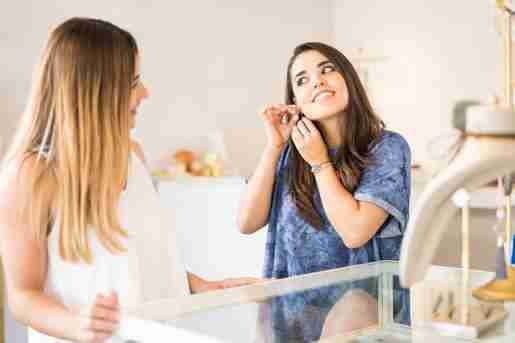 Selling more jewelry at museum shops is often a reflection of merchandising choices, as well as displays, email and social media use, and shop staff knowledge. Museum gift shops often tie their jewelry selections to museum exhibits, use email blasts to alert members about new items, and offer a wide range of price points. Here's how they succeed.
At the Los Angeles County Museum of Art, Gift Shop Supervisor Matt Miranda said his best-sellers run the gamut of price points. "On the lower end, fun plastic items sell very well. We have a $9 pop ring that is popular with all ages from young people to older patrons. We have fine jewelry items running into thousands of dollars, products of artists and artisan collaborations. And we also do strong sales in the $30 to $50 price point, with best-sellers such as brass jewelry from Kenya, and jewelry from local artists that work with hand-poured glass. Earrings, rings, necklaces – they all do well for us."
To sell more jewelry, Miranda said effective merchandising is a "good strategy for sales. We benefit a lot from museum traffic, so we do well with jewelry based on pieces in museum exhibits. Two times a year, in spring and fall, we host major fund-raising events, and we invite local artisans to create jewelry based on pieces in the museum. We do get a lot of press and patron interest around those events that definitely helps us move those higher end pieces." Miranda said these jewelry creations sell strongly during these events and in the weeks following them.
"With our mid-price jewelry, we often promote items in an email that is sent out; we also rely a great deal on display in the store, and of course in merchandising for these items that ties the pieces to museum exhibits. For example, let's say we have a Chinese calligraphy exhibition; we would bring out pieces in that mid-tier level that are related to that and promote and display the jewelry in a way that references the exhibition," Miranda noted. "Tying in displays to museum exhibits is really helpful when selling jewelry."
In Billings, Mont., at the Yellowstone Art Museum, Development Director Holly Netz said, "We try to sell original, hand-made jewelry by local and regional artists. In that area our best-selling items are necklaces and earrings. Rings never do well because of the different sizing," she noted. "Probably our biggest sellers are necklaces, usually the ones that are a mix of metals with a contemporary, modern look. Because we are a contemporary art museum that is the type of thing that appeals to the visitors." She explained that a contemporary look in jewelry appeals to her museum visitor's aesthetic eye. "It's a way for them to leave with a piece of original art that is affordable. Not everyone can buy a painting, but our jewelry is somewhat like buying a painting that they can wear all the time."
Netz said the museum is working on revitalizing their retail, and is currently in the process of redesigning their shop's style and display. "Display is very important in selling jewelry and drawing visitors into the shop. The city of Billings has five organized art [shows] each year, and those are the times we really get a lot of notice from people about what items we carry." To draw more attention year-round, Netz said the shop's redesign will be key.
At the Natural History Museum of Utah in Salt Lake City, Utah, Gift Shop Manager Suzanne Ruhlman related that jewelry items across the board sell very well for her shop. "It's my second top category after toys." Part of the reason for the category's popularity is her commitment to keeping her displays fresh and relevant. "I always try to switch things up often, so that whenever we have someone coming through, we have something new for them to look at. We have a somewhat 'out of the box' attitude in terms of our selection; we try to look for items that fit into our mission here, unique items. We try to tie into special exhibits. We have a current exhibit called The Power of Poison running right now. I went crazy with putting together a display case that fit that theme at least peripherally." She described this display's look as "very macabre."
The most important aspect of improving sales for Ruhlman is display overall. "Sometimes we use color themes, sometimes we group a particular artist's work together. We change things up a lot, we re-do the cases all the time and move them around the store. If you move things, change things up, people will see things they never saw before."
Merchandising itself is also key for Ruhlman when it comes to enhancing sales. "I look for things when I am at a show that stand out and are different. I look for items that draw you right in. I also look for price point, so that we have something for everyone. I want to make sure we have items that children can afford and items that go up to the five hundred dollar range."
In terms of best-selling items, she said that necklaces and earrings are the top two categories in her 1,100-square-foot store. "That's because there is no sizing involved, which would be the case with bracelets or rings."
Jackie Clay, manager of the Nevada Museum of Art, in Reno, Nev., said earrings are her top jewelry sales category.
"We can sell earrings forever, it doesn't matter what kind. We sell a lot of Origin brand resin jewelry, too. It has wonderful colors and it's reasonably priced. We also sell a lot of Calamarie jewelry, too. They are fabulous looking rosettes made from orange peel." The novelty of these items improves sales, Clay explained. "They're priced under a $100, and their unusual quality really enhances sales. People at first think they are leather, but then they can smell the scent of orange. The colors are very vivid, too, which appeals to buyers."
Overall, unusual items sell best, Clay asserted. "Most people who come to museum stores are not looking for things that they would find at another type of store. People like a little fun in their life, everyone has a little adventuresome side, and everyone can indulge that here without spending a lot of money."
To sell more jewelry items in her 1,200-square-foot store, Clay relies on presentation. "Having enough jewelry items to make a really good display is important, as is the display itself. For example, when we put an Origin display together, we put together an attractive, full display that makes it very easy for my staff and volunteers to talk about it." Speaking of staff, having a well informed and interactive staff is also key, Clay said. "Particularly with the Calamarie orange peel jewelry, we have a story to sell, and that's easy for our staff to do. Having a story to tell absolutely makes the items sell well."
Sara Birmingham, director of merchandising and arts and crafts buyer for five museum shops that include the New Mexico Museum of Art in Santa Fe, N.M., said her top-selling jewelry items vary by shop. "Many of our best-selling jewelry items are Native American original designs and products. Two of our museums have exhibits that directly relate to Native American culture. All of our jewelry is made locally by Native Americans, and that's an important part of our museum shops." In the contemporary art museum shop which she also buys for, it's the style of jewelry that is most important. "We look for necklaces and earrings that are contemporary in feel architecturally. We don't sell traditional pieces like gold or pearl. Santa Fe is a sterling silver city. We also do well with gem stones, such as tourmaline in contemporary jewelry," she said.
The pieces that work the best in all her shops relate to the exhibits and the area. "We always try to have an element of jewelry that matches the current exhibit, but about fifty percent of our business, a huge part of our business, is just about local jewelry. I also have a very large folk art museum here, and there the jewelry comes from all over the world, such as beaded items from Guatemala." In short, according to Birmingham the jewelry that sells best is thematically tied to the museums and/or tied to the local area.
To sell more jewelry, Birmingham swears by educating her sales staff in each of her shops, which range from 600 to 2,800 square feet. "We want our sales staff to know what our jewelry actually is, where the turquoise it is made with comes from, what artist made the jewelry, is the artist Hopi, Zuni, or Navajo, for example. Having that type of education is so important in a museum shop."
Along with an educated staff, she believes in having clean, organized display cases that help a customer find items easily. "I am also a stickler for making sure racks are full. For example there can't be an empty space in an earring rack. You want the jewelry to look abundant, like you believe in that category in your shop. Our cases are chock-full of jewelry." Despite competition from many other jewelry shops in the region, Birmingham does well with all her jewelry categories. "There is another element of authenticity that people trust when they are purchasing jewelry in a museum shop."