By Sara Hodon
Just as a great handbag, fun necklace, or stylish belt can complete an outfit, accessories can add a nice finishing touch to apparel boutique owners' bottom lines. They are also an easy and relatively inexpensive way to add an updated, trendy spin to wardrobe staples. With these two points in mind, apparel retailers keep a close eye on trends so they can add the latest must-have items to their stock of accessories.
"I'm seeing trends go back and forth between studs and dangle earrings," said Felicia Kiesel, owner of Boomerang BTQ in Indianapolis, Ind. "Right now, I'm seeing a lot of statement pieces and fun fashion. Long necklaces are also making a comeback." Boomerang BTQ carries an eclectic mix of clothing, accessories, and home décor items in its 485-square-foot retail space.
Jackie Konin, co-owner of Flirt Women's Boutique in Blue Bell, Pa., said cross-body bags with interchangeable straps are currently big sellers, no doubt due to their versatility and practicality (ask any busy mom!) "Belt bags are making a comeback, as well," she explained. "In jewelry, we are seeing a lot of layering of delicate necklaces in gold, silver, or rose gold. For summer, we'll see lots of florals appearing in bolder necklaces." Flirt is a clothing and accessories boutique occupying 1,100 square feet with a mission to make their customers look and feel great without breaking their budget.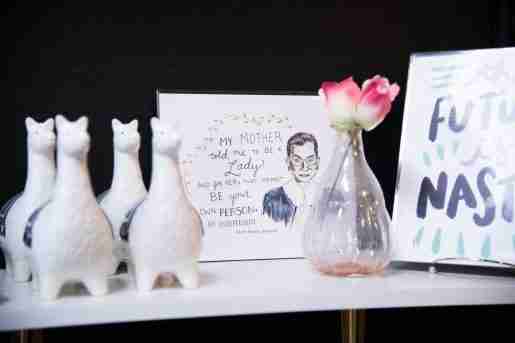 Ali Wykhuis and Angie Heiney, owners of Frock Boutique in Portland, Ore., said feminism is a huge trend in their gift shop right now. "Lots of great pins, books, cards, and mugs with feminist quotes and women depicted. [In accessories] it's animal prints, brass jewelry, natural stones, and all shades of blue!" According to the store website, Frock Boutique is committed to the local, living economy with a product mix consisting of locally designed and produced items supplemented with regional, independent, and other goods, all in a 1,400-square-foot retail space.
Color and items made from natural materials are also big at General Eccentric in Louisville, Ky. "Bright coral and turquoise seem to be really popular colors right now. Also, wicker and wood jewelry are getting a lot of interest," said Owner Kristen David. General Eccentric, occupying 1,200 square feet, focuses on stocking unique, stand-out items and is "committed to offering the latest trends at the most affordable prices and always being a fun, friendly, and affordable boutique," according to the store's website.
And of course, for every new trend of the moment, there are always at least a few whose popularity is starting to wane. Kiesel said one of the trends in decline is the "choker necklace. They had a brief comeback but they're on their way out again." Wykhuis and Heiney said they are seeing less "inspirational"-themed items and more with a bit of humor and snark. Konin said, "Animal prints on anything have been big all fall and winter, but moving into summer they will not be as bold and deep in color as we have seen. But they will be back next fall!" David added,, "I think oversized tassel accessories are on their way out."
Accessories are rather broad, but jewelry remains one of the top sellers in this category for most apparel retailers simply because it's so versatile and appeals to a wide range of tastes. "All jewelry sells well here," Konin explained. "We carry very reasonably priced, on-trend things that enhance and complement any outfit. We also have a variety of necklaces that have interchangeable charms, so they are totally customizable." Jewelry is also a great way for the wearer to show off their personality.
"Fun earrings always sell the best," David said. "I think it's because they can really pull an outfit together and/or add some flair."
Socks and earrings are also the best-selling accessories at Frock. "We carry the cutest socks with hilarious sayings on them like 'My favorite salad is wine.' They are the ultimate gift item and $12 a pair," said Wykhuis and Heiney. "And everyone loves a cute pair of earrings and we carry many that are locally made. We keep our prices affordable, with the average price around $24 to $28."
Kiesel works with local vendors and says the handmade jewelry she carries is very popular. "Earrings are my best-sellers. I'm selling a lot of studs. Quirky, different, locally made [pieces]—they'll always be what's on trend and what sells well. One of my biggest sellers are these great 2-inch banana earrings. I can't keep them in stock. Girls want to have fun with their style."
But not every trend in accessories will work for every apparel retailer. Business owners said each item has to "fit" the overall mission and/or aesthetic of the store, regardless of how trendy the item might be. "I have lots of handmade and local, so I have artists coming in all the time," Kiesel explained. "I stick with an aesthetic that's 'Boomerang-esque'—quirky, fun, and different with some classics thrown in. I look at the pieces that are brought in to see if they fit the aesthetic of the store. For me, it's really important to keep a local feel with local artists, but I work with vendors from around the country. I do a lot of in-store pop-up shops for artists who don't really fit the store, which is a great way to bring different artists and looks in."
Frock Boutique is in the Alberta Arts District of Portland, and the owners said it's important for them to carry items that reflect their community: "We really focus on shopping for the Portland guy and/or gal, and specifically the Alberta Shopper…the Arts District, which attracts creative, free spirits. We want our locals and tourists to be able to experience Alberta through our shop, which has been open on the street for 16 years."
Since keeping up with trends is so important, business owners follow the latest styles through various means. "I pay attention to the social media of celebrities, style bloggers, and generally do a lot of people watching," David said. "Basically, I always keep my eyes open for new styles and trends."
The ladies at Frock attend trade shows and follow social media, particularly Instagram, adding, "We have wonderful sales reps who know our shop and bring us the newest, greatest [things] out there. We also love checking out new things on our travels to see what's happening in other parts of the country and world."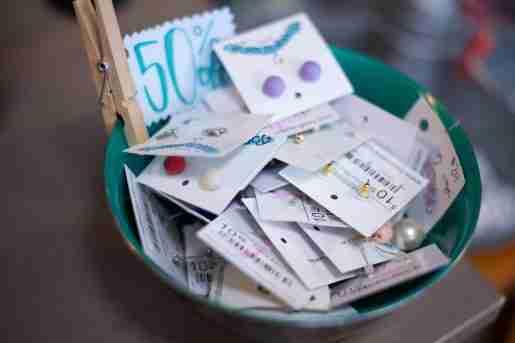 Merchandising is critical for accessories, as some pieces are extremely detailed, and those little touches could be easily overlooked unless they are arranged in a way to highlight those details. And, as retailers point out, accessories can add that final touch to an outfit, so it's important to show options for how pieces may be worn together. Konin said she uses this method frequently: "We try to put our displays together as an outfit, giving customers an idea of how a top may look when paired with a particular necklace. Many women are not sure how to put things together, so displaying items together is key."
David uses the grouping method for displaying items. "I always like to have things neat and color coordinated with any of the nearby clothing. It's important, because if the display is good, you can end up selling a complete look because of it."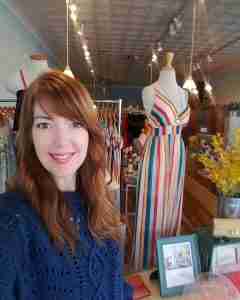 At Frock, Wykhuis and Heiney carry the store's aesthetic into their displays: "Group in colors and include an 'oddity' if you can. A random object will add depth and interest to any display. We prefer vintage objects and currently have a large vintage fringe umbrella in a display, and an oversized birdcage, too."